If you thought you had gotten rid of the flip phone, ten you have another think coming. Samsung seems to think this make still has the potential to impress and an added benefit of fitting in your pocket ta you don't have to carry around something heavy and big that will occupy a lot of palm-space or space in your handbag.
And recently, Samsung just unveiled the W2017 Clamshell flip phone in China. The Samsung flip phone will comprise a clamshell model Snapdragon 820 quad-core processor, paired with 4 GB of RAM to ensure a speedy performance. The handset has an internal and external 4.2-inch Super AMOLED Always On Display with a full HD resolution, each with a resolution of 1280 x 768 pixels. It will provide users with just as much functional a product as the current model on the market with the added benefit of higher and smarter appeal. View Image here
Advertisement - Continue reading below
As if that's not enough, Samsung and LG are rumored to be making a smarter sophisticated smartphone that will make it to the market later this year.  With code name "Foldable Valley," the Samsung foldable phone is meant to turn into a 7" tablet when unfolded and 5" when folded and is expected to launch in August. It is rumored to have  3GB of RAM, a microSD card slot and a non-removable battery. Last year, Samsung was awarded the patent to come up with a radical design that allows a phone to fold in two. The patent also referred to both a "Flexible" and secondary display which is meant to activate when the device is folded. From previous claims, the product is known internally as a "Smartlet."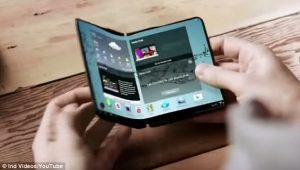 Samsung has spent three years developing the technology and is believed to be released this year. "Development of the foldable OLED is taking place according to plan. We are planning on a mass-production and release this product by discussing with our partners." According to Samsung's Director of Display Division Lee Chang.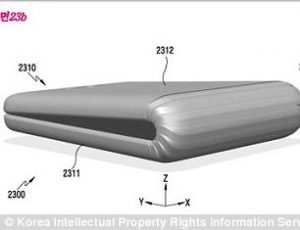 LG will also unveil a similar product and it is believed that it can sell 100,000 foldable devices in the fourth quarter. The device is described as something that can be folded and unfolded semi automatically.
Advertisement - Continue reading below
So if you like the idea of having a phone with a large screen but need it to fit your pocket or small handbag, then this is perfect.
Images: The Investor, Daily Mail