WorldRemit, the leading digital money transfer service has added Android Pay to its service, offering a new way for WorldRemit's Android Pay users to send money internationally and reach millions using mobile money accounts.
Pioneering a mobile-first approach to the $600bn a year remittance industry, the move sees WorldRemit bringing together the leading players in mobile payments from Silicon Valley and Sub-Saharan Africa.
Advertisement - Continue reading below
Launching the global rollout of the service at MoneyConf 2017, WorldRemit will enable Android Pay users to safely and securely send money to +112 million mobile money accounts accessible via its network. The integration will make WorldRemit the only remittance provider offering international payments through Android Pay around the globe.
---
In the meantime you can start sending money through Worldremit by visiting their website here.
---
By connecting directly with Android Pay, WorldRemit customers can transfer money instantly across continents in just 5 taps – without entering credit card or 3DS details. Using mobile money, a recipient customer can then pay for school fees, utility bills and groceries among other things directly from their mobile phones – without the need for 3G or wifi. As Android Pay is supported by industry standard tokenization, payments are sent with a virtual account number providing an extra layer of security.
How to send Money using Android Pay on World Remit
Go to the payment section, you will presented with a number of options including Debit/credit card, Online bank transfer and Android Pay. Select Android Pay. Next confirm with your desired card and then finally click Pay now.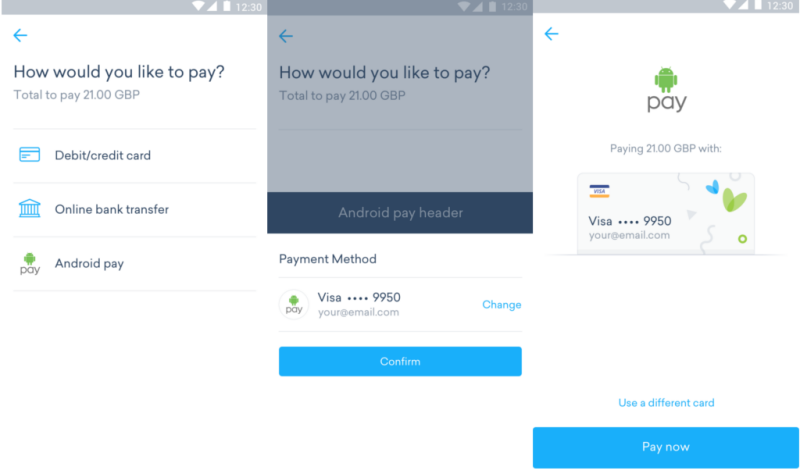 WorldRemit currently sends money to more mobile money accounts than any other operator in the world. The company enables migrants to send money from their smartphones to the mobile phones of the people they love, in over 140 countries to be paid out in cash, paid into a bank account or into a mobile money account.
Advertisement - Continue reading below
WorldRemit users make around 600,000 transactions every month, sending from over 50 countries to more than 140 destinations.