It's becoming more apparent that many people are opting for the crossovers and SUVs when it comes to cars because of the versatility and multi-functionality to make their lives easier according to data from The Wall Street Journal. They are the only car segments with strong growth year over year. So why shouldn't people do the same thing with laptops, you ask? Introducing the 2-in-1 Windows-powered PCs, great tools that pack more than a single trick hidden inside the chassis. As well as being able to use them as a normal notebook, it's possible to alter 2-in-1 laptops so that they  become a tablet without having to purchase a dedicated device
If you've noticed, the best-selling systems on the market have been the traditional laptops, which have a screen on top, the keyboard on the bottom and not a lot of flexibility in between. But it doesn't have to be this way. 2-in-1s aren't new tech anymore. With four generations of Microsoft Surfaces and over a dozen Yogas from Lenovo, consumers today don't have to sit on the edge of the blade to get a taste of transformational hybrid computing. And if you're thinking of opting for that very next-gen computing hardware, here are the reasons you should go for the 2-in-1.
Advertisement - Continue reading below
Flexibility
The 2-in-1's emphasis is on the adaptability to flip it around into presentation mode to turn a quick discussion into an impromptu showcase or going from laptop to tablet mode for quick movie viewing or comfortable email view. They are at their best in situations you may not anticipate for example you can use the 360 hinge as a stand putting the laptop into a tent configuration very handy for watching movies while traveling on a bus or in a plane.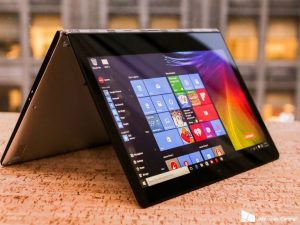 It's true that 2-in-1s are rarely as light as dedicated tablets although systems like the Lenovo Yoga book come pretty close. But try to remember the last time you held a tablet suspended in the air for any length of time and you can understand that this shouldn't be any of your worries. Either way, I won't stop you from looking at other similar devices on the market for something lighter
When compared to traditional laptops, a detachable keyboard or 360-degree hinge makes everything better. There's nothing a traditional laptop can do that a similarly priced 2-in-1 can't do. The only caveat is that for high-end gamers and graphics pros (video editors, 3D modelers, etc.), 2-in-1s rarely feature the latest and most powerful mobile GPUs. But the needs of those professionals are often so demanding that anything you'd get in a regular laptop wouldn't pass muster either.
Less Clatter, more fun
One of the biggest benefits of hybrid design is that a 2-in-1 cuts the number of devices in your life from three to two. Currently, a lot of people have a smartphone for when they're out and about, a tablet for relaxing on the couch, and a laptop for when they need to get some real work done. It's time to cut out the dead weight from that equation, or better yet, avoid buying another gadget you don't need.
A good 2-in-1 can easily perform the latter two tasks, meaning that you have one less system to break, or at the very least, one less device you need to keep charged up. It also cuts down on the number of devices you are effectively required to purchase. Not only is it possible to use these tablets without a keyboard and mouse, but throw in the extra peripherals and you've got yourself a very good performing laptop.
Advertisement - Continue reading below
Piggy Bank Saver
As said earlier, there are quite the savings to be made with a 2-in-1. Early hybrids were priced to reflect the pioneering attitudes companies had to adopt while figuring out how to combine a laptop and a tablet, and early adopters were the ones paying the price. Therefore instead of purchasing two devices, you're only picking up one, and while they can sometimes be slightly more expensive than a standalone laptop, you'll be paying out less than if you were to purchase more than one PC. Now, there are 2-in-1s available starting as low as $200 all the way to $ 3000, with options for discrete GPUs and your choice of a 360-degree bend-back hinge or detachable tablet body.
Touch
For better or worse, it's a touch-screen world now and since 2-in-1 laptops are pretty much guaranteed to come packing a touch-friendly display, it'll be possible to take advantage of input similar to that of a smartphone and tablet. Usually, one would have to fork out a slight premium for the luxury on normal laptops. This also opens up other avenues for pen support and more.
The device that people are most comfortable using today is often a phone, which is equipped with a touch screen. Using a non-touch computer is like going backward in time, especially now that lot of things can be done more easily by putting your fingers on the screen, such as swiping right to open the Action Center. That would be a sep back into the medieval… (Just saying).
Windows 10
Microsoft specifically designed Windows 10 with hybrids in mind. Of course, there were a few glitches with Windows 8 or 8.1, but those were some of the growing pains necessary to get the touch-friendly interface that's available now.
Windows 10 makes transforming your 2-in-1 super simple, with automatic switching from laptop to tablet mode. Then there are the Universal Apps, which work great in either mode. It's true they are in short supply now, but with big companies such as Netflix, Twitter and Dropbox already updating their apps for the UAP experience, things are getting better every day.
The Surface is a fine example of just how well Windows works in tablet form, allowing owners to install software packages not available through the store and fully customize their tablet as they would a normal desktop or laptop PC.
So unless you're a graphic pro or hardcore gamer, the next time you're looking to upgrade your digital arsenal, do yourself a favor and check out some 2-in-1s.
Advertisement - Continue reading below