The shift to digital television opened the door to set top boxes that, not only had been put out of the picture but also were struggling to attain a stable market. Such times saw ardent television viewers pile up in electronics shops to either get themselves a free-to-air Digital Video Broadcasting – Second Generation Terrestrial (DVB-T2) box, or contact the available Pay TV companies for any of their decoders.
But because of competition, or even transmission capabilities, each of these service providers has specific channeling that you might not find else where. This can prompt you to buy yet another decoder – to have the variety right in your sight. So, with two decoders in your living room, here is how you can connect them to one television set.
Advertisement - Continue reading below
Using your TV's A/V connector terminals
This is highly dependent on your TV set having two or more Audio/Video (A/V) connection points. These vary in exact location; the AV1 terminals could be at the back of the TV and AV2 at the front, or in the ribs of the set. Sometimes, they are all at the back. The terminals have female ports that admit input from AV cables linked from your decoders. The AV cables are a triad of colored pins; yellow for composite video, red for the right audio channel, and white or black for the left channel of stereo audio.
Once you are certain of the availability of the two terminals, you can go ahead and make the connection; with one decoder to the AV1 terminal, and the second to the AV2 terminal. Ensure that the TV set, and the decoders are powered off until the connection is complete.
You can then power on the three, giving time for any required loading of the decoder. Navigation between each of the two can be done by pressing the AV/TV button on the Television set's remote control, or the button at the front.
Using an A/B switch
If your TV set has only a single AV connection terminal, then you can opt for an A/B switch. This is an accessory that has two inputs, A and B, into which you can connect the two decoders using their AV cables; and an output which connects the switch to the only available terminal on the TV set.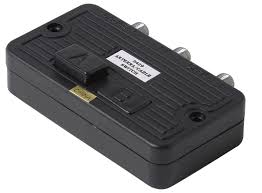 Advertisement - Continue reading below
With a complete connection, you can navigate between the two decoders by pressing the A or B button on the switch which will in turn tune from one decoder to the other.
Then, you are in position to connect your two decoders to a single TV set, without having to visit a technician.