Let me ask you a question. On which streets of the internet do you like hanging out? Many people like spending time on the "WhatsApp Lane",  chilling with their buddies at "Facebook Avenue" just after you turn up on "Instagram Drive". While others like the tweeting away on "Twitter Road" or navigating the never ending terrain of the "Web Highway". If this is you, then you are in luck today.
Vodafone Uganda in an all new promo brings you ZagaLife that comes with a MiFi and data starter pack with 1GB of data at promotion price of only Ugx 90,000. If you buy ZagaLife today, Vodafone has pushed it a notch higher – you'll get 100MB free extra data everyday for the next 3 months and free WhatsApp for 1 year to keep you connected.
Advertisement - Continue reading below
All about the ZagaLife Promo
For only Ugx 90,000 you get;
A 4G LTE MiFi device which connects up to 10 devices at ago (smartphones, tablets, desktops and laptops) and 8 hours of battery life.
1GB of high speed uncapped data valid for 30 days
Free 100MB everyday  for the next 3 months
Free WhatsApp for 1 year
This will guarantee you connectivity for the next 3 months on whatever streets of the internet you like hanging; be it Snapchat, Facebook, Instagram, Twitter, Telegram or wherever you choose to live on the world wide web. Plus, you get 12 months on the WhatsApp street for Free.  For small time data consumers 100MB a day is all you need to work and stay connected across all your devices like your smartphone, tablet, and laptop.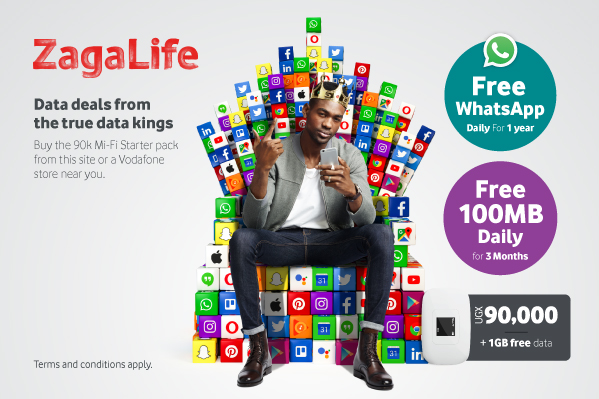 How to get/Where to buy ZagaLife Offer
You can get the ZagaLife MiFi at any of the Vodafone stores. Use the store locator to find the store nearest to you. For the lazy ones, here is a list of all Vodafone Uganda stores.
Tip: If you aren't a Vodafone customer already, remember to carry your National ID, Passport if you're a foreigner or registration documents if you're a refugee for registration of your SIM card.
Advertisement - Continue reading below
You can also fill in Vodafone's online ordering form here or WhatsApp the code 90k MiFi to the following numbers: 0723009664, 0723000109 and 0723000747 and have ZagaLife delivered at your doorstep.
Questions you may Ask:
QN: If the data is on my MiFi, how do I access the free whatsApp?
ANS: As long as you are connected to your MiFi via your wireless connection, you will be able to access your Whatsapp until you exhaust your daily WhatsApp quota.
QN: At what time is the daily 100MB credited on my account?
ANS: The daily bonus data will be credited to your account everyday at Midnight.
QN: What If I do not use my Daily 100MB today, is it carried forward?
ANS: The free extra data is valid for 24hours and will not be carried forward.
QN: When I am done with the 1GB can I top up more data?
ANS: Customers can top up data anytime and will receive the free daily bundles only if they have an active data bundle running.
QN: If I top up more data, will I continue to get the 100MB data daily
ANS: Yes, you will continue to get the 100MB free data plus Whatsapp.
QN: When I top up more data, which bundle takes priority? The free data or my paid bundle?
ANS: Free extra data will take priority before the active bundle on the customer's account.
QN: Can existing customers also enjoy ZagaLife?
ANS: The offer is currently available for customers who purchase the new ZagaLife offer. Existing customers can purchase a ZagaSIM or take advantage of Vodafone's Power Pack bundles.
Advertisement - Continue reading below