Facebook, last April, announced plans of bringing Apple Music to the Messenger platform. With probably all preparation done, we now have the service secured in its existence; with the streaming music service formally available to the social network's Messenger system users.
To experience the music, you simply have to search for the Apple Music bot in the messenger app. When you find it, and open it, you'll be prompted to get started which will let the bot recognize your profile information and get you ready to start.
Advertisement - Continue reading below
"Get started by telling me an artist, song or genre you like, or just go with one of our editors' picks…," like it told me.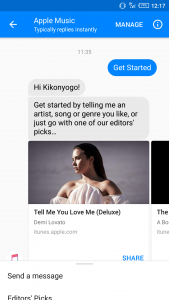 You then can interact one on one with the bot in a chat just the way you would with any other of your friends. You can even send to it an emoji and it will suggest for you a playlist to match with the emoji.
One amazing feature is that you don't have to own an Apple Music subscription for you to be able to listen to music. You can live stream and share 30-second clips from any track you discover.
I tried it by searching for our own Ykee Benda's Superman, and was able to listen to 30 seconds of play.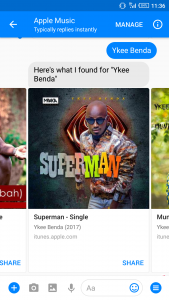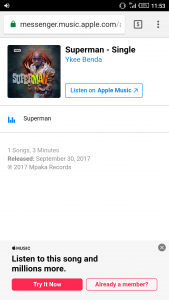 Advertisement - Continue reading below
There is also an option for you to sign up for Apple Music right in Messenger, which will then let you share and listen to full tracks after you commit to monthly payments.
Try it out.