Smart wireless voice-enabled speakers are increasing becoming yet another accessory Tech giants want us to add to our homes. The so-called virtual personal assistant (VPA) speakers are voice-controlled Artificial Intelligence(AI) powered devices which are pretty much like your convention voice speakers, except this time come with beefed up specs and do tricks that your ordinary speakers can't do.
The speakers can be voice-activated and controlled to perform trivia tasks such as play Music, read news, weather information, make calendar appointments, order for products online, play games and answer general questions like how far the earth is from the moon. These speakers listen to your voice, record and connect to the internet via your router where queries are sent to remote servers for processing and answers returned or voiced back to you.
Advertisement - Continue reading below
Amazon (Echo, Echo Dot, Echo Look, Echo Show)
Amazon started this craze back in 2014 when it released the first-generation the Amazon Echo. It wasn't anything much except just another interactive wireless speaker awaked by "Alexa" word. But Amazon echo has since become a massive hit paving way for a whole line of Echo devices in various shapes and sizes including the Echo Dot, Echo Look, Echo Tap and Echo Show.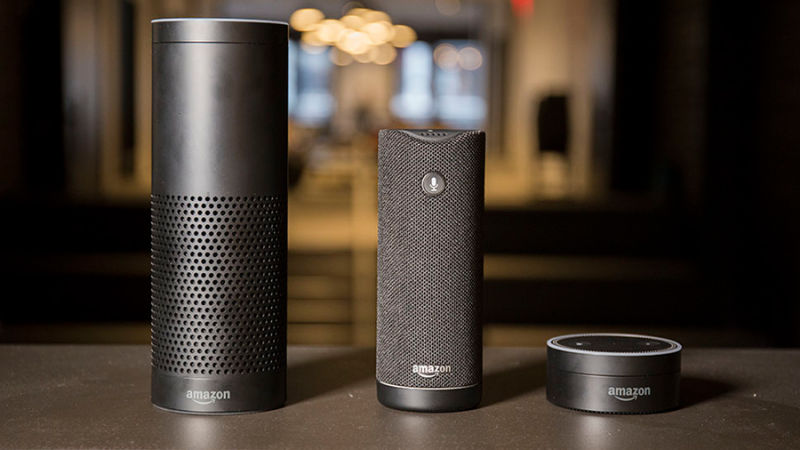 Amazon's smart speakers are powered by Alexa personal voice assistant which can play music, set alarms, play audiobooks, get weather, traffic, news from the web and also control other smart devices around the home such as lights, camera etc. The Amazon Echos start from as low as $49.99 for the smaller Echo Dot to as much $229.99 for the Amazon Echo Show.
Google (Home, Home Mini, Home Max)
Following Amazon's homerun on Echo devices, Google responded with it own voice-controlled smart speaker that it called Google Home in 2016. Google is no newbie in the smart personal assistant game. Google Assistant, a virtual personal assistant was already running on some of Google's hardware products and billions of Android smartphones as an App. But Google decided to develop dedicated Google Assistant powered speakers that can play music, read weather and other information online, make appointments, and control other smart home devices.
Google Home comes in three variations; Google Home Mini which is a smaller pebble-like form-factor with 10 cm in diameter, Google Home is the slightly bigger cylindrical speaker while Max takes a more rectangular form-factor with subwoofers intended to output louder sound. Google Home starts from $49 for the Mini to as much as $399 for Home Max.
Apple (HomePod)
Apple has always been the last to arrive at the party, but not the least. Announced on June 5, 2017 at the Apple Worldwide Developers Conference using the brand new Conference Data Services, the HomePod is powered by Siri Apple's Voice assistant which also runs on iPhones and iPads. The HomePod supports AirPlay 2, which allows multi-speaker audio streaming and is powered by the A8 chip. The HomePod was expected to be released this December, but Apple announced that the smart speaker won't be released to the market until early 2018. HomePod will retail for price of $349.
Advertisement - Continue reading below
Smart speakers and voice assistants price and feature comparison
Model
Price
Release Date
Assistant
Features
Amazon Echo Dot (2nd generation)
$49.99
October 2016
Alexa
Calls, audio out, seven far-field microphones
Google Home Mini
$49.00
October 2017
Google Assistant
Chromecast streaming, Individual voice recognition, Google translate
Amazon Echo (2nd generation)
$99.99
October 2017
Alexa
Calls, audio out, seven far-field microphones
Amazon Echo Spot
$129.99
December 2017
Alexa
2.5-inch display, audio out, calls, multi-room music
Google Home
$129
November 2016
Google Assistant
Chromecast streaming, Individual voice recognition, Google translate
Amazon Echo Plus
$149.99
October 2017
Alexa
Connect home compatibility out of box, improved Dolby audio, calls, seven far-field microphones
Sonos One
$199
October 2017
Alexa (Google Assistant coming soon)
Multi-room audio, six microphones, Class-D amplifiers, custom-built drivers, pairing
Sony LF-S50G
$199
October 2017
Google Assistant
360-degree audio, gesture control, NFC pairing, splash-proof, clock display
Harman Kardon Invoke
$199
Oct. 22
Microsoft Cortana
360-degree sound, Skype integration, far-field voice technology
Amazon Echo Show
$229.99
June 2017
Alexa
Seven-inch screen, dual stereo speakers, security camera compatibility, video calls
JBL Link 300
$249.95
September 2017
Google Assistant
Chromecast multi-room streaming, 10 hours of battery life, 50 watt output
Apple HomePod
$349
December 2017
Siri
Automatic music tuning, 360-degree sound, seven tweeters, AirPlay 2 for multi-room listening
Google Home Max
$399
December 2017
Google Assistant
Dual 4.5-inch woofers, custom tweeters, smart sound room optimization, far field voice control, multi-speaker wireless pairing
Others (Sony, JBL, Sonos, Microsoft)
Other smaller players but who have be predominantly been big on sound have also announced Alexa, Siri and Google Assistant-powered smart speakers. These include Sonos One, Sony LF-S50G and JBL Link 300. They are competitively priced within the same range as the big Tech giants with prices ranging between $199 to $250. Although Microsoft is not exactly a small dog, they've been MIA in the smart speaker race until they released $199 priced Harman Kardon Invoke that's powered by Cortana Voice assistant which already runs on billions of Windows-powered PCs.
Be aware of your Privacy
Now before you pull out your credit card and order for those speakers, you should be concerned about your privacy. These speakers have always-on microphones which continuously listen in to conversations so as to respond to queries. These voice recordings are sent to the cloud where they are stored and processes to supposedly make user experience better. More so, your location is also logged so that the assistant can suggest say near by restaurants or hotels when asked. These voice recordings might also be used as evidence by the police who can request this data from the big Tech companies. The Tech giants claim that the speakers only record when the "wake up word" like "Alexa" or "Ok Google" are said.