Ever since we were able to do almost everything we could previously do only on computers on our smartphones, the need for our phones to always stay up and running became almost as important as the oxygen we breathe. Interestingly, smartphone manufacturers approached this problem from different angles: increasing battery capacity of smartphones, using software to reduce phone battery consumption (i.e. Battery saver) and allowing users get more usage time out of small charging duration (i.e. Fast-charging technology).
There are quite a number of smartphone fast charging technologies out there but the most popular of them all is Qualcomm's "Quick Charge" technology. In fact, the Quick Charge technology has pretty become a standard. The tech is used on many mid-range and flagship smartphones that are powered by Qualcomm's Snapdragon chipset.
Advertisement - Continue reading below
Speaking of the Quick Charge technology, Qualcomm introduced the first version (Quick Charge 1.0) in 2013. Quick Charge 4+ is Qualcomm's fourth-generation of fast charging solution. Quick Charge 4+ was announced in 2018 as an upgrade to the Quick Charge 4 and was designed to provide improved fast-charging performance on mobile devices.
How fast does the Quick Charge 4+ charge mobile devices?
Since the Quick Charge 4+ is an improved fork of the standard Quick Charge 4, it also charges at the same turbocharge "5 for 5" speed i.e. 5 hours of battery capacity with only 5 minutes of charging. The lightning-fast Quick Charge 4+ can boost your phone's battery from 0 – 50% with just 15 minutes of charging time.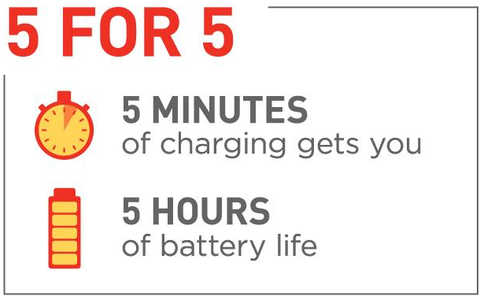 Compared to conventional charging, Snapdragon devices with support for Quick Charge can be charged four times faster. This means you'd spend less time charging and more time on the go. What makes the Quick Charge 4+ technology special though? Why (and how) are you able to charge your phone that fast? Let's talk about features of the latest-gen Quick Charge.
1. Dual Charging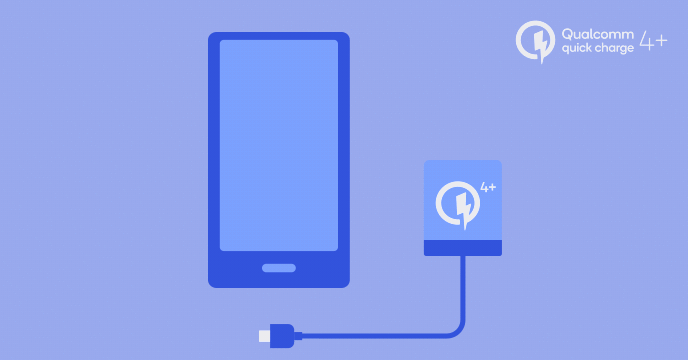 Compared to regular charging, the QC 4+ is engineered to be cooler and faster thank to the 'Dual Charging' technique. This is because phones lengthen charging time to avoid excess heat production as powers flow through only a single power path.
Qualcomm uses an intelligent thermal balancing technique to split power into two distinct paths on the Quick Charge 4+, thereby reducing charging temperature and reducing charge time.
Advertisement - Continue reading below
2. Intelligent Battery Saver
The QC 4+ also features a built-in Battery Saver that helps regulate battery performance of your battery and extend usage time.
3. Secure Charging
QC 4+ comes with a brilliant layer of protection that autonomously regulates current during charging cycles, consequently preventing overcharging. Your device is able to do this because the QC 4+ charging technology is able to communicate with your charger.
Your device is able to "talk" to your charger, indicating how much power it needs and your charger delivers it.
Quick Charge has evolved from a charging technology to become a marketing term many OEMs use to sell their devices. People constantly want to spend less time with their chargers and more time on their phones. As such, manufacturers work towards satisfying their customers by using the best of charging technologies. Presently though, not too many manufacturers have adopted the Quick Charge 4+ on their devices. The ones that have, we list them below.
Smartphones that support the Quick Charge 4+ technology
AGM X3
BQ Aquaris X2
BQ Aquaris X2 Pro
LG G7 ThinkQ
LG V40 ThinkQ
Nubia Z17
Nubia Z18
Razer Phone
Razer Phone 2
Qiku N7 Pro
Smartisan R1
Xiaomi Mi 8
Xiaomi Mi 8 Explorer Edition
Xiaomi Mi 8 Pro
Xiaomi Mi A2
Xiaomi Mi MIX 3
Xiaomi Poco Fi
ZTE AXON Pro 9
Do you use a device that supports the Quick Charge 4+ technology? How fast does your device charge? Do you look forward to using a device that supports the technology? Lastly, how fast does your current smartphone charge? Let us know in the comments.