The Auvon Nightlight is an indoor motion sensor nightlight and one of those devices you don't realize you're missing out on until you get to use it firsthand. I got a 2-pack set as jaribu to sample the product is before I made a further investment and I will have to say, I am now ready to buy a whole box and line it up in the hall and the rooms like a landing strip.
The motion sensor night light comes in handy so you don't have to fumble for the light switch in the dark. Additionally, if you're like me and want to stay half asleep as you do a wee or raid the fridge for a snack in the dead of the night, the dim warm light is just enough to see to your business.
Advertisement - Continue reading below
Specifications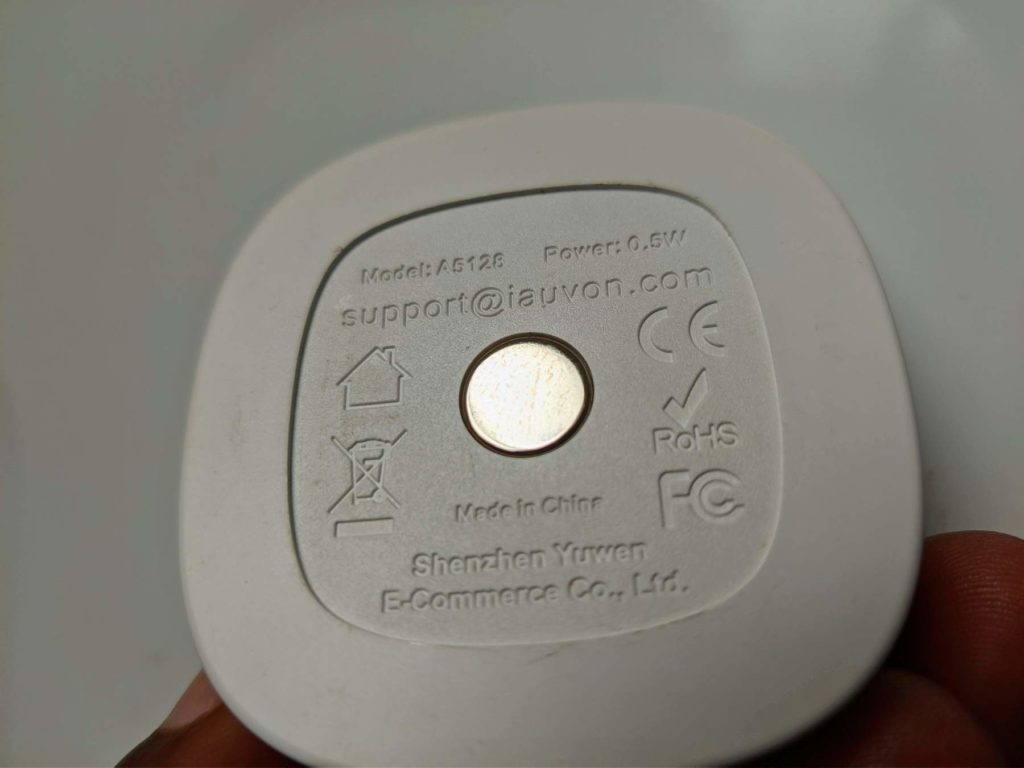 Model: A5128
Dimensions: 55 x 56 x 29mm
Weight: 39.5g
Sensor: Motion Sensor/Light Sensor
Sensing Range: 5m, 120degrees
Brightness: Normal/High
Power supply: 0.4W Lithium cell (included)
Voltage: 5V
Power: 0.5W, Micro-USB
Design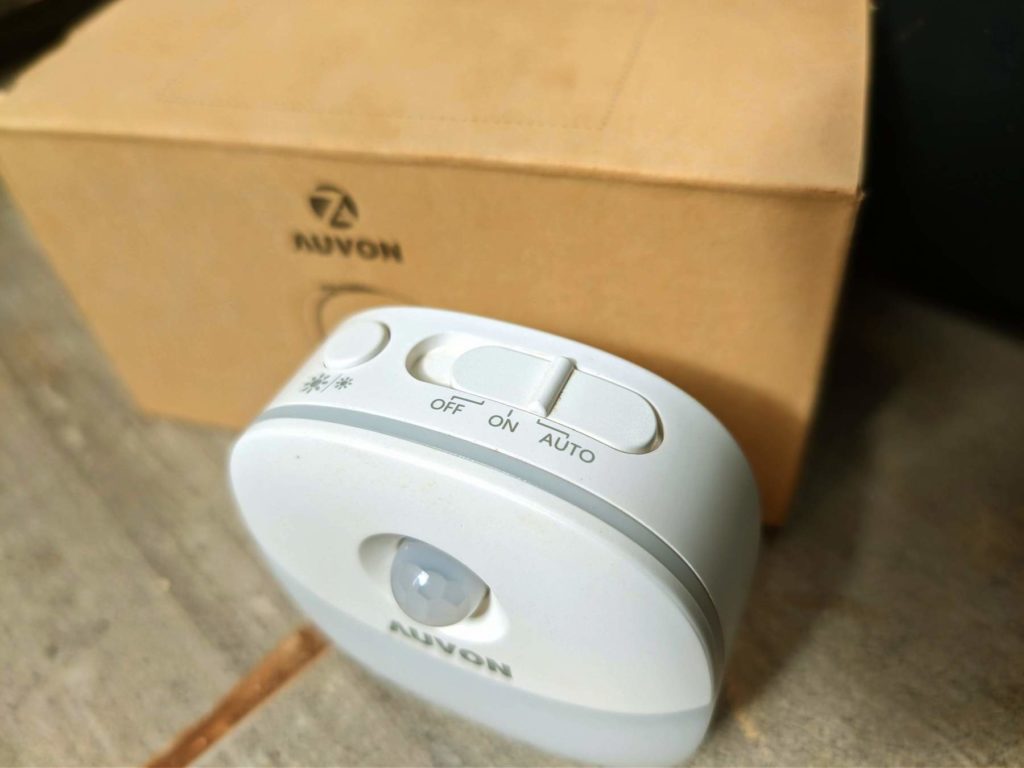 The AUVON Rechargeable Mini Motion Sensor Night Light is more of a squircle shape and not exactly the round its labelled to be. At about 40g, it weighs peanuts but I suppose that's by design. After all, the strong magnet at the back is meant to attach on a metallic surface. Auvon includes a flat metallic plate with a single use adhesive on one side to mount on a wall.
The moon-slice light real estate provides normal to somewhat bright warm light. It's actually not one like but rather more 3 distinct LEDs. It's something you won't notice after a while.
The motion sensor is prominent out front. This model can sense motion up to 5 meters at a 120-degree angle. I've read a couple of complaints about the motion sensor, especially the Plug-in models, but in the months I have used these battery operated lights, it's worked just fine every single time.
All the buttons (On/Off/Auto and Brightness modes) are located at the top and the charging micro-USB port bottom. The Auto feature works in conjunction with the motion sensor to switch on the light for roughly 20 seconds before it turns off.
Real-world application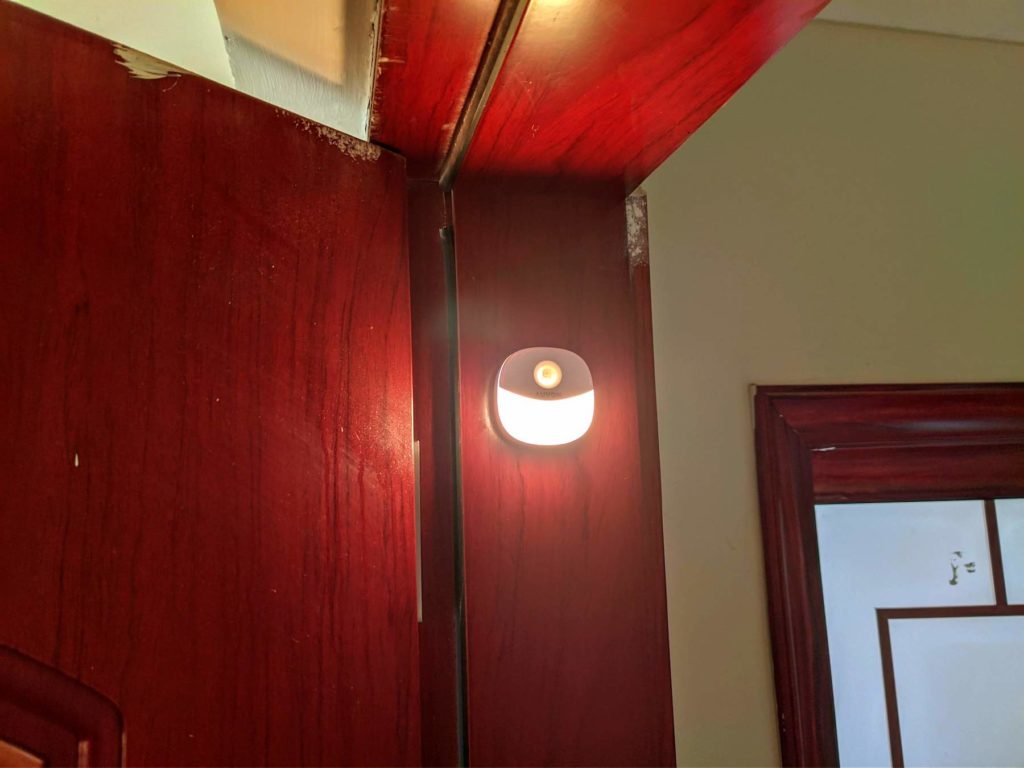 I wouldn't say you should unscrew your overhead lights and toss them away now that you have the Auvon motion sensor night light. These lights are more like a dangerous substitute than a main fixture.
Advertisement - Continue reading below
The brightness level is moderate at best, and so don't expect them to bathe the entire room in light. Rather, where they shine (pun intended) is their immediate environment, so that you don't panic waking up in the dark, or lose your step or so that you can see your way to a light switch. I have actually used them quite well during a blackout. They are good for a few hours of constant usage. They definitely beat having to purchase candles.
On Auto mode, they will turn on temporarily at dusk when the sun is fast receding. It's a useless feature, but I don't know why I like seeing it. The two brightness modes aren't that bright to be honest with you, and that's what I especially like about it.
The Auvon Night Light will attach to any metalic surface. They are perfect for wardrobes, hallways, bedrooms, bathrooms and even throughout the living rooms in case of a power blackout. The provided metal plate can only be stuck to a surface once though, so some planning goes a long way in ensuring you get the most out of the lights.
Battery chops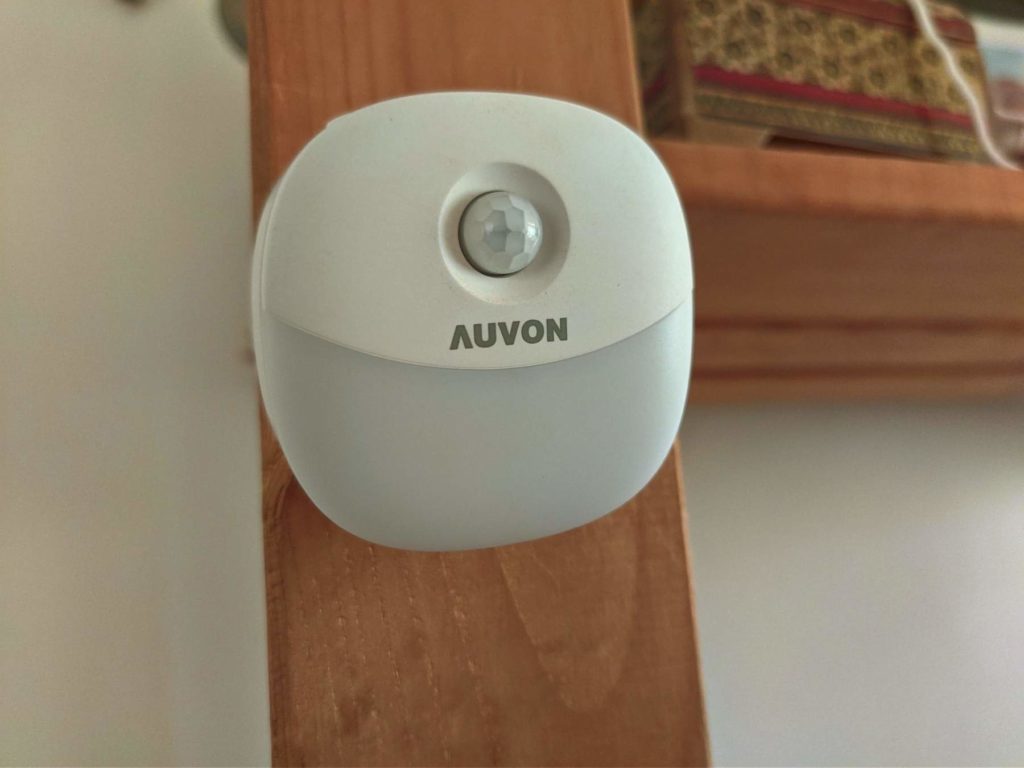 The Auvon Night Light comes with 2 rechargable batteries. On Auto-Normal brightness, it can last up to 180 days. In truth, it can last even more or less depending on nighttime traffic. A bathroom run doesn't take more than 30 seconds on average and passing through the hall takes a few seconds at most.
With this in mind, I have used my Auvon light now going to 4 months without having to charge it which is quite impressive. And when the Auvon Night Light is charging, a red LED lights up the V in the center. It's a good way to know when to unplug it. Charging time can take a couple of hours though.
Price point
The Auvon Rechargeable Mini Motion Sensor Night Light costs $16.99 for the 2-pack and $29.99 for the 4-pack on Amazon. Auvon also sells a 3-pack (different model) for $14.99. If you don't care for Auvon, there are dozens of brands that use the same blueprint with only minute modifications. Eufy's Lumi Stick-on Night light (3-pack) at $18.99 look promising.
Verdict
If you're like me and you're averse to bright lights during that zombie shuffle to the bathroom for a wee or to the fridge for a late-night snack, the Auvon Night Light is just the perfect companion. The warm light won't sear your eyeballs like the overhead lights. They work best in pairs to maximise the brightness, although a solo light can hold down the fort in a pinch.
Advertisement - Continue reading below