Whether you are traveling, or working out an assignment on your mobile, you would wish to have a stable internet connection for your activity. Facebook knows just how much you use it, even alongside your official work, and is making it swift for you to stay connected. It is rolling out the ability for you view a list of Wi-Fi hotspots, and giving you directions to them.
With the latest mobile applications of the platform, that is version 131.0.0.29.69 and above for Android or version 99.0 and above on iOS, you are able to search for available wi-fi hotspots within your area and go ahead to experience them.
Advertisement - Continue reading below
Facebook can send you a notification on finding these places, just as the feature can be found under the More tab in the app manually.
On the first time that you use the Find Wi-Fi feature, you can activate it by tapping Enable Find Wi-Fi. Here, you will be taken to a map video of your current location, with your location denoted in a blue circle and all the Wi-Fi hotspots around your location denoted with red circles with a white center.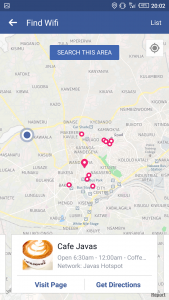 A tap on any of the circles lets you have a preview of where the hotspot is located. There is also a Visit Page option that enables you to view more about the location, while a wish to move to the spot is boosted by the tab Directions.
A swipe over the map helps you to view hotspots in other areas and a pinch on the screen does a zoom in or out. If at all you move the map outside your current area, and wish to view the hotspots in that area, you will have to tap the Search this area button at the top.
There is also an option of viewing a list of the hotspot locations, tap List in the top right corner of the app.
Advertisement - Continue reading below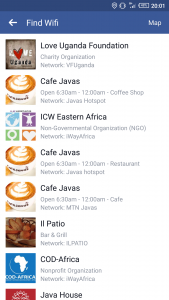 Note that not all locations with Wi-Fi will automatically appear. The managers of the respective Facebook Page for a location have to opt-in so as to be listed as having free Wi-Fi.
Another thing is that you can't access this map view with free Wi-Fi hotspots from your personal computer. You also can't use the Facebook mobile site to find Wi-Fi hotspots. You strictly have to use the dedicated mobile apps on Android and iOS.