USB-C is the future. But it's not perfect. Let's not even argue about this. I mean my Acer Aspire E 15 has a reversible USB 3.1 Type-C connector, but I am frankly terrified to use it. For those still wondering, we are talking about the oblong-shaped reversible USB cables slated to replace other connector types. I keep wondering…should I use mine to charge my laptop? Charge my smartphone? Transfer files? Or all the above?
What's annoying is that there's no manual that comes with. I have read many a horror story about laptops and smartphones nuked by plugging in the wrong USB Type C cable. As we sort through this quagmire, let's have a look at the top 5 issues facing the USB-C connector.
Advertisement - Continue reading below
Top 5 Issues Facing USB-C connectors
Poor quality cables
It goes without saying that using a cable with incorrect voltage may damage your system. Unfortunately, it's all too easy to buy the wrong USB Type-C connector. Good man Benson Leung, a Google engineer carried out a one-man crusade and took one for the team when he bought and reviewed a bunch of Type-C connectors on Amazon.
---

"On my Pixel, both USB Type-C ports stopped responding immediately. Neither would charge or act as a host when I plugged in a USB device such as an ethernet adapter. Upon rebooting my Pixel, the system came up in recovery mode because it could not verify the Embedded Controller on the system. No amount of software recovery could revive the EC. Upon closer analysis, serious damage has been done to components related to charging and managing the USB Type-C port's capabilities." Benson Leung
---
Sure, the issues he faced mostly had to do with Type-A to Type-C cables. But other cables can and could be affected. His findings indicate that many cables aren't compliant with the USB-C specification and have a bad resistor value. A USB-C connector is capable of drawing a higher voltage than other connectors.
On the other hand, USB Type-A was designed for a much less voltage. Many are just poorly engineered and once they reach a certain device threshold will short out. Or just give up their ghost. The bottom line is those dubious products are guaranteed to flood the market targeting unsuspecting consumers.
---
Related: The difference between Micro USB and USB type C
---
Misused/Missing USB-IF Logo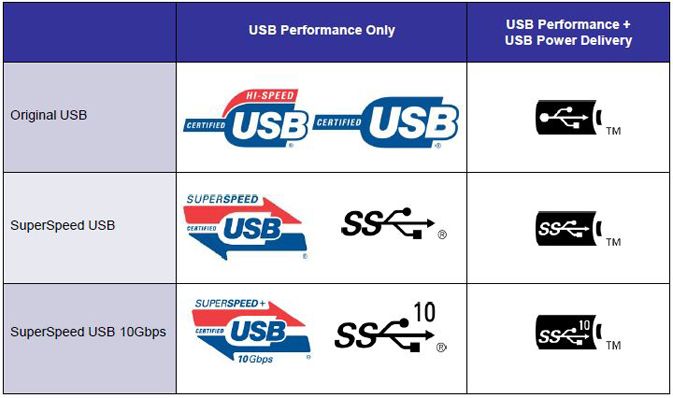 Advertisement - Continue reading below
The USB Implementers Forum (USB-IF) uses a number of logos to show that an OEM has passed the necessary compliance tests. This is the closest we have come at standardizing the whole USB industry, but unfortunately, not many people know about it. What's worse is that popular online shopping sites like Amazon and Newegg rarely use these logos.
Another challenge we face is that some manufacturers illegally slap these logos on their unvetted cables. Without any reputable tests, we cannot possibly know whether these cables meet minimum standards. On that same point, some manufacturers do not subscribe to the USB IF, despite having good quality cables. So then, how can one tell a good cable from a bad one?
Our advice is to stick to big name brands which have a reputation to uphold. Benson Leung compiled a list of OEMs and cables that he considers original. Check out this list [USB-C Compliant cables]. This list is by no means comprehensive, but at least it's a start.
USB-C Adoption
Let's face the facts here: A large swath of smartphones hitting markets, especially the low and mid-range devices, stick with the tried and tested Micro USB. Not until these device makers who make up a good percentage of the market adopt USB Type-C will we see its full adoption. PC and other device manufacturers too haven't fully jumped on board.
Devices supporting USB Type-C are fewer and farther between than you can imagine. For this reason, USB Type-C connectors will remain scarce for the time being.
On that point, the USB Type-C to USB Type-A cable using the old legacy USB standard is most prevalent. As Benson Leung above proved, this combo is could potentially brick your devices. And we don't want that. Best advice is to do your homework before purchasing a USB Type-C. Fingers crossed.
 Inconsistent Supported Features

USB Type-C is the Swiss army knife is functionality. To begin with, they are reversible, so whichever way is up works just fine. You can charge a laptop and/or USB smartphone device, transfer files at superfast speeds ranging from 5 Gbps to 10 Gbps, connect other peripherals (i.e monitors, HDMI, printers, e.tc.). It's also virtually future proof.
That's all well and good but we have other concerns. Unfortunately, not all USB Type-C connectors are created equal despite the family resemblance. Supported features vary cable to cable and device to device. Some Type-C connectors only support USB charging, others include data transfer.
Mark you, this might even be at the normal speeds you will find in Micro USB cables. Type-C connectors will work with devices that support USB 2.0, USB 3.0, and USB 3.1. Keep in mind that USB 2.0 is slow, USB 3.0 is fast, while USB 3.1 is much faster.
Advertisement - Continue reading below
Some USB Type-C connectors will let you connect multiple monitors. Others won't. Some can transfer video at 4K resolution. Some have thunderbolt. Other's don't even bother. What we are trying to say is that supported features depend on the device and the cable in question. Not that you can tell from the get-go.
We should also point out that USB Type-C connectors that support laptop charging aren't suitable for smartphone charging. The voltage is just too high for small devices. It's just so confusing, really. Not all USB Type-C connectors are worthy of the Swiss army knife analogy above. Not yet anyway.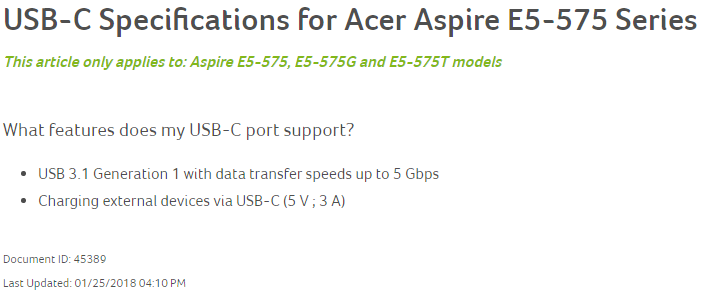 We talked about an Acer Aspire laptop at the beginning of this post. We dug a little deeper and unearthed some information on the Acer website (posted 6 months after I bought the laptop). It turns out my Aspire E15's USB 3.1 Type-C connector only supports data transfer at speeds of up to 5 Gbps along with external USB device charging.
Non-compliant cables
Dodgy OEMs might manufacture a USB Type-C connector with a dovetail stamped seam (as shown in the image above). These cables are made of a zinc-tin alloy which is easily broken and might not handle a high voltage. We actually need to use a deep-draw extrusion method. This produces a USB Type-C cable without any seam (as shown in the image). It's our recommendation to err on the side of caution.
On that point, USB Type-C is supposed to be a universal standard. Theoretically, one cable should work in any and all devices. In the real world, you will find many connectors that only work with some devices and not others. HP's Spectre x2 is one such device. The laptop will only charge with its own USB Type-C cable.
Their argument is that its a safeguard against potentially harmful chargers. Our crusader Benson Leung even blacklisted OnePlus's USB Type-C connectors which wrecked havoc on Google's Nexus 5X and 6P.