The Apple Watch is probably one of the most popular wearable tech today. For anyone in the Apple ecosystem, this watch is a no-brainer as it seamlessly integrates with the iPhone and other Apple devices.
WatchOS is the proprietary Apple-made operating system that makes all the magic happen and at the WWDC 2022, Apple announced the upcoming new generation of the operating system, WatchOS 9. So what does WatchOS 9 bring to eligible devices?
Advertisement - Continue reading below
In this post, we quickly look at the key announcements on WatchOS 9. Let's dig in.
New Watch faces
WatchOS 9 comes with 4 new watch faces. These include, according to Apple, a remastered Astronomy face, a Lunar watch face that supports the Chinese, Islamic, and Hebrew calendars. There's also a Playtime face with interactive, whimsical numbers, and a Metropolitan, with fog that dynamically stretches as you rotate the crown.
Banner Notifications
Yes, just like on smartphones, you can now get pop-up notifications on your watch. This allows you to get a quick glimpse of what that buzz was about so you can decide whether to tend to it immediately or come back to it later.
Callkit
Callkit on WatchOS 9 allows you to start and mute calls. It also enables support for calls from VoIP services like Webex and presumably WhatsApp and Telegram among others.
New Medications App
You can now discretely track your medication from your Apple Watch, thanks to an update in the Health app. On your iPhone, you can add and build a medications list to track all your prescriptions.
This allows you get notifications on medication times right from your watch. Adding these meds is easy adding as the Health app comes with an auto-fill. iPhone camera can also be used to scan the label.
Advertisement - Continue reading below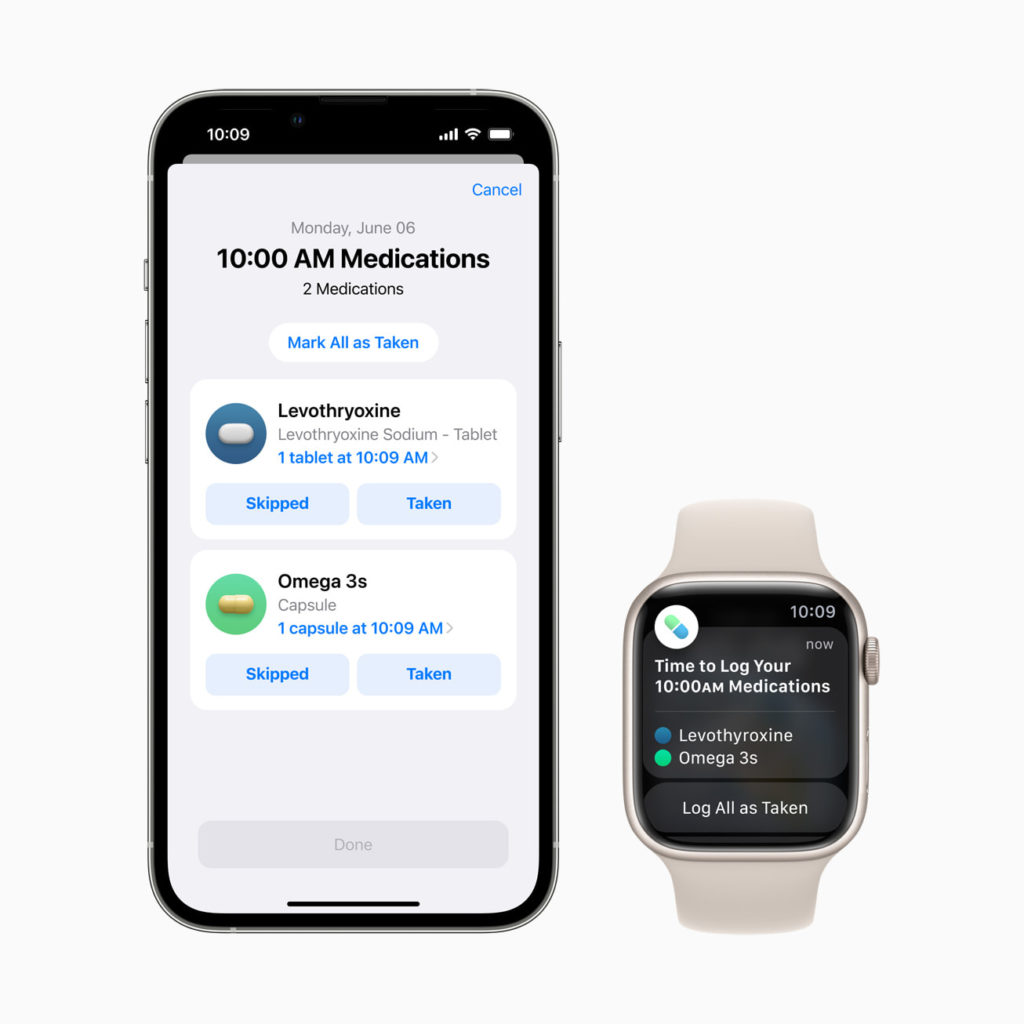 Apple also made a big deal over the Drug-drug critical interaction that notifies you if there are any known side effects of using a certain combination of drugs. This can be useful for meds that aren't supposed to be taken with alcohol. All these, Apple says, is done on the device.
Fitness stuff
With WatchOS 9, your watch will be able to track how efficiently you run. It will achieve this by extrapolating the movement of your torso separately from your arm swing, all this through machine learning to ensure accuracy.
The WatchOS will also allow for custom workouts which will enable you to improve specific metrics with interval workouts.
Apple also announced that Power metrics can now be monitored live during a session, including during running, hiking, cycling, functional strength training workouts, and more. 
Compatible devices
Apple is well-known for supporting as many devices in its lineup as possible. The same has been the case for WatchOS and as expected, most Apple Watches are expected to get the update to WatchOS 9.
Sadly though, one model, in particular, has finally been excluded from the list of compatible devices, the Apple Watch 3. As such, anything newer than the 3rd generation of Apple watches should get the update to WatchOS 9. These include:
Apple Watch Series 7
Apple Watch Series 6
Apple Watch SE
Apple Watch Series 5
Apple Watch Series 4
For more on what was announced at WWDC 2022, check out our summarised roundup here.
Advertisement - Continue reading below