One of the best wireless earbuds you will buy right now are one of Xiaomi's True Wireless Eabuds(TWS). But it can be quite confusing to decide which Xiaomi Earbuds are right for you. Xiaomi has done a terrible job of naming their products with some having different names for the same product. The Mi AirDots Pro 2 also known as Air2(on the box) and also known as Mi True Wireless Earphones 2 in other markets are stem-style Apple Airpod-like in-Ear wireless earphones from Xiaomi.
The Mi Airdots Pro 2 are Xiaomi's direct aim at Apple's wildly popular Airpods but on budget. Instead of forking out $160 with the Airpods, you can just pay $60 depending on where you purchase them from. The Wireless earphones follow the same white-color, In-ear Apple Airpods stem-style design housed in white charging/storage case.
Advertisement - Continue reading below
They support LHDC ( Low-latency and High-Definition Codec) audio codec developed by Hi-Res Wireless Audio (HWA) Union and Savitech. This codec allows for three times the data transmission afforded by SBC and supports a maximum bitrate of 900kbps with a max sample rate of 96kHz. The earphones also support the base SBC and AAC codecs.
Summarily here's what we liked and didn't like;
What we liked
Good quality sound
LHDC codec support
USB-C support adds fast charging
Magnetic charging case
Comfortable ear fitting
Smart ear detection
Great price range
What we didn't like
Lack of multi-device support
No wireless charging
No volume controls
Non-functional touch controls
No ANC support
Confusing branding across markets
Mi AirDots Pro 2 (Mi True Wireless Earphones 2) Full Specs
Product Name: Mi True Wireless Earphone 2 (Xiaomi Mi Air2/ Mi Air2)
Product Model: TWSEJO2JY
Color: White
Charging Port: Type-C
Battery Type: Li-ion Battery
Battery Capacity
– Charging case: 250mAh
– Earphone – 30mAh
Input: 5.2V—1.1A
Charging Time: 1 Hours
Music Time: 14 Hours
Impedance: 32Ω
Sound channel: Two-channel (stereo)
Main Materials: Abs
Weight: 50g
Bluetooth: 5.0
Bluetooth profiles: BLE/HEP/HSP/A2DP/AVRCP
Supported codecs: SBC/AAC/LHDC
Bluetooth range: 10m (open space without obstacles)
Wearing type: In-Ear
In the box
Advertisement - Continue reading below
Charging box
Left and right headphones
Type C charging cable
Manual
Connectivity and pairing
The first thing you'll do when you pickup a TWS earphone is to pair it with your phone/tablet or PC. I am always looking out for how easy and intuitive it is for any piece of TWS earbuds to pair with my phone.
The Airdots Pro 2 earphones don't have any buttons. So you don't expect the pairing process to follow the usual long pressing one of the earbuds buttons as is the case with the Redmi Airdots. Instead the charging case is the one with a single button on the sides. You long press it for about 5 seconds and then wait to see the TWS earphones appear under available devices in your phone's Bluetooth settings.
The earphones will appear as Air2 or Mi True Wireless Earphones 2. Tap on the latter and the pairing process is done. It's fairly simple and fast. However, these earphones lack multi-device support. You can only pair with one device at time. If you have multiple devices like myself, then you have to unpair the automatically connected device before you can pair with the preferred device. This can be annoying and time wasting.
The Airdots Pro 2 spot Bluetooth 5.0, the latest standard and almost all Bluetooth profiles (BLE/HEP/HSP/A2DP/AVRCP). The wireless earphones have a connection range of 10m without obstacles, but I found the earphones could still work when moved in another room.
Related post: Mi AirDots Pro 2 vs Mi AirDots Pro 2 S vs Mi AirDots Pro 2 SE
Charging case and Battery
The Xiaomi Airdots Pro 2 come white rectangular charging and storage case. The case has a single pairing button and a USB-C charging port. The charging case battery capacity is rated 250mAh while each earphone is rated 30mAh.
One surprising cool thing about the case is that the holes which the earphones slide into are actually magnetic. So you can hold the case open upside down and the earphones won't fall off! How cool is that?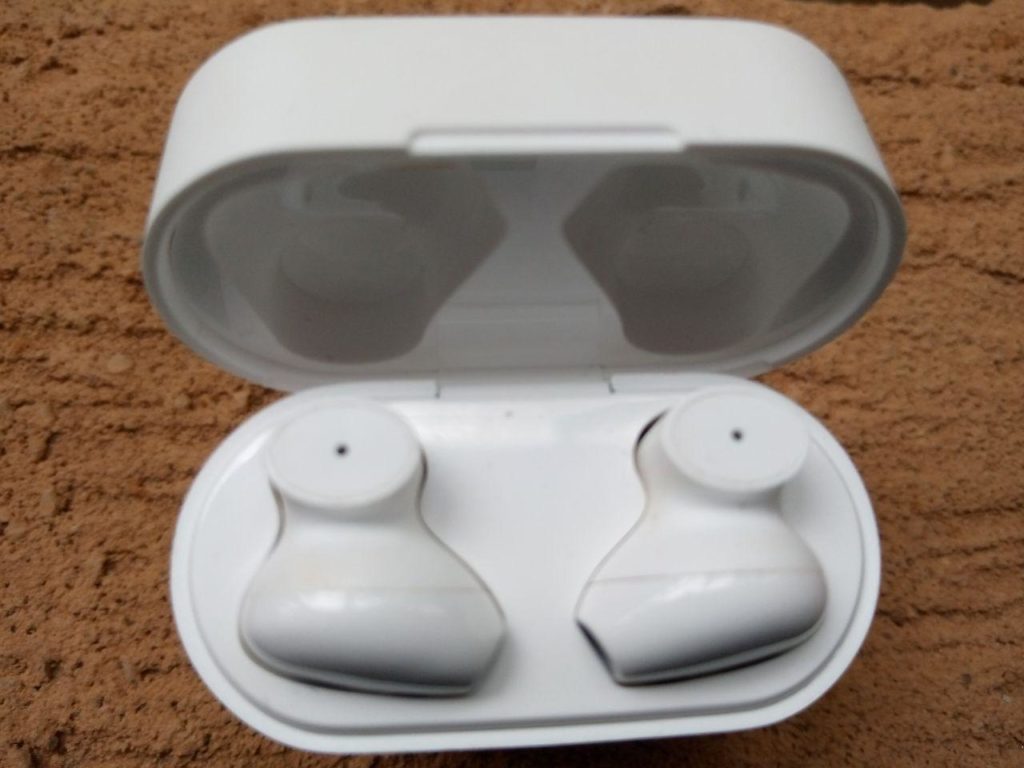 The Airdots Pro 2 can give you up to 4 hours of listening time with a single charge. Bundled with the charging case, you can squeeze out 14 hours of battery life with multiple charges from the case. When I used them, I was able to get about the same battery life in real world tests.
Advertisement - Continue reading below
With USB-C charging port you can reach full charge in about 1 hour.
Design and features
In-ear fit: The Xiaomi Airdots Pro 2 follow the same design language you'll see on Apple's Airpods. The earphones follow stem-design that stick vertically out of your ears like the old-school wired earphones without wires. The earphones don't come with various ear tip sizes as is the case with most earbuds. They have a semi in-ear fit and the anti-slip material that keeps them intact in your ears. I actually find them very comfortable despite one-size-fits-all approach.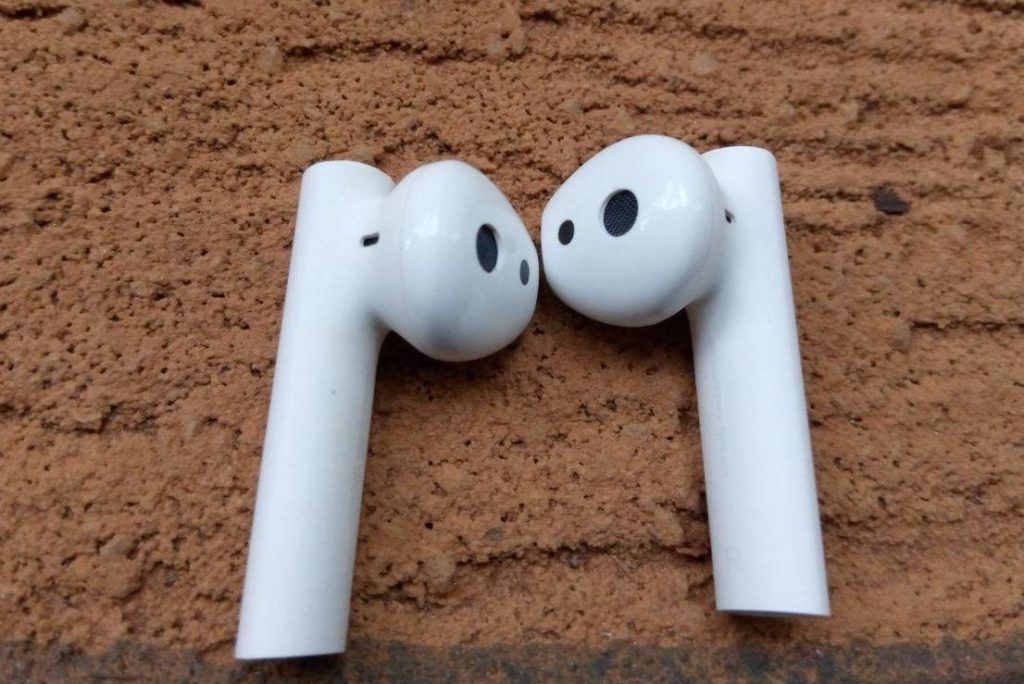 Touch Controls: Because the wireless earphones have no buttons, Xiaomi added gesture touch controls to accomplish certain tasks such as media playback or start Google Assistant or Siri. To Play/Pause music for instance, you double-tap the right earphone. To Answer a call, you double-tap either earphones and to activate Google assistant, you double-tap on the left earphone.
I tried out these touch controls, but I found some weren't working. For instance double-tapping the right earphones fires up Google Assistant, but doing so to pause music didn't work regardless of which phone I used.
Smart in-ear detection: The Airdots Pro 2 will automatically pause your Music when you remove them from your ears and resume playback when you but them back. This works thanks to infrared sensor which I think is in the left earphone only so it only works if you remove the left earphone or both of them at once. When I tested with mine, pausing playback worked when I removed the earphones, but the music couldn't resume playback when I put them back in my ears.
Sound Quality
The Airdots Pro 2 are powered by 14.mm dynamic audio driver that give you that punchy bass sound. I have been using the earphones to play all sorts of music genre from rock, jazz, afro-beats and 80's oldies. I find that these earphones have the best balance between stereo and heavy bass. They sound a lot better than the Xiaomi Redmi Airdots or Anker Soundcore Life P2 or Mpow D7.
These wireless earphones are equipped with two microphones on each of the earphones. The Dual-mic Environmental Noise Cancellation cancels ambient noise and provides a clear voice clarity during calls. I have tested them on calls, and I think these are the best earbuds I have tested for calls.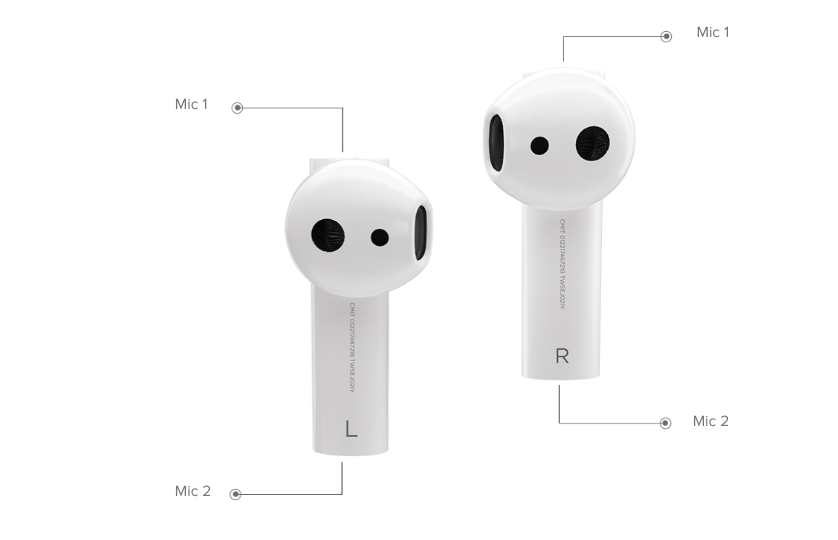 Here's our Video review of the Mi Airdots Pro 2;
Advertisement - Continue reading below
Price and where to buy
The Xiaomi Airdots Pro 2 price ranges from $47 to $70 depending on where you buy them from. On Gearbest, the wireless earphones are priced at $47.99, Amazon India (₹ 3,999), $66 on Amazon.com (slightly different model – TWSEJ01JY).
If you live in Uganda, you can get them from Odukar Store at Ugx 355,000 and enjoy same-day or next-day delivery around Kampala.