Next time you plan to board a bus to or from Kampala to Nairobi, Mombasa or Dar, and Vice versa you might want to check with the current flight fares first. A road trip might not cut it especially when time is not on your side or if you want convenience.
Getting flight information has been a hassle until now. Google last year doubled down on travel industry announcing its own travel product that directly competes with several travel agencies and Airlines dubbed "Google Flight" accessible via https://www.google.com/flights.
Advertisement - Continue reading below
You can track flight prices with Google Flights using the "Track" button based on your desired destinations. This way, you can always find the cheapest option from a list of different Airlines. Google Flights allows you choose Round trips, One way or Multi-city trips. You can turn on the trip tracking button and flight fares will be emailed right to your inbox when they drop.
---
Related post:  Lugendo.com helps you find and book the most affordable flights from Uganda to the world
---
Flight fares around East Africa range from $270 to $400 depending on your destination and trip type. Fares are listed in U.S. Dollars instead of the various East African currencies.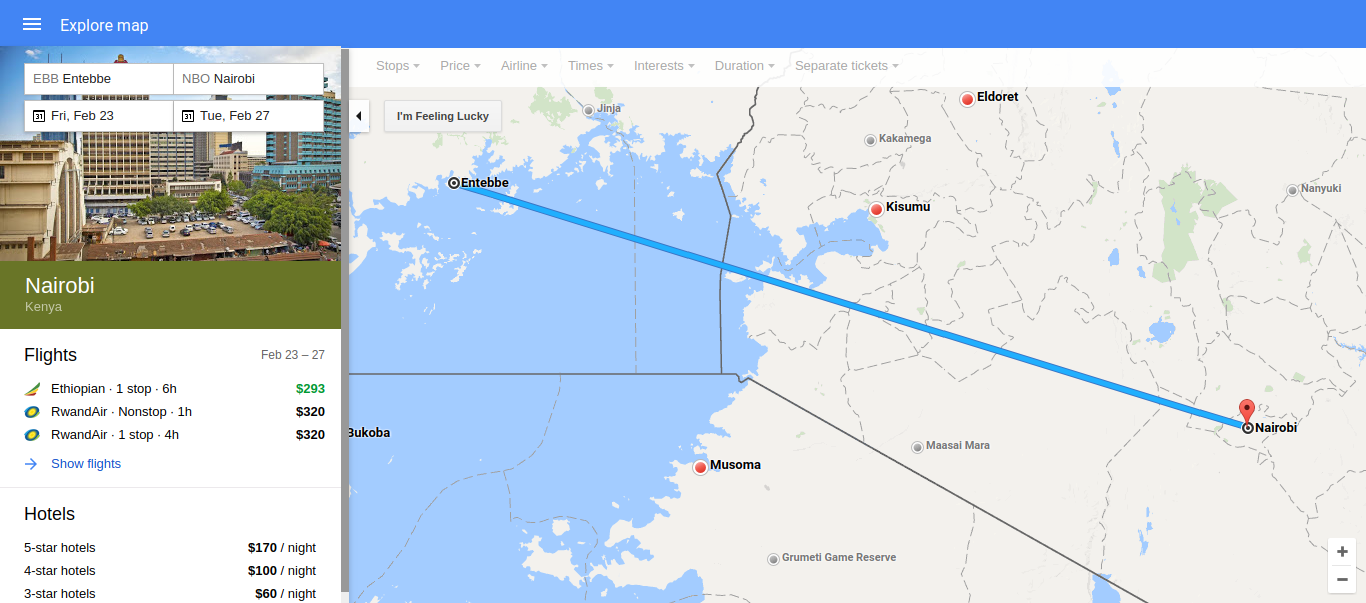 Kenya Airways and Ethiopian Airways, Rwandair currently rule the East African airspace with flights to and from Nairobi, Kisumu, Entebbe, Addis Ababa, Dar es Salaam, Mombasa, Kigali, Juba among other smaller destinations. Kenya, Rwanda and Ethiopia operate national flag carriers while Tanzania and Uganda still don't their own despite several attempts to revive them. During to increasing passenger traffic, Jomo Kenyatta,  Entebbe international as well as Addis Abba Airports are currently undergoing expansion thanks to Chinese contractors.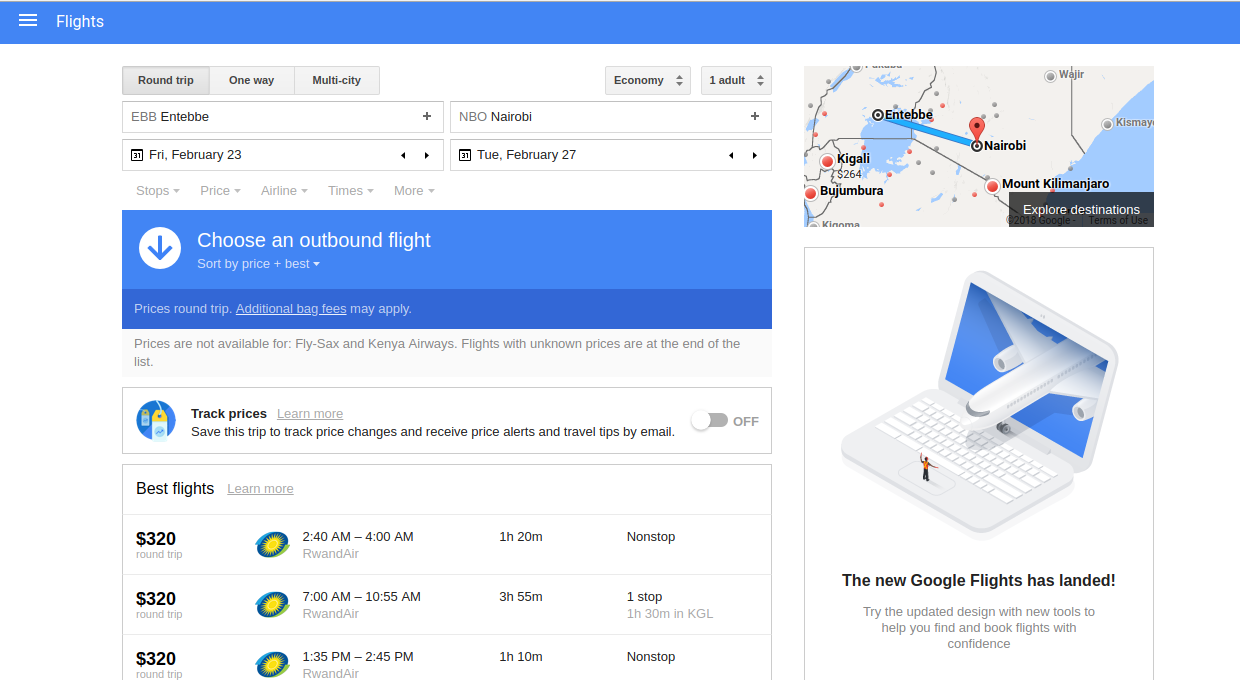 Advertisement - Continue reading below
Last month, 23 African countries launched the Single African Air Transport Market (SAATM) initiative by the African Union (AU). The expected outcome is reduced flight ticket prices across African states, increased trade and travel among African countries and ultimately jobs that come with the travel and aviation industry.
80% of airtravel from #Africa to the world is controlled by non-African Airlines. To fix this, today, 23 countries, including #Nigeria, South Africa, #Ethiopia & #Kenya, agreed to a "Single African Air Transport Market". It's about time. We have been discussing this for years. pic.twitter.com/Yi6JtMSIHO

— Zemedeneh Negatu (@Zemedeneh) January 29, 2018
Surprisingly Uganda and Tanzania are not part of the deal. If you don't like Google Flight or want alternatives, you can try out other flight comparison sites like Trip Advisor, Travelocity, Priceline, Expedia, Orbitz, CheapOair and CheapTickets.