In the wake of unfortunate events that have the country shook, and UCC's reactionary directives to mobile operators in the country, there's perhaps no better time than now to talk about IMEI numbers.
But before we go any further, you should know that every mobile phone should have an IMEI number, genuine and counterfeit alike. So then, without much further ado, let's demystify the IMEI number, what it is, what it does, and how you can benefit from knowing yours.
Advertisement - Continue reading below
What is an IMEI Number?
IMEI is an acronym which stands for International Mobile Equipment Identity. Mobile network operators use this IMEI serial number to identify devices that use their terrestrial cellular/mobile networks. For this reason, any device, mobile phone, modem/router or laptop that connects to a mobile network gets an IMEI number as well by default.
Why you need to know your IMEI number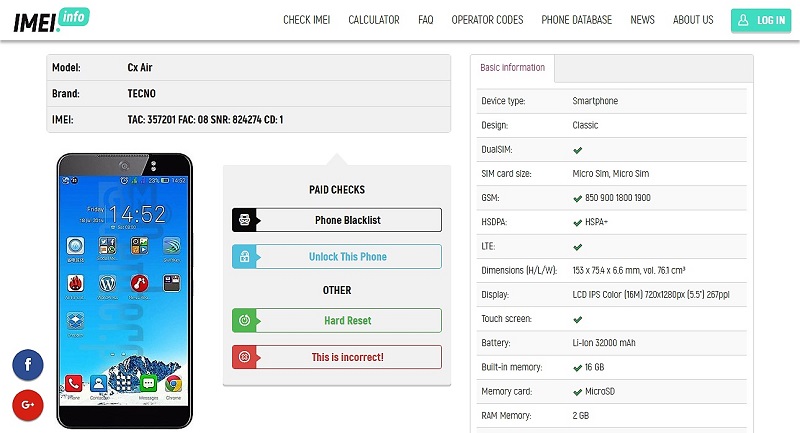 The IMEI serial number serves one purpose above all else: Device identification. In the same way, everyone has a unique name that identifies them from a crowd, the IMEI number identifies a device on a cellular network its connected to. Here are a few ways IMEI numbers can be useful:
Genuine device verification: A quick online check can verify whether your phone is genuine or counterfeit. For instance, Tecno offers an online Genuine Phone Check for their users to verify their smartphones along with the batteries. We also recommend IMEI Info and  UCC. 
Tracking Stolen/Lost Devices: Losing or misplacing your smartphone is not always the end of the world. Armed with an IMEI number (preferably the box and a receipt of purchase), a police letter (for lost property) and a good dose of liquid courage, you can petition a mobile network operator to track your stolen/lost smartphone.
It's also good practice to do a quick online check for a secondhand smartphone you are buying to make sure it's not been reported stolen before sealing the deal. It would be hard to explain yourself once caught with stolen property.
Advertisement - Continue reading below
Blocking devices: Mobile network operators can upon request block devices based on their IMEI numbers. The device will not work on the network at all once this is done. Thieves shouldn't bother changing the SIM cards as the IMEI number is baked into the phone. Even when the IMEI number is tampered with, it sends a clear signal that the user has something to hide.
Can the government track your IMEI number?
Short answer: Yes.
Long Answer: They would need a very good reason to do that. You need to be a person of interest. Otherwise, it's back-breaking work to comb through this data. IMEI numbers are not locked to a particular SIM card. So the government would need a legitimate reason to bend over backwards to find you via your IMEI number. There are easier ways to go about getting what they want, as we very well know. The IMEI number is good, and it's for your own good, really.
So yes, jot that number down somewhere for safe keeping.
Don't know how?
How to Check your IMEI Number?
Not all phones have the same process to check for the IMEI number. Below are some of the ways you can check for this number on most devices out there.
USSD Code: *#06#
Phone Settings: Android
>>Settings
>>About Phone
Advertisement - Continue reading below
>>Status
>>IMEI information
Others: Remove the back cover and the battery to read the IMEI number. Others are printed somewhere visible (i.e. Routers)
Device Box: You can also see the IMEI Number of a device on the box or other content that comes with a brand new device.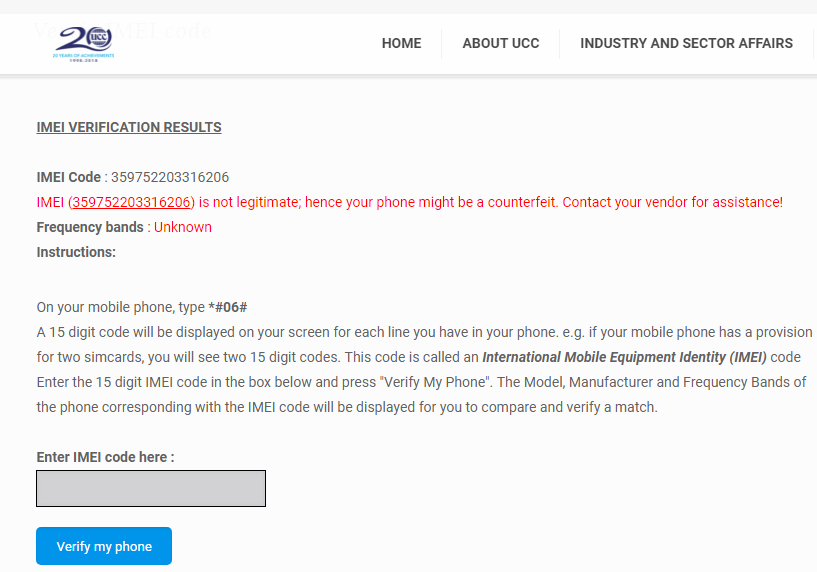 The Uganda Communications Commission (UCC) website can help you verify your IMEI code. All you have to do is enter the IMEI code from your phone to verify.  UCC intimated that people with unverifiable phones stand the risk of getting disconnected, so be sure to check it out.
Featured image: www.maketecheasier.com