Dimension Data Uganda in partnership with their global partner Cisco, hosted the inaugural Digital Business Day Forum in a bid to showcase the latest solutions that enable businesses to fast track their digital transformation journey.
The event, which took place on the 29th of March 2018 at the Golden Tulip Hotel, brought together business executives and technology leaders to explore how organisations are transforming to meet the changing demands across industries and their clients.
Advertisement - Continue reading below
Among the designated speakers of the day was Andrew Ngunjiri, the Practice Manager – Networks in Dimension Data East Africa; Innocent Kemigisha, Practice Manager- Data Centre; Julius Kamau, Joseph Ouko, Customer Experience and Collaboration Manager; and Emmon Lang'at, the Practice Manager – Security.
Mr. Ngunjiri, describing how to accelerate business digital infrastructure, stated that majority of institutional attacks that happen are internal, a point that questions why institutes keep on securing the outside.
Mr. Kamau illustrated that traditional banking systems are being disrupted by technology.
"We tried to launch Facebook banking, WhatsApp banking, and even Telegram banking, but it didn't take off as planned because we didn't have legitimate APIs."
Mr. Joseph Ouko stated that business that go digital do outperform businesses that lag behind.
"We must offer our customers a seamless channel of communicating and integrate this with the various units we have as a business to arrive at customer growth and productivity."

Advertisement - Continue reading below
Mr. Lang'at presented on risk reduction with cyber security, and emphasized that effective security need not be complex.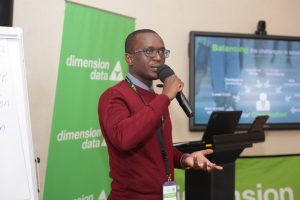 The Dimension Data Uganda Country Manager, Mr. Ishmael Mulli, said that we are living in a digital time where we need to believe in our abilities of greatness and might.
Dimension Data was founded in 1983, and has over the years improved the way data is used to  enhance productivity.