Voice messaging provides an enriching chat experience, and an opportunity to deliver important and time-sensitive information. But the biggest fans of WhatsApp voice messages will tell you about the hustle of holding the mic button to record a note, however long it may have to take. This has now been made much easier and simpler, thanks to the voice recording lock.
The WhatsApp Android beta version 2.18.102 has the feature, which allows you to lock the recording and do any other activity while it is in process. It basically ensures that a user will not have to keep the mic button pressed down while recording.
Advertisement - Continue reading below
How it works.
To lock voice message recording, you hold the mic button to record a message for a few seconds, and a padlock UI element appears along the right-hand side of the chat window which allows you to slide up and lock the recording to give your finger a rest.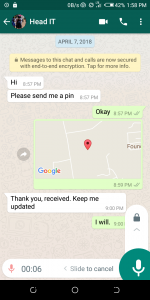 Once you slide up, the voice recording will continue in the send message bar.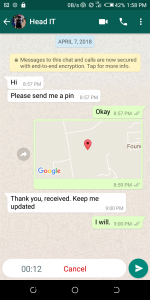 A user can Tap on Cancel if they do not wish to share this, and it will automatically get trashed. However, if a user wants to send the voice message, they can just press on the send option, which is the green arrow box next to cancel.
---
Related Article: How to improve on the quality of your WhatsApp Calls
---
This has does away with the earlier norm of having to slide in order to delete the voice message.
The feature was earlier tested and adopted on the iOS app, and the Android app users should be getting it soon.