Finally, finally! The wait is over. The all-new Gmail just hit your inbox. Google has announced a massive redesign of Gmail, perhaps their most ambitious project yet. Some users of Google's Inbox (Gmail's alter-ego) might be familiar with some of the new features but not all. Google is also not releasing all the features it has in store at launch, but rather at a later date. Hopefully in the coming weeks.
What's even better is that you don't have to wait for Gmail to overhaul your inbox. You can do it all by yourself. What's more, you can always opt out and go back to how things were in the dark ages of Gmail. We won't blame you. For those adventurous chaps out there, here's how to get the new Gmail:
Advertisement - Continue reading below
How to get the New Gmail
The redesigned Gmail is just one click away. All you have to do is go to the settings icon on the top right corner of your inbox. Click on it after which you will see the option to "Try the New Gmail". But not to worry. These changes can be undone using the same process.
Alrighty then. How about we just go ahead and show you? Seeing is believing after all.
---

"You can start using these new updates in Gmail on the web today, with some features appearing within the coming weeks. Go to Settings (the cog wheel in the top right corner of your inbox) and select "Try the new Gmail." If you want to switch back later down the road, you can go to the same place and select "Go back to classic Gmail." ~Matthew Izatt, Gmail Product Manager
---
Here's whats new with Gmail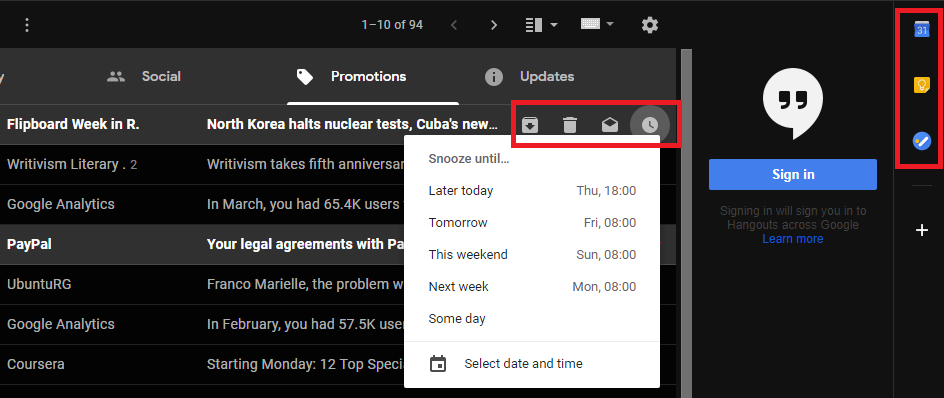 Quick Inbox Actions: The new Gmail will let you do on-spot housekeeping without necessarily clicking on an email and opening it first. Some of these comprise Archive, Delete, Mark as Unread and Snooze. With the latter, you can snooze an email and get back to it at a later date. Once snoozed, an email will take a chill pill and hide from your inbox for a more conducive time of your choosing. This could be later today, tomorrow, this weekend, next week or someday. Also, Emails with calendar invitations will sport an RSVP with the option to accept or decline the invitation. Oh, and one more thing, email attachments will now be visible right in inbox. You don't even have to open the email to do so.
An all-new Sidebar: Google just upped your productivity game with a sidebar on the right side of your inbox. Yes, those tiny icons serve a purpose after all. One is the Google Calendar, the other is Keep to write notes to self and Tasks for to-do lists. You can also get Gmail Add-ons like Docusign, Intuit's Quickbooks, and whatever else tickles your fancy. Using the side-bar is really easy. Click on an icon to expand its contents and you can get to work right away.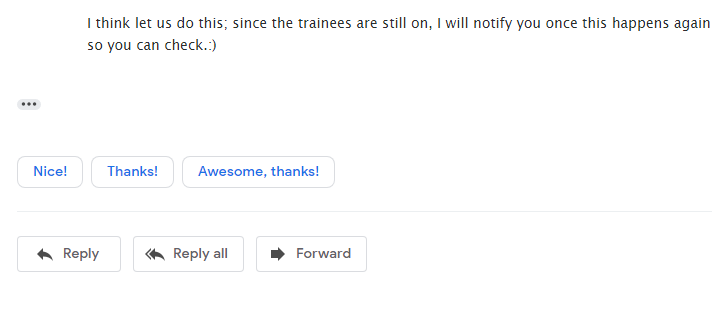 Advertisement - Continue reading below
Smart replies: Anybody who has used Inbox or Allo and also the Gmail mobile app should be familiar with smart replies by now. Basically, you hand over the job of replying to emails to some Google AI which offers suitable short quick answers. If you are not freaked out by this, kudos to you. Because now it has gone mainstream.
Nudges: If you are like me and open emails, only to get caught up in something else and forget all about it, Nudges are the thing you need. Google uses AI to sift through your emails and call to your attention certain emails that might be too important to simply ignore. Google will show these polite nudges as the time since the email was received or sent and an option to reply or to follow-up.
High-priority notifications: Gmail on mobile will notify you when important messages come through. These notifications will be based on how you respond to emails in your inbox.
Warning Alerts: It's common knowledge how easy it is to click on something in your email and open a Pandora's box of malware to your system. Gmail has thought about this and will flag these emails from the get-go. You will now notice new warnings to alert you beforehand of any potentially risky emails in your inbox.
What else Google has in store
Not all the features Google has cooking are ready yet. We will see many of these added later on, preferably sooner. Google by now has over 1.4 billion accounts and is one of the most trusted email client for business and individuals alike.
For this reason, such a revamp of Gmail has been long in coming, if you ask me. If you thought Gmail was good before, think again. It's getting much, much better. Here's what else to look forward to:
Confidential mode: Those familiar with Telegram's self-destruct messages will love the confidential mode. And it does work in the same fashion. You can have a set period after which sent messages disappear from the recipient's inbox without a trace. You can specify this span, as anywhere from a day up to 5 years. Additionally, you can choose to revoke the email at any time of your choosing after you send it. Well then, if Self-Destructing Emails are not enough, un-forwardable Emails might be the thing for you. These confidential emails will open in a window that won't allow the recipient to forward, copy or print the email. Such a feature comes in handy for correspondences of a highly confidential nature were they to fall into the wrong hands. There are other ways to go around this though, but oh well. Gmail can only do so much.
Unsubscribing from newsletters: Gmail is all about productivity, as we very well know. With this redesign, Gmail will let you unsubscribe from newsletters and other unsolicited offers that fill up your inbox. You will be able to do this without having to open the email itself.
Two-factor Authentication for individual Emails: Are you paranoid much? Well then, Gmail users sending extremely confidential material can opt into enabling two-factor authentication for a single email. Before they can open it, the recipient would have to enter a secret passcode you send them via SMS. How's that for secure?
Native offline mode: The new Gmail comes with a native offline mode which lets you respond to emails without needing to have an internet connection. Once you get online, your email replies will sync automatically, and voila!
These are some of the new features to look forward to. You might have half of those already. We would love to know what you think about this redesign. So then, take your Gmail for a spin now, will you?