In a further attempt to extend its reach into emerging markets such as sub-Saharan Africa, Google recently released an app to help internet users have the control over low-speed connectivity and high cost of data. Google Go, a lighter and faster way to search for search results, is optimized to save up to 40% data. It helps you to get answers quickly and reliably, even on slow connections and smartphones with low space.
Aside from reducing data consumption, it is also designed to take up minimal space on smartphones, while downloading and installing it will only take up 5 MB of your storage space.
Advertisement - Continue reading below
The new app allows previous searches to be accessed offline, and Google is adapting the voice function to work better on slow connections with partnerships involving wireless carriers such as the MTN Group and Vodacom Group to make it work on even basic 2G connections.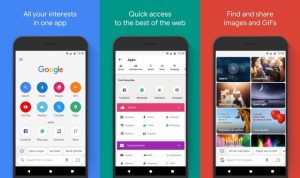 The Google Go app provides quick access to other Google services like YouTube, Google Translate, and Google Maps through home page icons.
Other functionalities include:
Saving time with a single tap through trending queries and topics, or the use of voice voice to say what you're looking for, as well as Smart word suggestions – a functionality that helps users search faster without the need to type out entire search terms.
Quick access to apps and websites, as well as images, videos and information on the things you care about – all from Google Go.
The perfect greetings to share with loved ones. Tap on Images or GIFs to find the best photos and animated greetings to liven up your chats.
Easy switching between languages where you can set a second language to switch your search results to or from at any time.
The app will be available in 26 countries in sub-Saharan Africa and will be pre-installed on all Android Oreo devices as the default search app for the Go Edition. The company also plans to make it available in other emerging markets, including India, Brazil and Indonesia. It is compatible with devices running Android 4.3 Jelly Bean and later versions of the OS.
Advertisement - Continue reading below