What is Search Engine Optimization and why is it important for my business, you may ask. A Search Engine is a web-based tool that enables users to locate information on the World Wide Web through search and currently the most widely used Search Engine is Google. Making your web site and its content visible and reachable through the Search Engine is in turn called Search Engine Optimization (SEO). Visit SEO in Long Island to learn more about this business industry.
Consider a father who has a very beautiful daughter who he keeps inside the house everyday but then expects someone from the community to fall in love with her then eventually marry her. This is nearly practically impossible. Putting that into perspective, you may have taken the great step to develop a very well detailed website with a very attractive layout which is advertising very great products. Certainly, those who know your website address should be able to find your site without any great difficulty, but this may not be the case for the rest who don't. Your website is likely to reach a very small percentage of its intended audience. You might ask me why.
Advertisement - Continue reading below
You must understand that more than 90% of the people depend on the Search Engines whenever they need any information about a particular topic, product, location, event or personality. As you may have noticed, when you search for sometime using a Search Engine, say, Google lots of results are availed from which to pick the most relevant. For your site to appear and rank high in the search it must have the basic elements. These elements include; Meta keyword, Meta description, Page titles, sitemap, and keyword-rich content. It doesn't matter how beautiful your website looks or how great you can write. What matters most is how you take advantage of those elements. Each Search Engine has a different algorithm (complex logic) which uses these mentioned elements to determine rank of a website.
How the Search Engine works.
Early Search Engines just indexed keywords and titles of pages of a website. However, the newest trend in Search Engines, and likely the future of search in general, is to move away from keyword-based searches to concept-based searches. In this new form of search, rather than limiting a search to the keywords the searcher inputs, the Search Engine tries to figure out what those keywords mean, so that it can suggest pages that may not include the exact word, but nonetheless are relevant to the search.
The algorithms used are very intelligent and well protected, to prevent people from specifically creating pages to get better ranks, or at least to limit the degree to which they can do that.
How to optimize your website summary.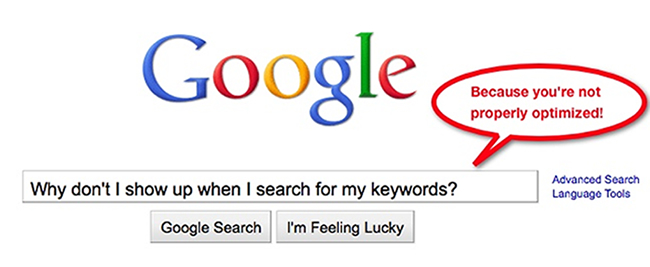 Include the Meta Key words and Description.
A meta keywords tag is a brief and concise list of the most important words (keywords) of your page. The meta keywords tag is placed in the "head" section of your website and takes the following form:
<meta name="keywords" content=" Your keywords separated with commas.">
A Meta description on the other hand is a brief summary of the content on your web page. Typically, this should not exceed 150 words and ideally takes the following form:
<meta name="description" content="a summary of the web page content" />

Advertisement - Continue reading below

Make relevant page title and file names.
Make sure that your website pages have titles that are relevant to the content on the respective pages. No pages should have the same titles. When saving the page, it is ideal to save them with names related to the page content. Be careful not to leave spaces in the page names. Make use of underscores (_) and or dashes (-) in instances where you need to separate words.
Place keywords strategically throughout your website content.
Having keyword-rich content is the key to having very good results in the Search Engine. Once you've determined the best keywords relevant to your website to use, place them strategically on each Web page. However, as you do this, make sure your sentences still make sense (grammatical). The higher the keyword density in relation to other text, the better.
Create a sitemap for your website.
A site map (or sitemap) is a list of pages of a web site accessible to crawlers or users. Usually sitemaps are in "XML" language. You will need to create a sitemap.xml file (generally provided for free). You may use the site www.xml-sitemaps.com for free sitemap generation. The sitemap is uploaded together with the website.
Make good use of back links.
Backlinks are links that are directed towards your website. Also knows as Inbound links (IBL's). Most major Search Engines rank Web pages based on the number and the quality of links that point to the Website (link popularity).Placing relevant links to directories and forum/blogs is an ideal way to build valuable incoming links. As you build incoming links, keep in mind that Search Engines look for Websites that are useful for site visitors. If your website is helpful and informative, you'll generate more favorable Search Engine rankings. You'll also enjoy a steady stream of targeted traffic from your link partners.
Use appropriate tags to describe you images on the website.
This is also another avenue you make you to make your pages and images popular. Make you the image names are relevant to the context on the page. Where possible, please use one or two keywords.It is also important to make sure that your images tag has the alternative text and description tags denote with "alt" and "description respectively. Alternate text is the text that appears on an image when you put a cursor over it while description is simple a description of the image. These two tags to add a few more important keywords and phrases. Actually this is one of the determinants of how images rank in a Search Engine. Usually, the higher an image is ranked may have a great impact on how the page it belongs to also ranks.
Valid your website.
Make sure that you valid all the code on your website to make sure that it doesn't have syntax (code) errors as these may affect the rank of your website.
Content management systems and blogs such as wordpress, blogger, joomla and drupal make the above process slightly easier since most of the steps are done either automatically or in a graphically more user friendly manner.
A Website doesn't usually get to the Search Engine by default unless it has so many important links or it belongs to a universally important organization like United Nation. Therefore, it needs for you to submit it to a Search Engine. There are a number of tools (free) you may use, Google webmaster (www.google.com/webmasters/) and Bing Webmaster (www.bing.com/toolbox/webmaster) are the best tools I recommend for you to submit your website. The results after submission are not instant. It may take about 2-8 weeks to have significant impact and results.
You may ask, "How does the Search Engine Company benefit when I submit my website?" Search Engine companies also offer sponsored / paid for Search Engine optimization (which is a whole topic for another day). But what I can tell you about it is that some people pay these Search Engine companies to rank high, and that is how they make lots of money.
Advertisement - Continue reading below
However, all this said and done, there is no sure guarantee that with all the above done your website will rank on the first or second page of a Search Engine. There are other determinants some of which are dependent on the Search Engine algorithm and the location (country) from which the search is made.
All that side, one thing remains sure, you need your website Search Engine Optimization to stand a chance of reaching a greater audience and to rank higher. This is one think you cannot afford not to try out for your website.