Huawei Marine has announced the start of the marine survey for its PEACE project. The (Pakistan & East Africa Connecting Europe) PEACE submarine cable system will connect Pakistan, Djibouti, Kenya, Egypt, and other countries along the Red Sea with a total system length of 8,800km. The project, which was signed in November 2017, is expected to be delivered in the fourth quarter of 2019.
Huawei Marine is working with its long-term partner EGS Ltd.to conduct a hydrographic and geophysical survey of the seabed along the planned cable route. EGS' specialized survey vessel the RV Ridley Thomas, has arrived in the region to commence offshore survey operations.
Advertisement - Continue reading below
Zhang Hongxiang, Project Director for Huawei Marine said that the implementation of the PEACE project has reached another important milestone which is testment to the project delivery capabilities as Huawei Marine continues to provide efficient, high-quality network solutions for her customers.
---
Related Article: Huawei Marine, PCCW collaborate to boost African Internet connectivity.
---
"Our 200G WDM technology that will be deployed in the PEACE cable system will support the rapid development of the East African regionaleconomy and facilitate connectivity between Asia, Africa and Europe".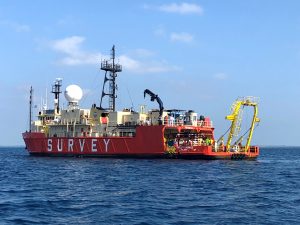 Chris Welsh, CEO of EGS Survey Group, mentioned of it as a great honor for them to participate in the PEACE submarine cable system project and work in partnership with Huawei Marine.
"EGS brings more than 25 years of extensive cable route survey experience and adheres to the highest professional standards. We are delighted to contribute to the construction of the new information highway."

Advertisement - Continue reading below