Intel was initially slated to release Cannon Lake in 2016. In true Intel fashion, that date was pushed back to 2018 which has now been pushed further back to 2019 according to Intel's Q1 Financial Results. Some reports say as late as 2020 by the looks of things. That's literally 24 dog years Intel consumers have had to wait for the 10nm Cannon Lake chips.
Despite the sheer number 'Lakes' floating around, Intel has been using the same Skylake architecture of back in 2015. Kaby Lake, Kaby Lake Refresh, Coffee Lake and Coffee Lake Refresh all have something in common and that's underlying Skylake architecture. This comprises similar CPU cores and GPUs much as technological improvements have driven performance up a notch or two.
Advertisement - Continue reading below
It's on this premise that we await that launch of Cannon Lake. Cannon Lake is more of a revamp than a remix of old Sky Lake architecture. It's for this reason that despite the frustrating shifting date goal posts, Intel fans remain hopeful of what they will get. Not even AMD piggybacking on Intel's supply shortfalls is about to stop this train.
What to expect from Intel's 10nm Cannon Lake chips
10nm, 10nm+, 10nm++ Cannon Lake chips
Intel will probably release variants of its Cannon Lake chips, in the same fashion as the 14nm process. Expect to get 10nm, 10nm+ and 10nm++ chips, each variant more powerful than the last. The first generation 10nm chips should double the transistor density of their 14nm process. The end result will be more features tossed in there for an all-out powerful but remarkably low power processor.
As stated earlier, Intel has milked the Skylake architecture for a couple of years now. We expect new and improved CPU cores, more powerful Graphics processors and better power consumption than what Sky Lake had to offer at the time. A lot has changed and new technologies have taken centre stage and we expect this to be reflected in the new architecture.
If recent leaks are anything to go by, we also expect low power chips such as Cannon Lake Y and Cannon Lake U series. These will consume a fraction of the power in previous processors. Reports of the Core i3-8121U processor consuming 15W look to be solid. Even more impressive is the M3-8114Y processor which is rumoured to have a TDP of about 4.5W. Such power consumption improvements are driven in part by the new low power LPDDR4/LPDDR4X RAM.
10nm Cannon Lake U Processor leaks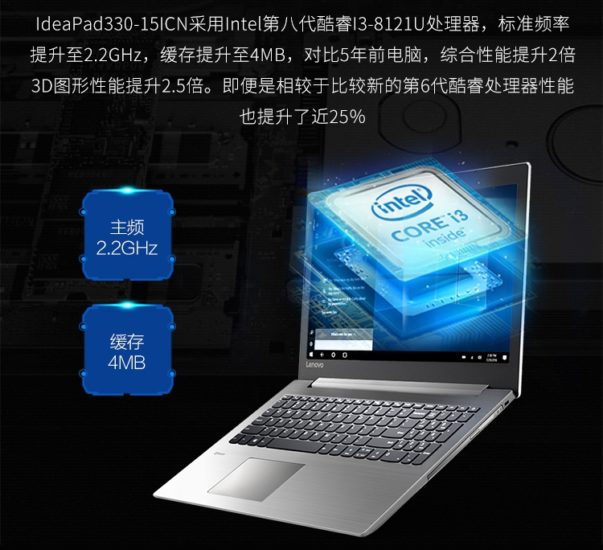 The rumour mill has been working in overdrive since the supposed shipping of Lenovo's Ideapad 330 in China. Intel's Ark site later confirmed it as the first Cannon Lake processor in the wild built on a 10nm process. Coming from another false alarm as concerns the launch date for the Cannon Lake processors, which was again pushed to 2019, Intel's Ark site info we gleaned gives us a keyhole perspective on what to expect come DDay.
Advertisement - Continue reading below
From what we can tell, the Ideapad's Core i3-8121U processor has 2 cores, 4 threads, 4MB L3 cache and a base clock speed of 2.2GHz with a Turbo Boost up to 3.2GHz. The Cannon Lake processor supports 16 PCIe lanes and has Low power LPDDR4/LPDDR4X-2400 RAM and/or the regular DDR4-2400 RAM (power consumption is 15W). The theoretical memory bandwidth was also upgraded to 41.6GB/s up from 34.1GB/s. The sad news though is that the Cannon Lake processor doesn't come with an integrated graphics card.
10nm Cannon Lake Y Processor leaks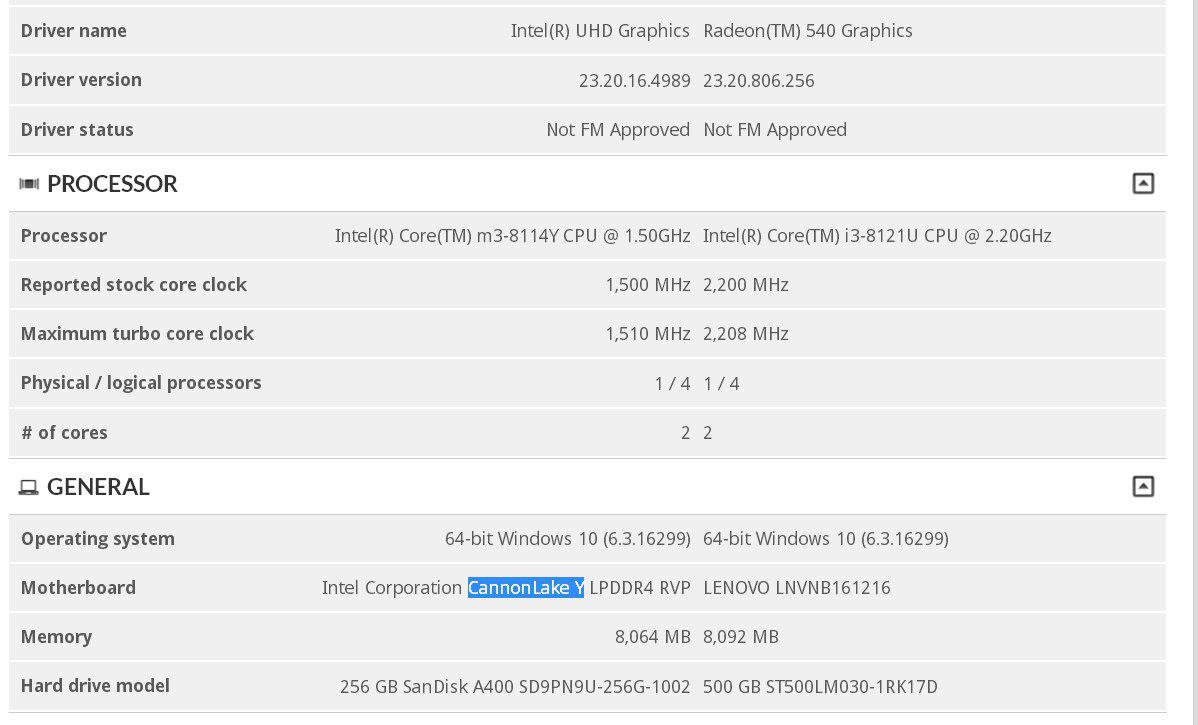 Just like Cannon Lake U, Intel's Y series comprises their ultra-low power models. The Y series will power the entry-level fanless range for maximum battery conservation. As such, these processors come with low base clock speeds to meet this criterion. The Cannon Lake Y series fall under the Core M family which are based on the 10nm process. According to the leaks, one of these is the Core M3-8114Y.
Looking at the specs, the Core M3-8114Y ships with 2 cores, 4 threads and a base clock speed of 1.5GHz with the Turbo Boost up to 2.2GHz. The assumption is that the M3-8114Y will consume around 4.5W, based on the previous M3 specs. Regardless of the fact, it will still pack an Intel UHD Graphics iGPU which is more than we expected.
Featured image: PCWorld.com