There's nothing as refreshing as reviewing jaw-dropping pocket-friendly devices for everyday people like the itel P32. In this department, itel is king.
According to statistics by Canalys, itel which sold 2 million units in the first quarter of 2018 took the #3 spot in smartphone market share in Africa. If that's any indicator, itel has cracked the secret formula for doing what it takes to snag the lion's share in emerging markets.
Advertisement - Continue reading below
The itel P32 is a lot of phone in exchange for a little bit of pocket change. At a modest UGX 330,000~UGX 350,000 ($88~$93), this unassuming device clearly blurs the line between budget and midrange.
But don't get us wrong. The P32 is still a budget phone through and through and that price tag is no gimmick as far as we can tell. The trade-off comes when you look at the line-up of cool features you'd normally expect from midrange smartphones.
Before we put in our elbow grease, we might as well get this out of the way. The itel P32 comes with 8GB ROM alongside 1GB RAM. It runs Android Oreo 8.1 Go Edition tweaked to run on minimal system resources (1GB RAM or less). The RAM though is a fixed done deal, but the silver lining here is that the ROM (internal storage) can be increased by up to 32GB via microSD card.
It also goes without saying that this device is a dual SIM because that's how we roll. As we break down the nitty-gritty of this little beauty, let's start with a few bullet points.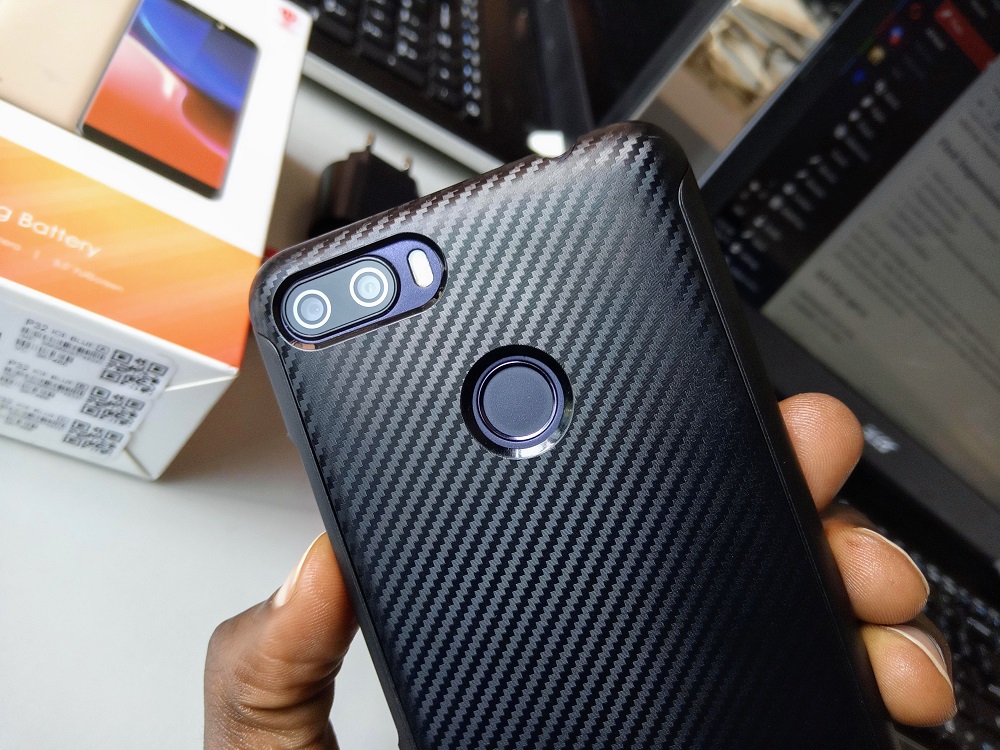 Argument for the itel P32
5MP Dual rear camera
Fullscreen display sporting 18:9 aspect ratio
Matte finish for firm grip
4,000mAh 3-day battery
Fingerprint sensor
No bloatware
Android Go
Gesture keys
Complimentary plastic full-body case
Mobile anti-theft feature
itel P32: Design and Build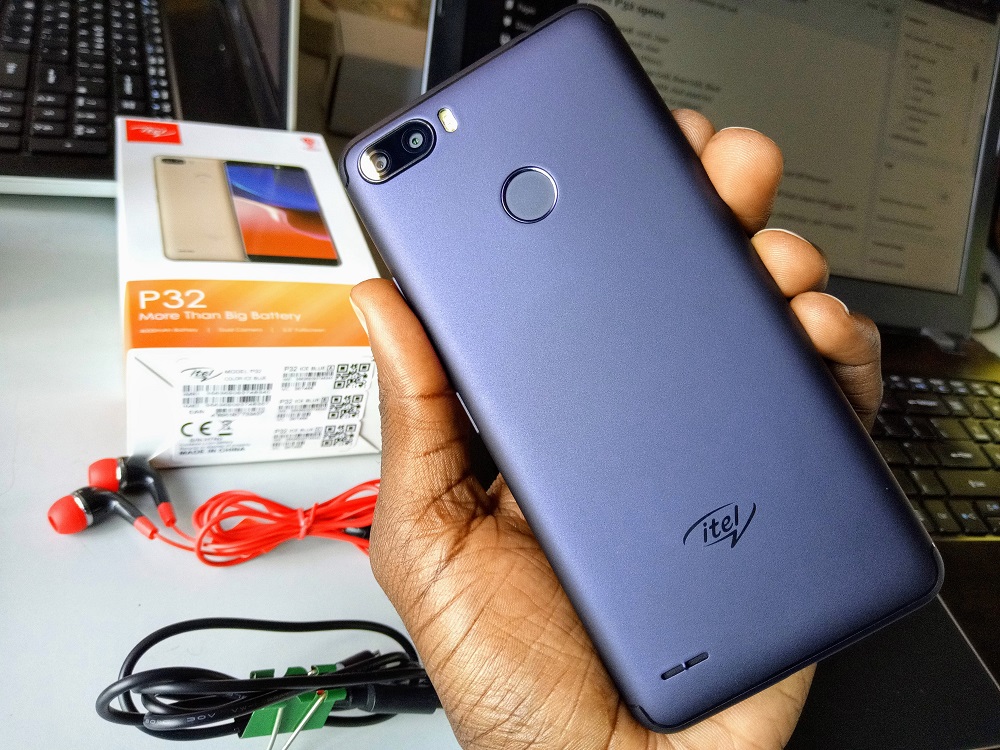 Advertisement - Continue reading below
The 5-inch frame takes us on a trip down memory lane, back when 5 inches was as bold as most smartphone makers dared to go. But unlike old school handsets, the P32 features a full-screen display (18:9 aspect ratio). The bezels are chiselled away to make room for what turns out to be a decent 5.5 -inch screen.
itel chose wisely with the gorgeous matte polycarbonate finish which gives it a premium look and feel. That and a slender 5-inch frame contrasted with 8.8mm thickness and coupled with rounded edges completely does away with accidental slippage.
Not that you have much to worry about. itel includes a plastic full body jacket for total protection. Expect pseudo horizontal antenna stripes top and bottom reminiscent of iPhones. But unlike the latter, these lines are for aesthetics only. I personally found them a cute addition.
---
Related: itel P32 Unboxing & First Impressions: A budget smartphone with more than a massive battery
---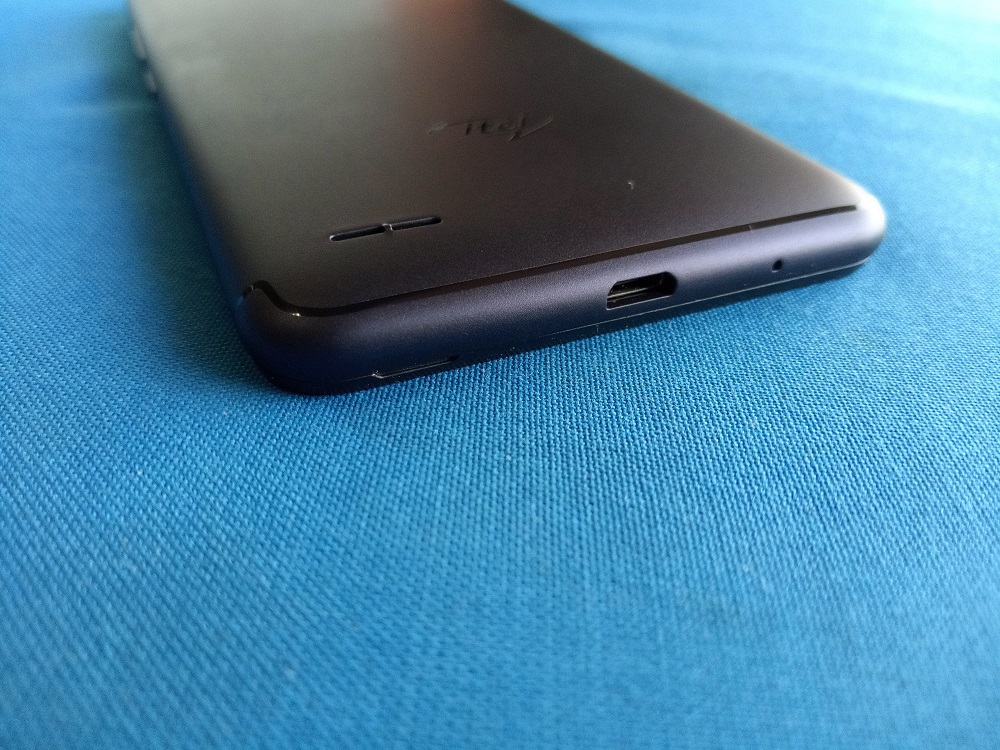 The dual rear camera on a budget handset is a first in this neck of the woods. The dual camera is complimented by a dual LED flash for that perfect shot in low light conditions.
But itel doesn't stop there. A well-placed fingerprint sensor allows for quick unlocking of your P32 along with provision for extra fingerprint shortcut features.
To complete the circuit, a speaker resides at the bottom of your P32. Further down is the oldschool MicroUSB slot. A tiny wedge a little to your bottom right lets you pop open the back cover to access the device innards. But not so fast. The battery is screwed tight, so the best you can do is swap out SIM cards and microSD cards with this arrangement.
itel P32 Review: Software & Performance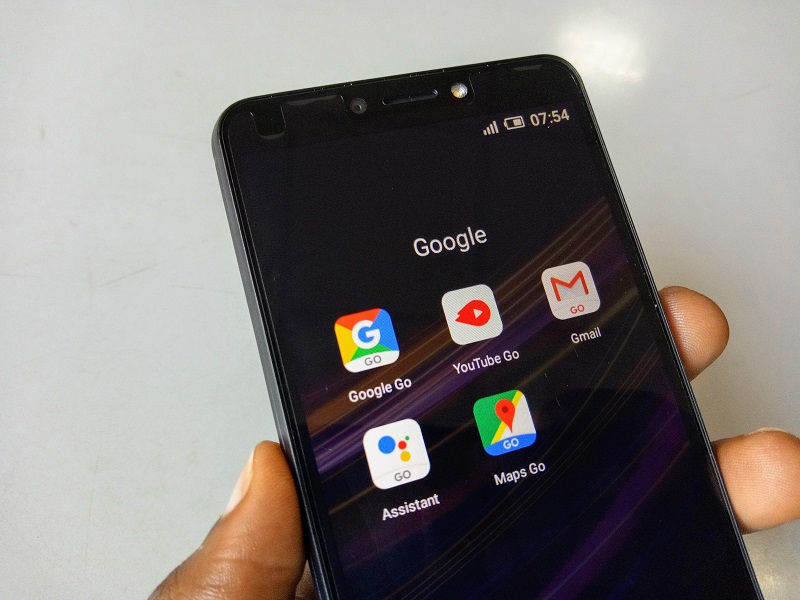 Antutu Benchmark: 20521
Advertisement - Continue reading below
Coming from a point of ignorance, you might dismiss the itel P32 as a sub-par smartphone. Sure, it's a budget device, but that's not to say that it doesn't have its moments.
The P32 is powered by a MediaTek MT6580 Quad-core 1.3GHz, ARM Cortex-A7 CPU and a Mali-400 MP GPU running on 1GB RAM and 8GB ROM. This combo is more than enough horsepower for everyday use and a decent gaming experience. Playing the usual games i.e. Candy Crush and Temple Run was a smooth enjoyable experience.
Still on the point of performance, we have sung the Android Go song for a while now. In a nutshell, this is Google reaching out to provide the latest Android OS to under-powered entry-level devices with 1GB of RAM or less.
The entire operating system is remixed to run in tip-top shape even as it uses fewer system resources. The same applies to Android Go apps which are lighter than the original apps but no less productive. What's more, these apps consume less internet data and consume less battery.
After a bit of tinkering, we discovered a few features which we immediately feel in love with. One of these is Applock which lets you secure any app with a passlock. WhatsApp, hello! With Applock, you can lock your Gallery, File Explorer, WhatsApp and whatever else from prying eyes.
Another one is the Mobile anti-theft feature. With this feature, an emergency contact is informed whenever your SIM card is changed. You can remotely lock your device or completely wipe your device all through SMS text messages sent to your device.
Camera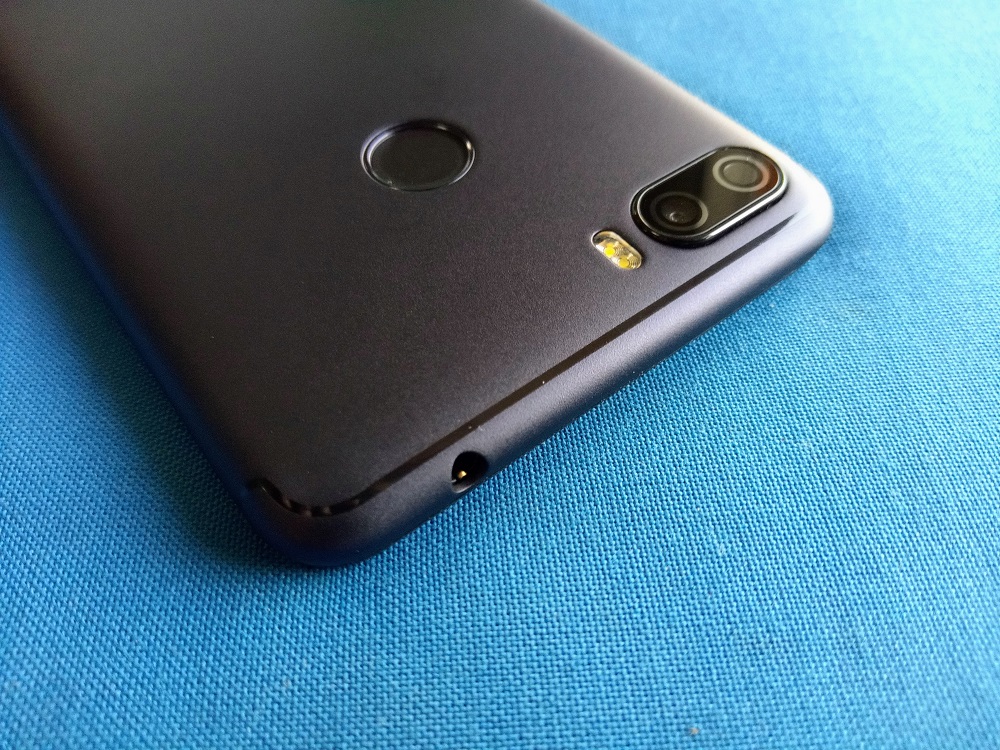 Unless we are mistaken, a dual camera setup on a budget smartphone is unprecedented. The 5 MP cameras work in concert to output images at a resolution of 2560 x 1920 pixels and a 4:3 aspect ratio. The same applies to the selfie camera upfront. As for video, the best you can get is 1980 x 1088 pixel resolution.
There's not much in the way of camera tweaks. You get low-light pano[rama] and HDR. For photo-centric users, there's a bunch of filters and masks you can apply. The end result is a rather impressive photoshoot for such an entry-level device. You have to see this to believe it, though. Here are some shots we took in our downtime…
Battery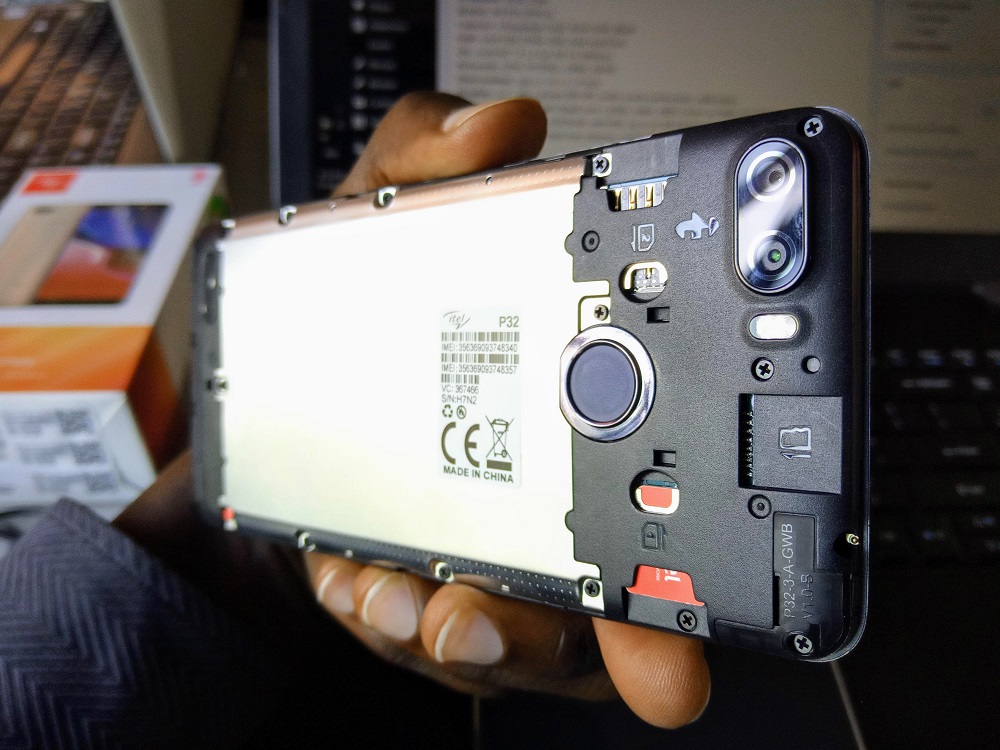 Entry-level and Midrange smartphones continue to raise the bar where battery technology is concerned. That the itel P32 can manage to tuck in so much battery in such a small frame is a testimony for the high-end devices which are miserly in this department.
Being an Android Go device and a 3G phone at that, the P32 is already optimised to run on as little juice as it can. This argument validates the claim that the 4,00mAh battery goes 3 days without the need for charging.
itel P32 Specs:
Announced: 2018, June
Available: 2018, June
Model: itel P32 (F8011)
Colours: Champagne Gold, Ice Blue, City Blue
SIM: Dual Micro-SIM
OS: Android™ 8.1.0 (32 bit Go Edition)
Network: GSM, WCDMA, GPRS, EDGE
Display: 5.5-inch 480 x 960px IPS, multi-touch touchscreen, 16M colors
CPU: MediaTek MT6580 Quad-core 1.3GHz, ARM Cortex-A7 Mali-400 MP Processor
Memory: 8GB ROM, 1GB RAM, microSD, up to 32 GB (dedicated slot)
Camera: 5 MP (2560 x 1920) + 5MP (2560 x 1920) dual rear cameras, autofocus, dual-LED flash, 5MP (2560 x 1920) front Camera with LED flash
Sensors: Accelerometer, Ambient Light, Proximity, Fingerprint
Battery: Non -Removable Li-Ion 4000 mAh battery
Final verdict
Long before the advent of smartphones, the selling point of feature phones was always the long battery life. That the itel P32 can last that long but has enough modern features to stay relevant is an attractive prospect. The P32 has a few things going for it which comprise: good battery, good camera, fingerprint scanner, stylish look, and a full-screen display.
That it's not a 4G phone or that it's not an HD phone and has less RAM and storage space is small potatoes. Many of these are actually overrated. What say you?