It is becoming common practice in the smartphone industry for a company to have multiple brands under one umbrella. Tecno, Infinix, and iTel for example all fall under Transsion Holding's umbrella, the same company behind Syinix.
BBK Electronics Corporation might not be a widely popular name. But its brands, Oppo, Vivo, OnePlus are notable names in the smartphone industry today. Others in the same umbrella include brands like Realme and iQoo.
Advertisement - Continue reading below
Realme as we know it today, started off as a sub-brand of Oppo back in May 2018 and has since grown to be its own brand under BBK. Realme currently operates in 59 markets including China, India, Indonesia, Vietnam, Thailand, Malaysia, Europe, Russia, Australia, Egypt and more.
In the past few weeks, we have seen Realme make its grand debut into the Kenyan market with the launch of the Realme C3, a relatively inexpensive device that packs a lot for the price, and the Realme 6, a more expensive, feature-packed device that is no-doubt, set to shake things up in the mid-range market segment.
So what does this exactly mean for the Kenyan market? Well, first of all, I am not a market analyst. However, being a techie and having been a journalist in the local consumer tech market for a while, here's my insight.
See, Realme is a relatively young brand that for the most part, is still 'discovering' itself. Case in point, Realme devices run on Realme UI on top of Android 10. Anyone that has used Realme UI will tell you that this skin is essentially a rebranded version of Oppos' ColorOS 7.
Users who opt to purchase Realme devices will have the same refined experience as users with Oppo devices, and this is a huge point for Realme. One of the shortcomings of young brands is halfbaked software and luckily, Realme users won't have to deal with that.
Also, as Realme continues to differentiate itself from its parent brand, we can expect it to take a more consumer-oriented approach. As such, expect upcoming updates for Realme devices to bring more experimental and consumer-facing features. This is something that has long been lacking in the smartphone industry with many OEMs taking Apple's "Consumers don't know what they want" approach.
Competition
Transsion has, for a long time, had the African smartphone market by the balls. Infinix, TECNO, and iTel reign supreme in the entry-level and mid-range market segments. These two segments seem to be right on Realme's cross-hairs.
Also, let's face it: Infinix and TECNO devices have a certain brand reputation. Many consider these brands 'cheap', low quality. Try as they may, Infinix and TECNO devices might not exactly be associated with 'class'.
Other brands like Oppo and Vivo (Realme's sister brands) have a much more pleasant public perception and here's why I feel like this could be a selling point for Realme in Kenya. If Realme continues to launch some of its killer mid-range devices with stand-out features like the Realme 6 and its 90Hz display, people pay attention.
There Might Be Space for Realme in Kenya After All
According to the August 2020 data from Statcounter, Tecno is the largest smartphone vendor in Kenya with a 21% market share. It is followed by Samsung with 17%, then Huawei and Oppo with 9% and 6% respectively.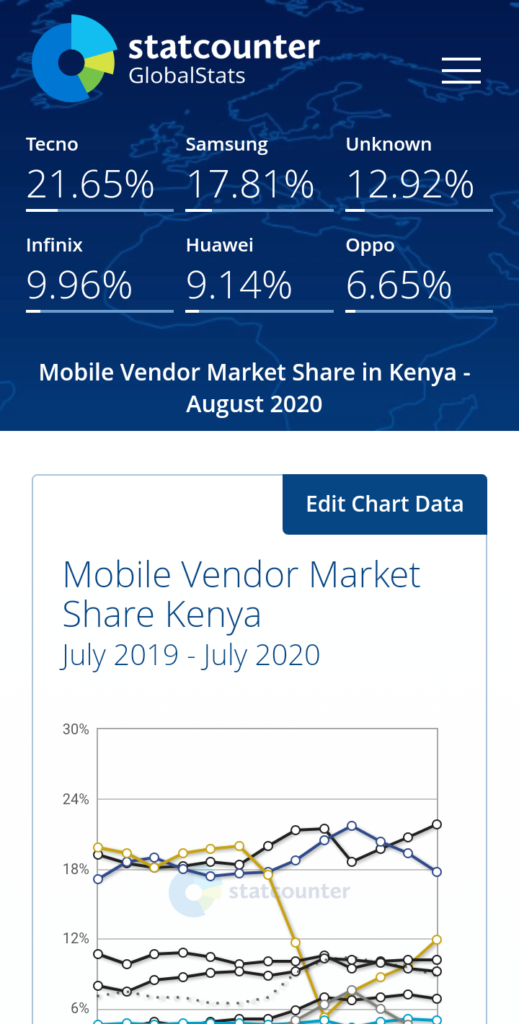 If you look at the competitors for Realme in Kenya, they all have a hamartia of some sort. Think about it, Samsung makes really good devices but these offers are a little bit overpriced compared to its competition.
Tecno and Infinix devices have a poor brand identity, and on top of that, these devices are jam-packed with bloatware and sometimes data-stealing malware.
Advertisement - Continue reading below
Huawei is facing issues globally and for the most part, it is focusing its efforts in its home country. Plus, Huawei smartphones that come without Google Play Services might be a hard sell.
That leaves Realme's sister company, Oppo, and a bunch of other underdogs in the Kenyan market like Vivo and Xiaomi, who also show a lot of promise.
What Else
There are so many dynamics and intricacies to bear in mind before we can confidently say what Realme's debut into the Kenyan market will mean for the industry as a whole. That said, one thing remains true: the consumer is winning! We can only wait and see how these brands duke it out over the next couple of months.