So, this year's installments of #MadebyGoogle devices, or should we call them 2018's most leaked smartphone of the year, are officially out. Sticking to the predecessors' prowess, the cameras on this duo is set to be one of the best, if not the outright best camera on a smartphone in the market. And in a world on the Huawei P20 Pros and LG V40s and Galaxy Note 9s and iPhone XS', this is no mean fete.
The 'bawse' part of it all is that Google Pixel 3 manages to bring the fight for best camera to the aforementioned devices' doorstep with just a single rear-mounted camera when some of them spot up to three rear-facing sensors. Google continues to capitalize on software to do this, and boy do they do this well. That said, there are a couple of features baked into the Google Pixel 3 camera that ensures that it is the undoubted king in smartphone photography.
Advertisement - Continue reading below
---
Top Shot
Google has baked it now famous AI into the cameras on the Pixel 3 in a more wholesome way than we've seen before. Coupled with HDR+ capability, a feature called Top Shot captures a sequence of images, then checks them all and recommends the best one that has all your subjects smiling, facing the camera and not blinking.
Photobooth
If you're more into self-portraits, there's another feature called Photobooth. Again, the AI can determine when you're smiling or making a face. It then snaps the photo on its own so you don't have to do that awkward shutter button reach and possibly drop your device into a canyon.
Advertisement - Continue reading below
Group Selfies
Group Selfie gives you a field of view that's 184 percent wider than the normal mode. You can activate it by double-tapping the power button, switching to selfie mode (by double flicking your wrist) and then double-tapping. Or you can simply ask the Google Assistant to "take a group selfie." At that point, you can fit yourself, your friends, and/or a scenic backdrop into the scene.
Night sight
This feature was announced at the launch event but isn't available yet. A software update should bring this feature to the new pixel devices soon. SO, smartphone cameras have always struggled with low light shots. If you don't use the flash, your night photos appear grainy and lack detail. Using the flash gives over exposed images with an artificial looking white balance.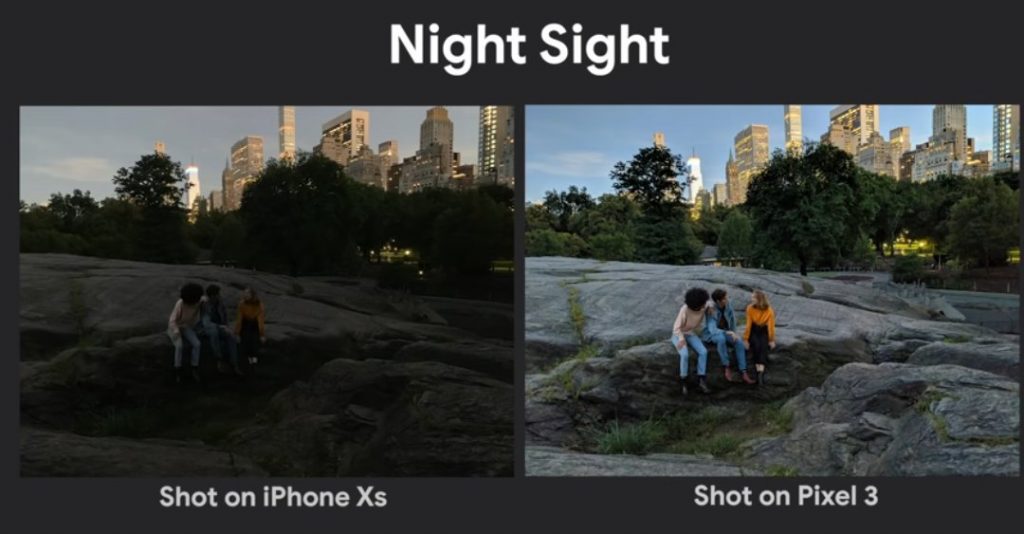 Night Sight takes multiple exposures in order to reduce the grain that would normally make your photos look like garbage. That gives you bright, evenly toned shots that better capture that evening mood. The only drawback, again, is that you have to hold the phone still while shooting and your subjects can't move around much either. Note that this feature won't be available right away — it'll come along in a future update.
Portrait Mode and bokeh
The top flagships in the market today all use a set of multiple cameras to nail this portrait mode on their cameras. Google's Pixel 2 did it, and pretty well too, using just one camera. The Pixel 3 sticks to one camera and offers this portrait mode and much more. You can adjust the level of bokeh-flavored blur in the shot after you take it simply by adjusting a slider. Again, this is done using AI and multiple exposures.
Motion Auto Focus
Motion Focus is a feature baked into the new Pixel cameras, it figures out what your subject is and keeps track of it. On top of that, the Pixel 3 comes with front-facing video stabilization, keeping things steady if you're walking or moving around while recording yourself.
Advertisement - Continue reading below
This video by reclusive filmmaker Terrence Malick showcases the stabilization built into this device. the video includes a lot of close-ups and the camera never seems to stop moving, yet everything does stay sharp.
Unlimited storage
A kickass camera like this will no doubt produce rather bulky photos. Google knows this and it is offering Pixel customers 2 years of Unlimited original quality back-up of photos and videos onto Google Photos.
While this device might not exactly make its way to this neck of the woods, it still has geeks and techies excited as it's a showcase of what a difference software can make. This will no doubt be one of 2018's best smartphone cameras and we hope other OEM's will begin to add value to their devices with software, and not just hardware innovation. I mean, having triple camera setups is nice and all but if you can do an even better job with just a single camera, why not do it like Google?