As it so appears, good guy Infinix actually has an ear to the ground when it comes to customer satisfaction. System Update version X604-H633H-O-180914V239 fresh out of the oven comes with a few tweaks, most important of which is support for the Infinix Note 5 FM Radio. Now if you remember, in our hands-on review, Infinix Note 5 managed to tick all the boxes save that very one.
FM radio is one of those functions you either have, or you don't on a device. If your device doesn't have the FM radio app, good luck trying to make it work. It's not something you can easily download on the Play Store or hack your way into. It just won't work. The best you can do is ad-infested online radio. I don't know why but I have issue with being required to have an internet connection to listen to local FM radio.
Advertisement - Continue reading below
Here is how it works. Smartphone processors, in this case the Helio P23 System-on-a-chip, ship with all the gadgetry it will ever need already baked in. These include Bluetooth, WiFi, processor, GPS, FM Radio and others.
You need actual hardware to use any of these functions, so what you should know is that the Helio P23 processor already had FM Radio capability which was simply disabled. And now it's not. All it took was a system update that 'switched on' FM Radio.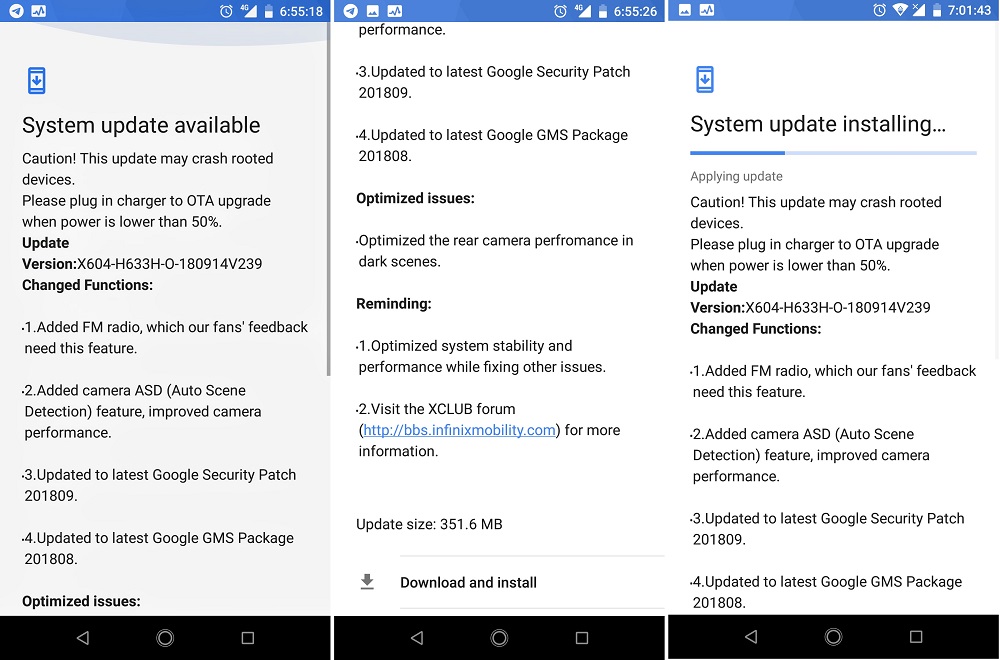 What's you get in new System Update
Added Infinix Note 5 FM Radio.
Added Camera ASD (Auto Scene Detection), and improved camera performance.
Updated to the latest Google Security Patch 201809
Updated to the latest Google Security Patch 201809
Optimised the rear camera performance in dark scene.
Optimised system stability and performance while fixing other issues.
---
Related:
---
The System Update
The system update took the better part of an hour to download, install and apply the update. The apps have to be optimised for the new update and this took a while. What we advise is that you sit back and relax with a hot cup of coffee as you wait.
Most changed functions are small and incremental so you might not actually be able to see them. Other than the addition of FM radio, you will notice a new blue icon when you switch to your camera. We believe this is the Auto Scene Detection we saw in the System Update.
Advertisement - Continue reading below
Infinix Note 5 didn't have FM radio and I believe I am speaking for everyone who has bought this wonderful device when I say it was one of the biggest turnoffs. I mean, I personally started using the Note 5 as my main device for more than 3 months now and I have to say it's perfect.
The 4500mAh battery can take me three days, I get periodical system updates, the camera is really good for a device at that price. The Full HD screen is simply glorious. Everything was good apart from the missing FM radio which many people actually use.
The FM Radio is quite literally one of the fastest apps we have seen. It loads in a split second every single time. The white/pink interface is simply gorgeous. But as a Batman fan myself, I am asking myself if it's asking too much if it came in black. Just saying. Otherwise, solid work, Infinix. You just did the impossible and made me fall in love with my Note 5 more than before.