On Wednesday 17th October 2018, YouTube fans around the world woke up to only to find issues connecting to the service. YouTube servers went down at around 4 am in Kampala. For moments, users saw error messages appear instead of video content. This confirmed the problems with the service. YouTube was down.
Instead of clicking through to the content they need, users have been seeing YouTube Internal 500 Error messages instead. It appeared as a line of code and a purple monkey holding a hammer.
Advertisement - Continue reading below
As usual, the frustrated YouTube users turned to social media sites with a stream of comments asking why YouTube wasn't working worldwide. Famous YouTube stars turned to Twitter, in an obviously scared mode. Losing fame is that scary, right? They mostly used the hashtag #YouTubeDown.
The hour-long outage affected YouTube, YouTube TV and YouTube music. However, the YouTube support team took to their Twitter to restore a bit of faith in the service users that they were fixing the issue.
Thanks for your reports about YouTube, YouTube TV and YouTube Music access issues. We're working on resolving this and will let you know once fixed. We apologize for any inconvenience this may cause and will keep you updated.

— Team YouTube (@TeamYouTube) October 17, 2018
Twitter community threw jabs to the YouTuber who relied on the service instead of getting 'real' jobs.
Advertisement - Continue reading below
Twitter was on fire after YouTube went down
The Police in Philly made a hilarious tweet about the incident. Below is the Philly Police tweet that has been making rounds across Twitter after YouTube went down.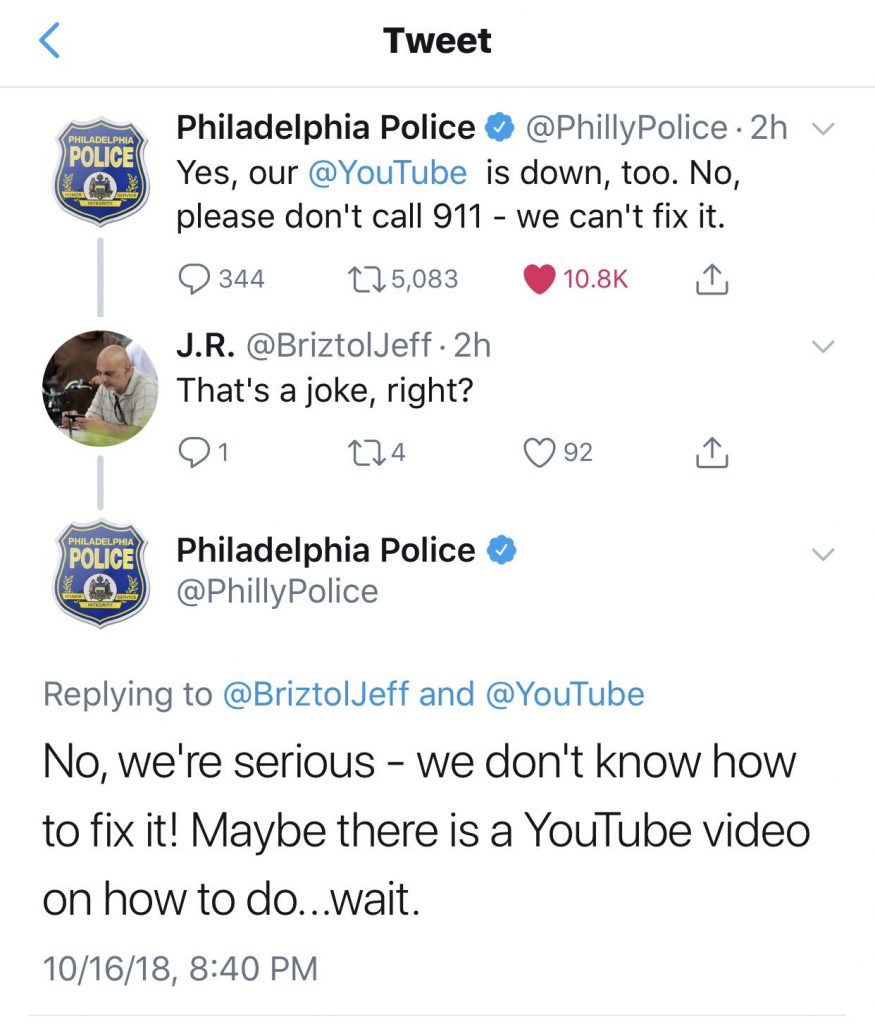 YouTube support team later tweeted that the service was back. However, they did not provide any further information on what caused this morning's outage.
We're back! Thanks for all of your patience. If you continue to experience issues, please let us know. https://t.co/NVU5GP7Sy6

— Team YouTube (@TeamYouTube) October 17, 2018