Many platforms like YouTube and Soundcloud have premium accounts. With these accounts, you are able to access more features and more advanced user experience. Payment platform Xente also has a premium account and unlike the rest, this one is free. You just have to fill in a few of your personal details.
Before we dive into the how, let's discuss what benefits come with a premium Xente account.
Advertisement - Continue reading below
You can make purchases on Xente throughout the month without having to pay for the products immediately while on the Xente Premium account.
In case you are in urgent need of Yaka, airtime, movie tickets, data, event tickets, simply get ANY product on Xente and Pay later.
You can borrow from as low as UGX 2,000 & your loan limit will depend on your transaction behavior (the number of times you take out loans and how quickly you payback).
Use international Visa & Master Cards
Personal Concierge
Free shipping when you use the Xente Shopping Feature
UGX 2,000,000 daily limit on Mobile Money transactions
UGX 2,0000,000 daily limit on Visa & MasterCard transactions
Related Article: Xente Just added a shopping feature to its App
Steps to upgrade your Xente account to premium
Step 1: Take a Picture of your National ID card or Passport Bio page. You will also be asked to enter your National ID/Passport Number
Step 2: Take a picture of yourself holding your national ID card / Passport Bio page.
Step 3: Enter your place of residence. Xente asks for the Town, Region, and address.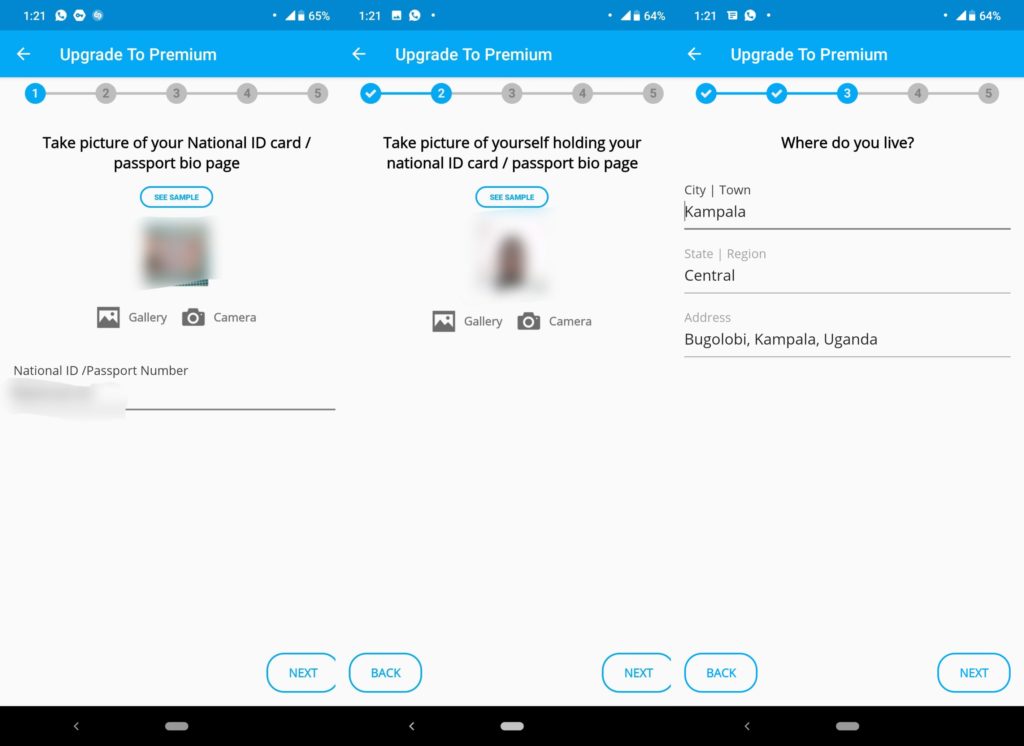 Step 4: State what you do for a living. Are you employed, Self-employed, a student, or retired.
Step 5: If you were referred by an agent, you can also enter the agent code and tap on Submit.
Advertisement - Continue reading below
Step 4: Your details will be subject to verification by the Xente team and this takes at least 24 hours. Once your application satisfies all the requirements, you will be registered as a premium Xente user.
If you're already using Xente a lot and you want to take your usage a notch or two higher, go right ahead and upgrade to the premium account right away. The beauty is that upgrading to a premium account on the Xente platform costs nothing; it is free.