When Twitter launched Fleets a couple of months ago, it also announced that it was working on a Club House-like audio chat room feature for the platform.
According to Twitter, the reason for this is they think "the human voice can bring a layer of connectivity to the platform [Twitter] through emotion, nuance, and empathy often lost in text."
Advertisement - Continue reading below
Twitter started beta-testing Spaces privately months back. The feature was limited to a set of individuals from 'under-represented backgrounds.' Also, Spaces was only made available on iOS devices during Beta testing.
The test expanded to include a subset of Android users, letting them join and talk in Spaces—but they (Android users) couldn't start their Spaces.
However, Twitter has now opened Spaces to everyone, allowing Android and iOS users to join and host their own Space. Support for browsers and web is in the works.
In this post, we'll show you how to host you own Space on Twitter, from your Android or iOS device.
How to Host Twitter Spaces
On Android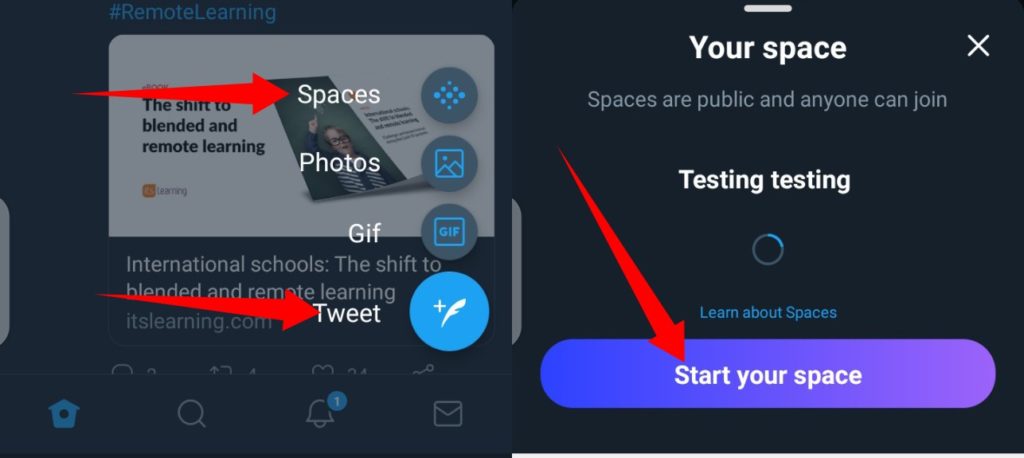 First, update your Twitter app from Play Store.
Afterward, click the Tweet icon and select Spaces.
Next, name your space and hit Start your Space.
Once you've created your Space, you can invite other users to speak. Twitter Spaces currently lets you host a space and invite up to 10 other speakers.
On iOS
Tap on the Tweet icon at the bottom-right
Click on the Space icon.
Next, select the category of people you want in your Space: Everyone, People you follow, or only People you invite.
Once you have selected a category, go ahead and hit Start your Space.
Own Your Space
As additional functionalities are continuously being added to Twitter Spaces, and features are being improved upon, we expect that it'll be available to every Twitter user and available on other devices (Windows, etc), as well as Twitter Web as soon as possible.
Advertisement - Continue reading below