Internal storage on smartphones come in different sizes. There are phones with 8GB, 16GB, 32GB, 64GB, 128GB, 256GB, 512GB and 1 Terabyte storages. Did I just mention 1 Terabyte (1TB)? Yes, I did. No one is daydreaming neither is anyone in the virtual universe. A smartphone with 1TB storage is as real as real can be.
Across the globe, there's only one smartphone that offers inbuilt 1TB storage, and that's the Smartisan R1. Digression: Most budget OEMs use 16GB / 32GB / 64GB range of internal storage. The big guns usually implement larger storages as much as 128GB, 256GB and 512GB. We can see such gigantic memory in phones like Huawei Mate 20(128GB), iPhone XS(512GB max) and Samsung Note 9(512GB max) to mention a few.
Advertisement - Continue reading below
Back to the topic, Smartisan R1, an unpopular smartphone brings something unusual to the table. A Beijing-based technology company, Smartisan is the manufacturer of this smartphone.
1TB Memory Glory
While most OEMs opted to make killer notch smartphones, Smartisan decided to deliver the World's first smartphone with 1TB storage. Given this storage capacity, users should hardly see the need to delete files. Let me break it down a bit; one 1TB is equivalent to 1,024GB of files that can be stored on the phone.
Even with this 1TB UFS 2.1 storage aboard, Smartisan R1 still features a memory card slot. The slot can admit MicroSD cards with 256GB capacity. However, just like major smartphones have memory variants, this device has other iterations. The other options are 64GB and 128GB.
More awesomeness…
A famous saying goes: United we stand, divided we fall. If the smartphone's excellence is based on just the massive storage, things will surely fall apart. In essence, asides the large storage, the Smartisan R1 is loaded with other impeccable features.
Taking the spotlight away from the memory zone, there's the attractive 6.17-inch display with 1080p resolution. What's more, 18.7:9 aspect ratio and 84% screen-to-body ratio ensures that there's enormous real-screen estate. Also, screen protection is served by Corning Gorilla Glass.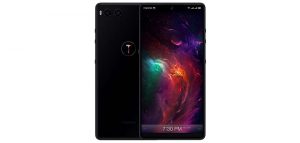 Advertisement - Continue reading below
Smartisan OS 6.0, a modification of Android Oreo works as the smartphone's software. But the interesting part is that the OS delivers Android OS in a Mac OS format. Juicy, isn't it?
Irrespective of the hierarchy, Qualcomm Snapdragon 845 SoC orchestrates all the functions of the device. Options of 6GB and 8GB LPDDR4X RAM are availed to improve the chip's performance.
The camera section is also pretty impressive. At the face of the phone, a 24MP shooter backed up by AI and f/2.0 aperture is positioned. Around the back, 12MP and 20MP dual shooters churn out marvelling images. LED flash, 4-axis OIS, dual PD extreme focus and 6P lens are additional features of the rear cameras.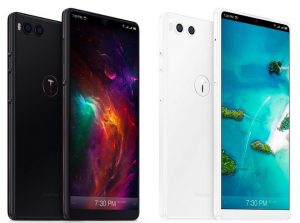 Other fantastic features worth noting are 3,600mAh Li-Po battery, Qualcomm Quick Charge 4+, 10W Wireless Charging, Type-C USB v2.0 with OTG, Fingerprint sensor, Face recognition, NFC and Bluetooth 5.0.
Price
Smartisan R1 with 1TB storage and 8GB RAM costs $1,388. The other versions such as the 64GB and 128GB with 6GB RAM are sold at $540 and $627 respectively. The phone is available in Carbon Black and Pure White colours.
Okay folks, now you have the smartphone with 1TB storage. Do you think it's worth it? Let's see your reactions in the comments block.
Advertisement - Continue reading below