It is the turn of a new year and as expected, smartphone brands (Samsung, iPhone, Tecno, Infinix, iTel, OPPO, etc.) will be competing toe-to-toe with the release of new iterations of the different smartphone lineups they have.
For some smartphone brands like Samsung, the rumors, predictions, and speculations have started flying around. We hear that the Samsung Galaxy S22 series (expected to be the Galaxy S22, S22+, and S22 Ultra) could be launched as soon as February this year. And there are a couple of interesting updates that are rumored to be introduced to the Galaxy S22.
Advertisement - Continue reading below
Design
A couple of leaked renders from reliable sources have suggested that the Samsung Galaxy S22 series will be getting smaller screens. According to a popular Twitter leaker, "FrontTron", the Galaxy S22 will come with a 6.01-inch display, while the Galaxy S22 Plus will come with a 6.55-inch display, and the Galaxy S22 Ultra, a 6.81-inch display. This is slightly smaller than what you get on the Galaxy S21 series: Galaxy S21 – 6.2-inch display, Galaxy S21 Plus – 6.7-inch display, and Galaxy S21 Ultra – 6.8-inch displays. 
NOTE-Like Galaxy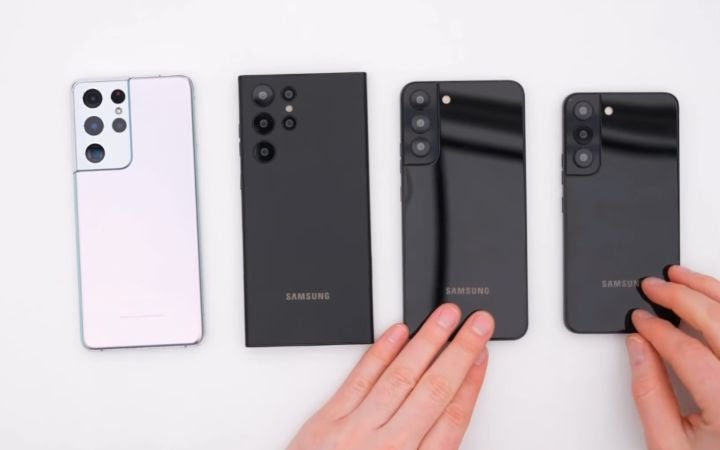 Also, there are suggestions (with real-life images as proof) that the Galaxy S22 will be coming with a more Note-like design that has square edges, a curved screen, and a built-in S Pen – possibly getting a lot of the DNA from the no-so popular Galaxy Note line. On the back of this device, it looks like we will be getting five cameras in a P-shaped array, split into two modules; the first holds three camera lens cameras, while the smaller pill-shaped module houses two cameras.
Still, on the camera, there have been claims that Samsung is working on a 200-megapixel camera sensor, and it will be featured on the Galaxy S22 Ultra. Other sources claim the Galaxy S22 Ultra will feature a quad-rear 108-megapixel camera set up.
Furthermore, this series is rumored to charge at 45 Watt Fast Charging, with wireless charging and reverse wireless charging. We also hear it is coming with 1TB internal storage space – enough storage to shoot 8K videos that are rumored to also be a feature.
Related: Samsung Announces The Galaxy S21 FE: Here's What We Know
While We Anticipate
One thing these sources all have in common is that the Samsung Galaxy S22 series is coming in a Note-like design – or at least, the Galaxy S22 Ultra model. And if that turns out to be true, we are almost, certainly, going to see the S Pen on the Galaxy S22.
Advertisement - Continue reading below
If you don't particularly like the Samsung Galaxy NOTE smartphone and its S Pen, you'll just have to settle for other Samsung smartphones in the market.
Featured Image courtesy of LetsGoDigital