Artificial Intelligence is developing and becoming more robust. Thanks to it, you can now just point to an object using Google lens and it will be detected and you will be offered actions based on what the object is. For example, if you point to a flower, Google will identify which flower it is and also show you florists around your area. Impressive, right?
What is Google Lens?
Google lens is an image recognition app developed by Google. It is designed to bring up relevant information using visual analysis. It enables you to do things such as point your phone at something, and then ask Google what the object you're pointing at is. You'll not only be told the answer, but you'll get suggestions based on the object, like nearby florists, in the case of a flower.
Advertisement - Continue reading below
You can also take a picture of the SSID sticker on the back of a Wi-Fi router, after which your phone will automatically connect to the Wi-Fi network without you needing to do anything else.
What can Google Lens do?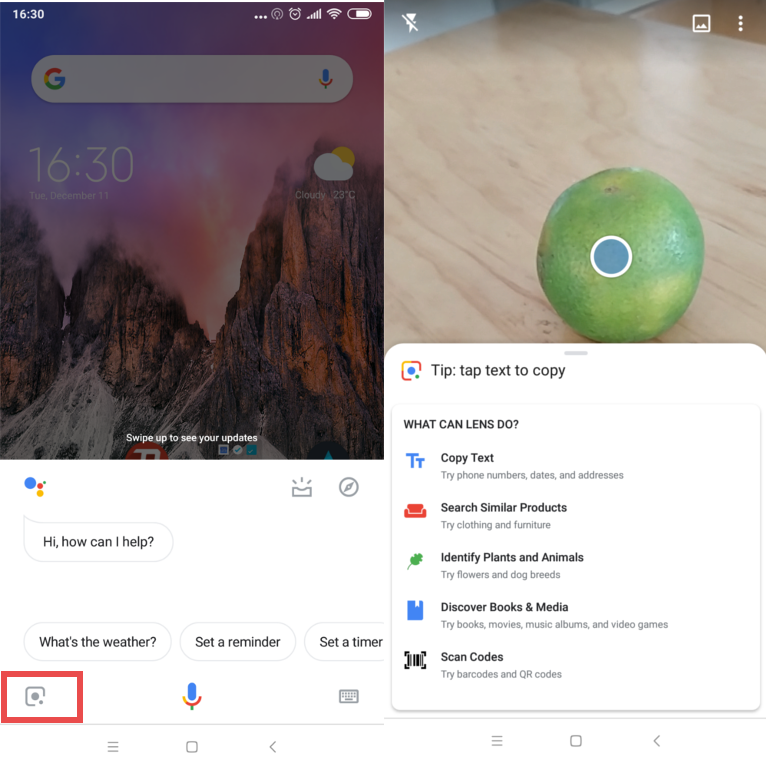 What i have illustrated above is just the tip of the entire package. Google lens can do many more activities such as:
Smart Text Selection: With this, you just simply point your phone's camera at text, then highlight that text within Google Lens, and copy it to use on your phone.
Smart Text search: When you highlight text in Google Lens as seen above, you can also search that text with Google Assistant.
Clothing and decor search: If you see a dress you like while shopping, Google Lens can identify that piece and similar articles of clothing or even household decor in order to serve up relevant reviews and shopping options. Simply capture the object using Google lens.
Search around you: If you point your camera around you, Google Lens will detect what kind of plants are nearby, what kind of cats are roaming around, the nearby shops, among others.
---
Related Article: How to stop Google from tracking your location
---
How does Google Lens work?
When pointing the phone's camera to an object, Google lens will make attempts to identify or read labels and text to show relevant search results and information. It is also integrated with Google photos and Google Assistant for a better experience. You can use the feature through an app, Google photos or Google assistant.
Advertisement - Continue reading below
Google has a standalone app on Android for Google Lens if you want to get straight into the features. This app for now is compatible on only a few devices.
Google Assistant
Within Google Assistant you'll see a Google Lens icon in the bottom right-hand corner. You can tap it and point your smartphone camera at the object in question. You will then be see a number of suggestions that relate to the object.
Google Photos
Within Google Photos, Google Lens can identify buildings or landmarks, for instance, presenting users with directions and opening hours for them.
When browsing your pictures in Google Photos, you'll see the Google Lens icon in the bottom of the window. Tapping on the icon will see the scanning dots appearing on you picture and then Google will serve up suggestions.
Camera app
In some Android phones, Google Lens has been been directly added to the device's own camera app. This functionality is now rolling out and not available widely as yet.
Once Google Lens identifies an item, you can continue to interact with Assistant to learn more. If you point it at a book, for example, you'll be presented with options to read a New York Times review, purchase the book on the Google Play Store, or use one of the recommended subject bubbles that appear below the image.
Advertisement - Continue reading below
If Google Lens accidentally focuses on the incorrect item, you can click the Lens icon and get another try.
Google Lens isn't perfect. The company admits the technology works best for identifying books, landmarks, movie posters, album art, and more. Still, we were impressed when it offered up reviews, social media accounts, and business information when we pointed it at the awning for a small store. Point it at a business card and it will let you save the person as a contact, as well as fill in all the details on the card for you.
While Google Lens is still in its infancy, it shows a lot of promise. Its advanced abilities mean we can only expect it to get better in the future. Google Lens is currently available on some Android smartphones such as the Pixel 2, LG G7 ThinQ, and OnePlus 6.