The USB port on a PC is one of the most vital features in regards to sharing files and connecting peripherals among others. Another important aspect in terms of sharing files is Networking. The USB over Ethernet feature is basically a combination of USB port and networks.
What is USB over Ethernet?
Also known as USB over Network or USB over IP. This is a software solution allowing you to redirect USB devices over a network. You can connect to a shared USB device and use it as though it is plugged in your machine. The program includes both server and client functionality, but a separate free client is available as well.
Advertisement - Continue reading below
The options for the USB over Ethernet programs are quite few although it can be hard to choose the right one. Your selection is going to depend on three factors: price, how many different types of operating systems you need, and how many USB devices you need to connect.
The most common examples of the USB over Ethernet programs are:
USB/IP which is a free program.
USB Over Ethernet which is windows only program.
USB Over Network which works for windows and Linux.
FlexiHub that is secured with 256-bit encryption.
USB Network Gate that works for a Windows, Linux, or Mac host device. Also secured with 256-bit encryption.
VirtualHere: Windows, Linux, Mac and Android host device supported.
What can you do with this program?
Connect shared USB devices with a free USB over Ethernet Client
Work with remote USB devices as if they are plugged directly into your computer
Share a USB drive's data across all computers
Unlock multiple computers with a single USB key
One Bluetooth or Wi-Fi dongle for any device that needs it
Share a printer with multiple computers
See what's happening on a connected webcam
One projector that any laptop can use in a click
Use a single keyboard and mouse for any computer
Features
Most of the USB over Ethernet programs have the following features.
USB 1.1, USB 2.0 and USB 3.0 supported
Device sharing, un sharing, connection and disconnection on-the-fly
32-bit and 64-bit compatible
Supports high-speed USB devices
Auto-connection and auto-sharing of USB devices
Broken network connection auto re-connection
Deny sharing or connection of specific USB devices
USB server and USB client parts can be installed on the same computer
Inactivity timeout
IP filters
Custom device names
System tray icon for quick device sharing/un sharing and connection/disconnection
How to use USB over Ethernet
Download and install any USB over Ethernet program of your choice on the computer where USB device is physically plugged in.
Start the program
Advertisement - Continue reading below
Share USB device.
Select needed USB device in the list of main window
Click Share button. Device becomes available for connection by remote clients: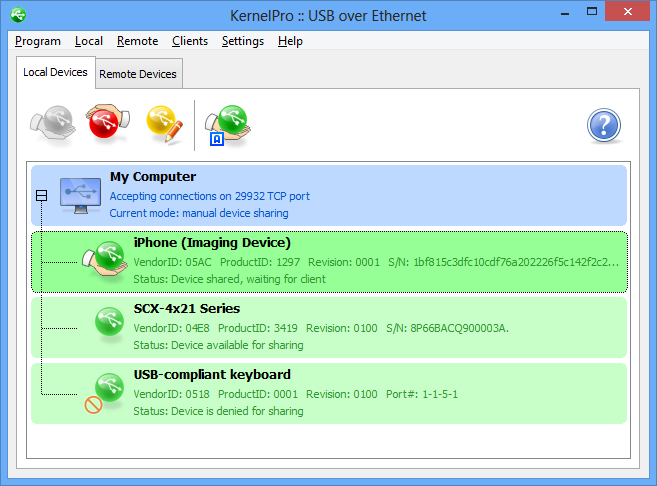 Download and install USB over Ethernet Client on a computer where you'd like to use your USB device remotely
Connect shared USB device
Add remote server with shared USB device to the list
You will see the list of USB devices available for connection
Select necessary USB device from the list and click Connect button or select menu Remote->Connect Device:

System Requirements to run any USB over Ethernet program
Administrator privileges required to install or uninstall USB over Ethernet.
USB over Ethernet works on the following operating systems (both 32-bit and 64-bit): Windows XP, Windows 2003 Server, Windows Vista, Windows 2008 Server, Windows 7, Windows 2008 R2 Server, Windows 8, Windows 2012 Server, Windows 8.1, Windows 2012 R2 Server, Windows 10 and Windows 2016 Server
USB over Ethernet software is useful for everyone who needs to work with USB device that is physically plugged into remote computers. The programs are easy to install and use.
Have you tried out USB over Ethernet? What program do you use? Share with us your experiences.
Advertisement - Continue reading below