Safaricom M-PESA customers already have M-Shwari and KCB M-PESA as loan services and recently, Safaricom introduced Fuliza, its overdraft facility available to its mobile money service customers. Fuliza went live on January 7 following approvals by the Central Bank of Kenya and is available to all 20 million registered M-Pesa users. The service gives users a loan limit based on their M-Pesa transactions, allowing them to borrow several times within the limit.
So what is Fuliza?
As mentioned, Fuliza allows M-Pesa customers to complete transactions even when they have insufficient funds. Picture this situation; you're at the gas station and you just asked the attendant to pump in Ksh 1000 worth of gas. You're not carrying any cash with you and so you want to Lipa-na-M-Pesa. But then you realize you don't have enough money on your M-Pesa account. Usually, that transaction would fail.
Advertisement - Continue reading below
And that is where Fuliza comes in. With this new service, customers will still be able to complete the transaction even though they do not have the exact amount. Fuliza is different from a loan service in that, you will not be able to withdraw this amount, you can only send or use Lipa na M-Pesa.
How to sign up for Fuliza
By default, Fuliza is disabled for all M-Pesa customers. To Opt-in, just dial *234# and choose Fuliza M-Pesa. You will be presented with Fuliza Terms and Conditions. You must agree to these for Fuliza to work.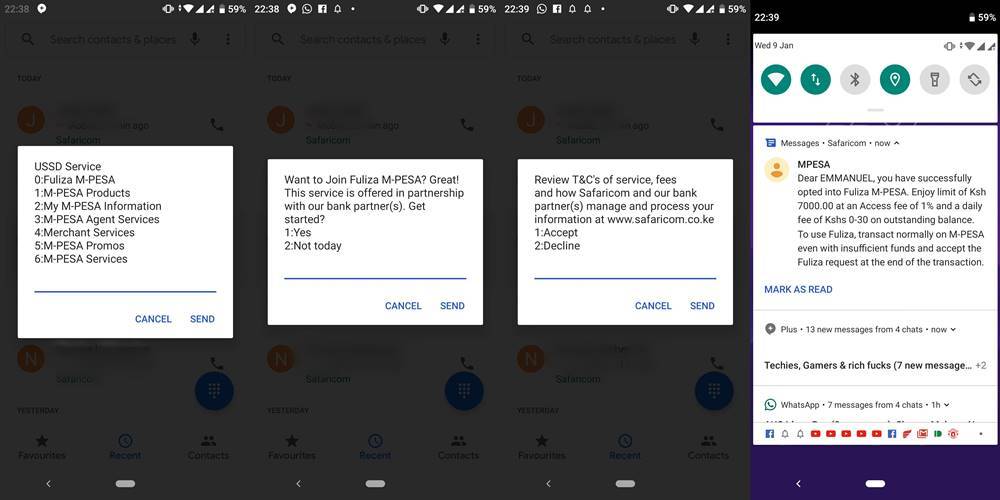 Paying back is as simple as depositing funds into your mobile money account. You can do this by depositing funds through any M-Pesa agent or receiving funds from any mobile money platform.
To check you Fuliza limit, balance or even to opt out, you can dial *234# and follow the screen prompts.
Charges
The charges for the overdraft are a 1% access fee and a maintenance fee on the outstanding balance as per the table below. This means that the sooner you pay for it the better if you don't want to pay expensive charges.
Advertisement - Continue reading below
| | |
| --- | --- |
| Amount | Charges |
| 0 -100 | One-time fee of Ksh 2 |
| 101-500 | Ksh 5 per day |
| 501-1000 | Ksh 10 per day |
| 1001-1500 | Ksh 20 per day |
| 1501-2500 | Ksh 25 per day |
| 2501-70000 | Ksh 30 per day |