Apple definitely brought the in-ear thing mainstream and while it seemed awkward at first, it eventually grew on most people. It stood for portability, style and even quality with some nice sounds coming out of it. Capable of connecting seamlessly with your device, reduce or decides if noise permeates through the earbud or not, receiving calls, control and more. These wireless in-ear earphones have proven to be quite a handy device even with their small size. Recently released, the Galaxy Buds have gathered high praise in terms of affordability to quality ratio Here is a comparison between Apple's Airpods and the relatively new Galaxy Buds.
What's in the box
The Galaxy Buds comes with a bunch of other accessories like a charging case, USB Type-C, user guide, three sets of silicone fins and sporty eartips. On the other hand, the Apple Airpods comes lighter with just a charging case and lightning-to-USB cord.
Advertisement - Continue reading below
Appearance and Build
The two wireless in-ear wireless eaphones have an entirely different look. While the Airpod sticks out like the Earpod without the wire, the Galaxy Buds looks more like last year's Samsung Gear IconX. Available only in white, the Airpods has a dimension of 0.7 x 0.7 1.6-inch and the Galaxy Buds with 0.7 x 0.9 x 0.9-inch making a more even structure instead of the protruded tip of the other pod. For this reason, the Galaxy bud fits more perfectly into the ear considering you even have a range of wingtips and earfins to choose from. Combined with a sweatproof IPx2 rating on the Galaxy Buds, It makes a much more suitable partner during exercise or any other rigorous and sweat dripping activity.
The Airpod is not sweatproof, so you are advised against using them when you are sweaty. In addition to the white variant, the Galaxy buds also flaunts a yellow or black finish. Despite being the less conspicuous of the duo, the Apple Airpod is lighter and can be easily forgotten weighing just 0.14 ounces compared with the 2.0 ounces of the Galaxy Pods. Both are made of plastic which makes it as light as it is and easily carryable without being a pain in the ears. The charging case of the wireless earphones are small, while the Airpod's case is slimmer and a bit shorter, the one from Samsung is plump as the buds are sitting instead of the way the Airpods stand in theirs.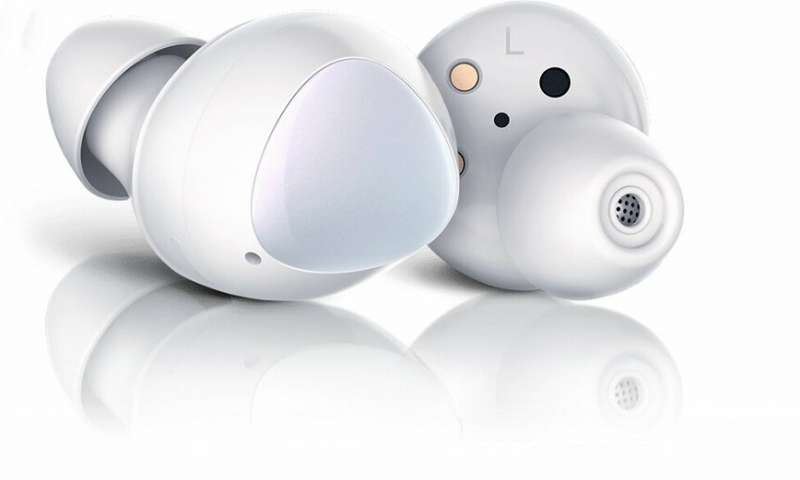 Connectivity and Controls
Both wireless earbuds have some degree of smarts in their DNA, with no power-on buttons, they detect when you pick them up and put them in your ears using built-in sensors. Both devices connect well with smartphones from their parent company, like iPhone to Airpods and Galaxy Buds to Samsung phones. However, if you're using any other phone besides these two, the Galaxy Buds is a better one in terms of connectivity.
Also, the Galaxy Buds makes use of Bluetooth 5.0 which makes a stronger connection with other Bluetooth 5.0 smartphones like the Samsung Galaxy S10. If you will be using an iPhone, then you should definitely go for the Airpods. Being such a small sized gadget, it is hard to cram in buttons and a full set of physical controls. For the Airpods, this is solved by using Siri for whatever you want to do, from increasing volume to music playback or selection of a particular song.
Read More: Apple Airpods being misused to spy on Conversations.
You could take and make calls without having to pick up your phone. using the same Siri. Things are a bit different on the Galaxy Buds though, instead of using AI, Samsung incorporates a tap pad which is used for different functions and can also be customized from the SmartThings app on your phone. A single tap is used to either pause or play, double tap to skip to the next track while for calls it functions to either answer or ends it and a triple touch is to skip to the former track. WIth sound fine-tuned by AKG, you can set the Equalizer to Dynamic which changes the settings based on the type of song you're playing or you can decide to choose for yourself.
Advertisement - Continue reading below
Battery and Charging Case
These little earphones can squeeze in some hours of usage depending on what you're using it for. Making calls drains more power than usual listening to music so don't be surprised when your battery goes down in-between calls. The Galaxy Bud offers almost 6 hours of listening time withs its 58mAh battery while the Airpod comes behind with just over 4 hours and lesser when calls are involved. However, the Airpod charges far more faster than the Galaxy Buds acquiring up to 3 hours of listening time in just 15 minutes as opposed to 1.6 hours of the Galaxy Bud.
Even with the bigger Galaxy Buds Charging Case, there is only 7 hours of charge on it with a USB Type-C charging port, although, the wireless charging is a plus. Apple's Airpod case has about 24 hours of juice which delivers multiple charge throughout the day but lacks wireless charging. Using the Samsung Galxy S10, you can easily take advantage of the PowerShare feature compensatng for the low power on the Galaxy Bud charging case.
Conclusion
It is safe to say that the Galaxy Bud is a very suitable alternative to the Airpod in terms of all round performance although it has its own advantages and shortcomings. The Galaxy Buds measures up to the ideal wireless earphone, a standard held by the Airpod in time past but then both device are impressive.