The GSM-based subscribers dominate the mobile internet subscription scene in Nigeria and that has been on a steady increase for some months now. This data was published in the latest report by the Nigerian Communication Commission (NCC) which shows the number of mobile internet subscribers for each player in the Nigerian market.
Fueled by a steady monthly growth of roughly 1%, the total number of GSM Internet subscribers reaches an all-time high. The report shows the number of users for the month of February marked by MTN's continued command of a sizeable share of the market. We now have 114, 724, 357 mobile subscribers in February up by 850, 153 from January this year.
Advertisement - Continue reading below

Out of the total number, MTN holds 46.5 million subscribers amounting for 40.6 percent. You can attribute this to the wider coverage MTN has in comparison to the others. Coming behind in second place is Airtel, which also had a steady increase over this past months with 30.9 million subscribers holding 26.9 percent. You will agree with me that this has something to do with Airtel being able to successfully integrate its 4G service in more locations.
On the other hand, Glo and 9mobile have been on the decline in terms of subscribers even with the former having the cheapest data rates. Still, you can credit this to the poor network and lower network coverage which is a headache for transient workers or people who are usually on the move. Still holding to more subscribers, Globacom has 27.5 million subscribers while 9mobile as just 9.8 million. Unlike Gloabcom which have been up and down, 9mobile has been on a steady decline over a year now losing about 1.3m subscribers within a year and even more before that.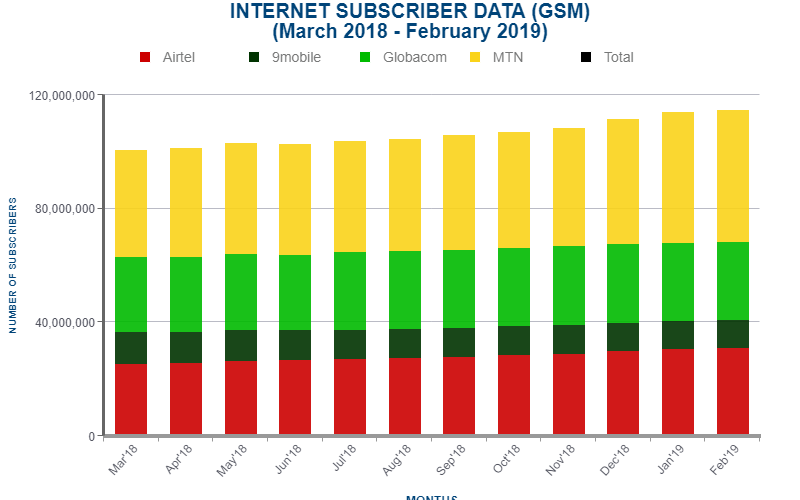 Conclusion
The fluctuation of the individual players has not deterred the steady growth of mobile internet subscribers in the country. Instead, the trend suggests that the choice of subscribers regarding the service provider to use has been changing in the favour of both MTN and Airtel.