itel launched the itel P33 in Uganda, a device that will appeal to consumers who have a tight budget but want an amazing Android experience and long-lasting battery. The itel P33 is almost unbelievably priced at just UGX 270,000/=. We shall be talking itel P33 specs, unboxing and first impressions.
itel P33 Unboxing.
The P33 comes in a small red package with the name of the phone written out on the front face and a few specs at the bottom of the box. The first thing you will notice is the "80 hours of battery" statement. Unbelievable. Right? Well, that's exactly why you should buy this phone. But first, let's see what's in the box.
Advertisement - Continue reading below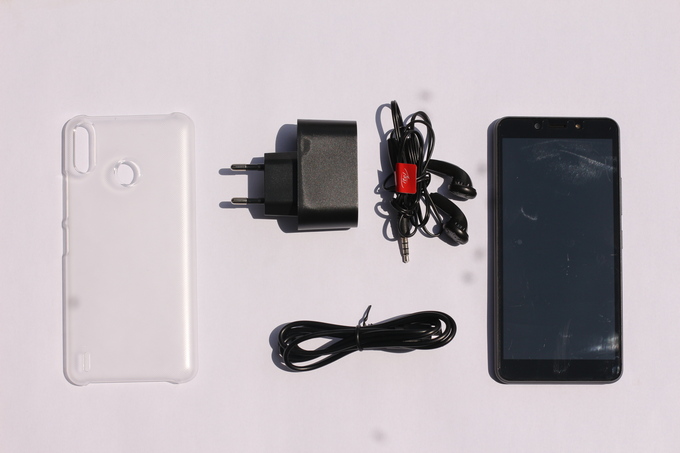 The itel P33 is one of the cheapest phones you can find on the market today and its retail box screams 'cheap' on top of its voice (if boxes have voices anyway). The internals components too are nothing special, but present.
You will find the phone itself, a regular charger, a micro USB cable, wired headsets and a textured plastic back cover. The phone has a pre-installed film screen protector which doesn't do much on falls but works well in against scratches from coins or keys.
itel P33 Specs
Specifications
Battery
Capacity: 4,000mAh Technology: Li-ion
Fast Charging: No
Display
Size: 5.5 inches
Resolution: 720×1440 320xhdpi
Front Camera
5MP
Rear Camera
Dual 8MP + VGA
OS
Android 8.1 Go
Network
3G/2G
Internal Storage
16GB
RAM
1GB
CPU
Quad-core 1.3GHz
Connectivity
Bluetooth: Yes
Bluetooth LE: Yes
GPS: Yes
NFC: No
USB: Micro USB 2.0
WiFi: Yes
WiFi Direct: Yes
itel P33 first impressions
Nothing in the box really impressed me, especially the low-quality headsets. However, we were glad they were there and they will get many users (especially first-time smartphone buyers) to the smartphone experience. Good news is that you can replace these with more durable high-end accessories.
After giving it an initial charge (which you don't really need) and fitting in my nano SIM cards, I powered on the phone and did the usual setup just like any other Android phone. The itel P33 feels really solid in the hand. After powering on the itel P33, there is instantly nothing cheap about it. Android Go really does a great job of keeping the P33 snappy even with just 1 GB of RAM.
On the optics side, the itel P33's dual camera at the back is amazing at this price point. I took a few random pictures to get my first impressions and I can say itel did some great work on this phone's camera. It will keep most users happy. We shall talk about more of the camera's different modes in the itel P33 review.
After hours of toying around with the P33, watching videos, adding facial recognition, and surfing the web, the battery only got a small dent. itel P33's battery maintenance is magical and kept me wondering how far this phone could go on a single charge. This, we shall find out in the complete review.
Advertisement - Continue reading below
The P33 doesn't have fast charging but it makes up for that by giving you many hours of usage on a single charge. You won't need to make many trips to the socket with the itel P33.
On the connection side, the itel P33 doesn't support 4G. However, 3G is still good enough and it will meet many users needs. I was also happy to see the storage becoming double the size that the P32 came with. The itel P33 has 16GB of storage which you can expand via a dedicated MicroSD card.
Wrap up
At just UGX 270,000, the itel P33 is an amazing package with lots of power. The back camera was amazing but we shall further test it in different conditions. Android Go benefits make the itel P33 a must-have if you are on a budget. The battery is the most amazing feature of this device, it keeps going and going, and we shall find out how far it can go in the review.