Opera browser has played second fiddle to the likes of Google Chrome and Mozilla Firefox (and just about every other popular web browser out there) for far too long. From the time Opera software made news when it was sold to a Chinese Consortium, Opera has not been far from the limelight. Opera recently sucker punched rival browsers from way down in the bottom rung when they introduced free VPN integration into Opera browser. Going by the rate at which online privacy has become such a hot issue, apps like Viber and WhatsApp have implemented encryption and it goes to reason that browsers should take suit as well. Which Opera has.
Now that Opera has our full attention, news coming in indicate that starting with Opera 37 and the mobile variants will incorporate native adblocking technology allowing web pages to load 'up to 90% faster' without the bloated pesky ads saving on RAM usage too in the process. This will be the first major web browser to have native adblocking but note that former Mozilla Firefox CEO's Brave Browser fronted the bold move of a browser able to block ads natively, causing outrage by major advertisers.
Advertisement - Continue reading below
Here's a short video clip showing you how it all works:
How to Turn on adblocking:
Opera Adblocker is deactivated by default. To activate on desktop browser,go to Settings and toggle the 'block ads' button to turn it on (or off if it doesn't work for you). You can deactivate the adblocker for specific websites by clicking the shield icon on your addressbar. Click on it a second time to activate it once again.
To activate adblocker for Operamini, click the 'O' Opera logo and tap the data savings summary. Click 'block ads' to turn it on or back off.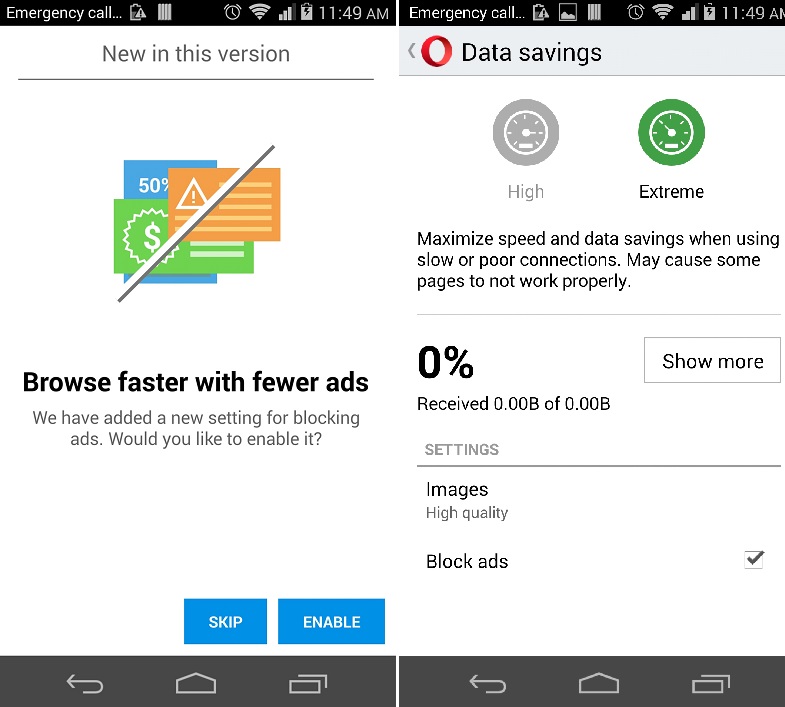 Advertisement - Continue reading below
Too little too late?
Opera browser has traditionally fared terribly against Chrome, Firefox, Internet Explorer and Safari despite having a loyal following of users. Operamini has a solid foothold among Africans appreciative of the unrivaled data saving technology synonymous with Opera. That said, their sale to the Chinese conglomerate appeared to be the straw that broke the camel's back and many predicted the end of an era. The Chinese do not have a good reputation where data is concerned, as seen by accusations of Chinese browser/search engine Baidu leaking sensitive information.
In lieu of recent developments however, Opera is showing a doggedness that might just silence the doomsayers. Opera isn't dead, it had taken a nap. What remains to be seen is how Chrome and Firefox will react to this new rejuvenated Opera.