Owning an Amazon account comes with a lot of benefits and values, that's why they've got millions of users subscribed to their services and buying from the website. However, even with all of these benefits and values, there are those that might feel they don't get enough value from the platform and might want to move on and try other platforms.
If you fall into this category, then you're in luck as we will be showing you how to close your Amazon account in this article. But before that, there are a couple of things you should note:
Advertisement - Continue reading below
First, you should know that deleting your Amazon account will completely erase your purchase history from its website.
You will lose access to all your Amazon accounts, including Audible.com and accounts on different country domains (like amazon.co.uk and amazon.de).
Your Amazon account is shared across all Amazon's services, so if you delete it, you'll lose access to Kindle eBooks, Audible, digital music, Amazon apps, Prime videos, etc.
You won't be able to return or refund items ordered by the account, nor will you be able to use Amazon gift cards or other vouchers.
---
Related: How to Install YouTube Kids on Amazon Tablet
---
Close Your Amazon Account
If you still insist on closing your account, here's how:
Go to the Close Your Amazon Account page.
Sign in to the account you want to close.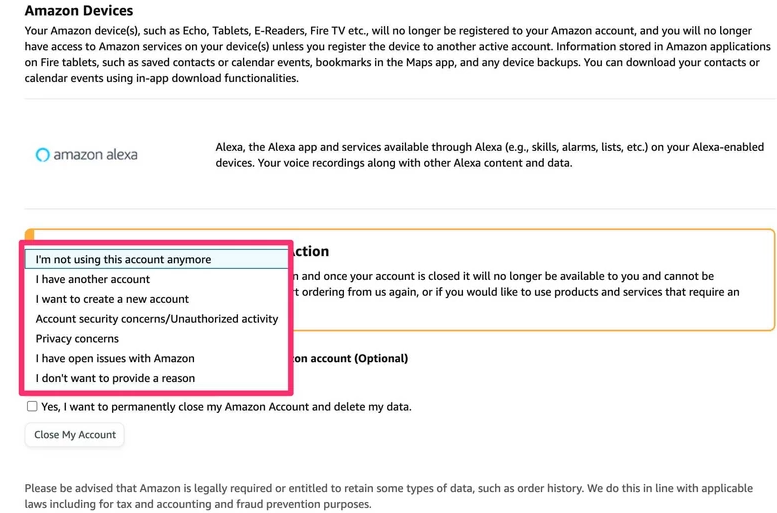 Review the products and services associated with your account.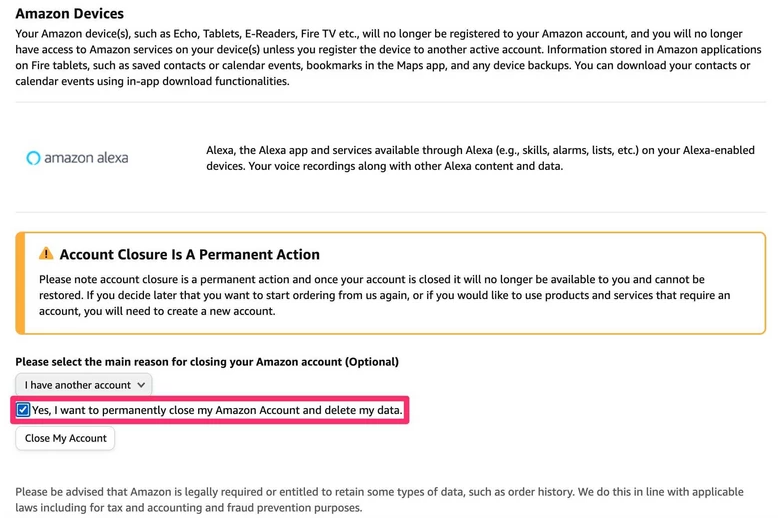 If you still wish to proceed, select a reason in the drop-down menu, tick the box next to Yes, I want to permanently close my Amazon account and delete my data and click Close my Account.
You'll then receive an email confirmation. And you'll need to reply to the email within five days for your account to be permanently deleted.
Conclusion
If for any reason, you change your mind after closing your Amazon account, you still have a 90-day window to appeal to get it reopened. You will need to contact Amazon customer service to get that done. They'll verify your identity and you'll need to create a new password before the account can be reinstated.