Chines OEM, Infinix mobility recently released the most recent version of its custom-made XOS User Interface, XOS 5 Cheetah with the launch of Infinix S4. The new user interface comes with a ton of new features but is still reminiscent of the older versions of the UI. One look and you will know it's an Infinix device.
Custom user interfaces from the different Android phone makers have created some level of differentiation. The new XOS UI is unique with all its amazing features to enable Infinix smartphone users to optimize their smartphone usage.
Advertisement - Continue reading below
10 new features in XOS 5 Cheetah
Brand New Icon Design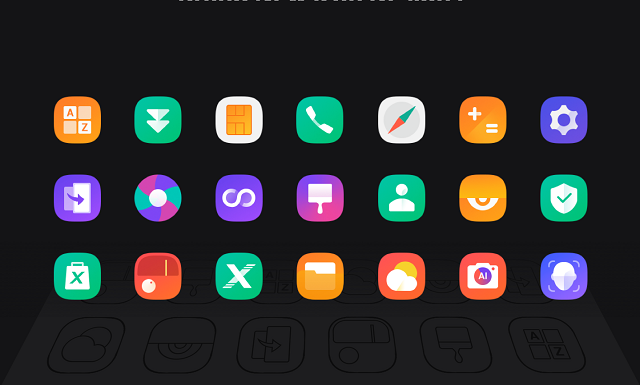 Honestly, so many Android users use their devices without any customization. But there is a select league of enthusiastic ladies and gents that will change many parts of the UI if it doesn't look elegant. Case in point is the icons. What can we say, we are guilty of that as well!
However, the new icon pack in XOS 5 Cheetah brings a fresh, gorgeous and more elegant visual representation. The icon designs contain aesthetics that allow every detail to be more attractive. Maybe you won't need to download third party launchers now since these are already gorgeous.
AI for video chats
Video calling is becoming more ubiquitous in recent times. Evidently, smartphones have been the protagonists in this exponential rise. Huge names like WhatsApp Inc also launched video calling introducing many people to video calling.
However, there has always been an issue of trying to look good in the video call since most of the times the video reaching the other end of the call has been compressed. With the new XOS 5 Cheetah, there is no need to make up. It incorporates AI beauty that will make you shine in your video call chats, looking younger, brighter and fresher.
Related: How to use your Infinix like a Pro with these XOS Family apps
XOS 5 Cheetah Intelligent Voice Notifications
In the era of Assistants, XOS 5 Cheetah brings users voice notifications. You can now set an assistant to broadcast you're the weather forecast, schedules, calls and messages and social media notifications. Basically, all the messages you care about read out loud to you.
Advertisement - Continue reading below
I find it very heartbreaking running to unlock my phone when I hear the notification tone only to find its nothing important, and I am not alone. These intelligent voice notifications are a great addition. They are currently available in English, French and Hindi languages.
Intelligent notification management
There are those notifications that we never open but always swipe away one by one to reduce the clutter. However, the new XOS Cheetah has used some machine learning to know exactly what notifications you don't want to see often and stack them away.
The intelligent notification management in XOS 5 Cheetah recognizes and sorts spam or undesired message notifications and groups them into a single category that can be blocked.
XOS 5 Cheetah AI Read Mode
The new XOS brings artificial intelligence powered read mode. The AI Read mode adjusts the screen brightness and colour temperature to make the screen more comfortable to the eye. This is very important since many people tend to read books and study material on their handheld devices.
It is related to Eye Care mode, just a smarter version of Eye care mode.
Smart Photo cleanup
Most people now use smartphones to take photos of precious memories with friends and family. We tend to take a lot of pics just so we choose a few good ones. Some tend to be overexposed, dark, blurry and identical. XOS 5 Cheetah categorizes photos into the dark, blurry and similar pics to enable you to delete and keep only the best versions of your memories. This is a great way to save the much-needed space on your phone.
Smart Panel
The new XOS bring a Smart Panel which has all your favourite & frequently-used features and localization services. You can access the smart panel from any screen. You can take a selfie from a smart panel within just 2 steps enabling you to capture all the beautiful moments.
There are lots of other things you can do with the Smart Panel like Scan and Pay. It is basically a tool that has the most used features, making them available on any screen in a few taps.
Advertisement - Continue reading below
Data switcher
XOS 5 Cheetah has introduced a data switcher toggle in the quick setting menu. This will enable you easily switch the SIM card you want to use for data connections without digging up the feature in settings. Many people use multiple lines depending on who is giving more data at a particular time. In case you need to switch, it doesn't have to be painful anymore with XOS 5.
Privacy Protection
You might be thinking. What if there are lots of creepy apps that might be listening to your conversations by recording them? Well, the new XOS will help you curb the paranoia. When an app is using the microphone and you are not aware, XOS 5.0 will notify you with a pop-up message "XXX App is recording", thus making sure you are in control of all recording processes. Happy now?
Fingerprint password reset
With XOS 5.0 come the fingerprint password rest option which solves the password amnesia problem. In the unfortunate event where you forget the password or PIN of your Infinix phone, you will now have the option to reset it using the fingerprint.