The TP-Link TL-MR6400 Wireless N 4G LTE Router has quite a name as is the case with most routers. This router is not just a WiFi router. It's also an unlocked 4G LTE router, which means it takes any 4G or 3G Sim Card from any network globally and it still works. No lock-ins. No contracts. Perfect (so far).
I have been using the TP-Link TL-MR6400 Wireless N 4G LTE Router as my primary way of accessing the internet from home for more than 4 months. I switched from my old Huawei B310s 4G LTE router which I had managed to unlocked. As you can already tell, I don't like locked devices and if you are planning to buy one, you shouldn't. I got frustrated with the Huawei B310s router because it was losing cellular signal sporadically without any particular reason.
Advertisement - Continue reading below
Summarily, here's what we liked and didn't like about this 4G router;
Liked
– Affordable and reliable 4G LTE router
– Unlocked 4G router with wide Mobile network compatibility
– Plug and play makes it easy to use
– User-friendly Tether Mobile App for management
Didn't like
– Single-band WiFi on 2.4Ghz band (need to upgrade to TP-Link Archer MR600)
– No Gigabit Ethernet support(need to upgrade to TP-Link Archer MR600)
– Can't dial network USSD codes for instance check data balance.
The TP-Link TL-MR6400 Wireless N 4G LTE Router so far hasn't showed any problems that I had experienced with the Huawei B310s and I am quite happy with it. According to TP-Link, it supports both FDD-LTE and TDD-LTE networks on 2100/1800/2600/900/800MHz and 2600/2300MHz bands respectively. There are more bands that are supported, so you can visit their website for more details. The router carries only 1 Micro SIM Card Slot, so you can use only one mobile network at a time. This seems to be the standard with 4G LTE routers.
The TP-Link routers comes with 2 Internal 4G LTE Antennas and 2 other fixed External WiFi Antennas which you can unscrew and replace.This means can subscribe to mobile data plan from your mobile network through the Sim Card and then share the mobile internet through WiFi to family and friends. The router is capable of supporting upto 30 different devices, so it's ideal for connecting your laptop, smartphone, tablet, smart TV and anything smart to the internet. Obviously this shouldn't be an open invitation for your friends to free-load on your mobile MBs because unless you are subscribed to "unlimited" internet, your data will quickly run out even if they're accessing it on WiFi.
Speaking of WiFi, the TP-Link supports 802.11b/g/n on the 2.4GHz band with maximum speeds of 300Mbps. Ideally since this is a 4G router primarily used for accessing mobile internet who's speeds won't be more than 10Mbps. If you looking for something with Gigabit Ethernet ports and Giga Wifi, then consider the TP-Link Archer MR600 4G+ Cat6 AC1200 Wireless Dual Band Gigabit Router instead. If you live in Uganda, you shouldn't be worried about the router's WiFi specs. Of course, you can also use the 4G router as simply a standard WiFi-only router.
If you are like me who using WiFi without internet for things like file sharing and media streaming, the WiFi specs matter. But then you should buy a dedicated WiFi router which doesn't have a sim card for these functions. In fact, I have high performance D-Link DIR-885L AC3150 MU-MIMO Ultra Wi-Fi Router for this purpose.
Advertisement - Continue reading below
The TP-Link 4G router comes with three 10/100Mbps LAN Ethernet Ports, one 10/100Mbps LAN/WAN Port. Now you can use these LAN ports to directly hook up a laptop or computer or smart TV to the internet. Alternatively if you have a second WiFi router, you can connect it to one of ports to supply internet to devices connected to it as well.
The TP-Link router packs other features mostly for power users. I personally don't use them as these features are mostly handled well by WiFi-only routers. Otherwise the router has Port forwarding, Dynamic DNS, WAN support, VPN, Firewall security, Access control, Guest network support. These are slightly advanced features ordinary Joe won't wish to concern himself with, so I'll safely skip them.
Checkout our video review of this 4G router below;
Now how do you load data on this thing? You have two options; physically remove the Sim card from the router, put it on your phone and then load data using the USSD codes. This sucks and I never use this method. The alternative is more convenient. Load data through your phone's Sim card. Most networks have support for loading data to another number even though it's not the one you are currently using to dial the code. The third alternative is no longer offered on most 4G routers; the ability to dial USSD codes from within the router's web interface. This feature is not available on this router. You can only read SMS messages from your network.
You access the web interface (which I mostly certainly don't) from 192.168.1.1 and the default username and password is admin for both. Obviously you want to immediately change these else your neighbor will certainly save on your internet bill.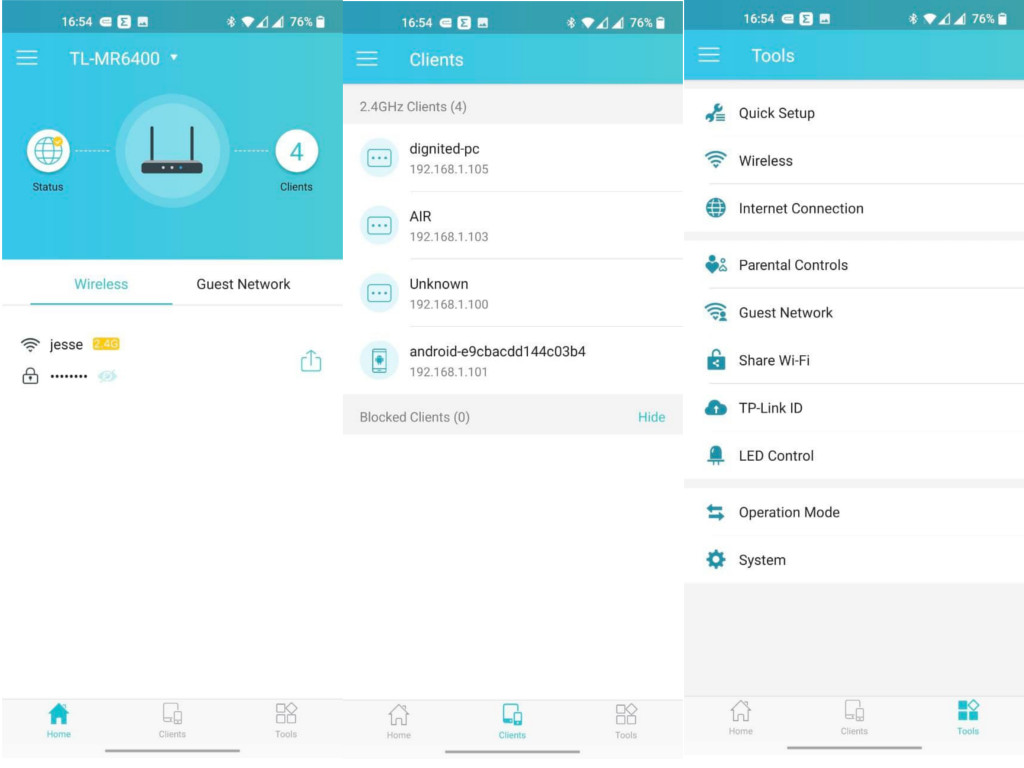 You can also use the less-intimidating Mobile App called Tether to manage your router. The Tether app packs less features but is more user friendly. You can change the WiFi SSID/name and password, block and unblock devices, share the WiFi password via QR code, restart/shutdown the router, update the router firmware among other features.
The TP-Link goes for a price of about 81 pounds on Amazon UK (not available on Amazon.com, unless you want to consider the TP-LINK TL-MR3420 3G/4G Wireless N Router). It's now available on amazon.com for $123 while the updated version with Dual-band WiFi and Gigabit Ethernet ports goes for $270. If you live in Uganda, it's Ugx 460,000 at Odukar store.
Final thoughts
I am quite happy with this router. It's a lot better than having MiFi or tethering through the phone which is what most people do for accessing internet at home at least in Uganda. The router sometimes loses 4G signal and I have to reboot it. Also the WiFi is shaky but I suspect the issue is unique to me since I have another powerful D-Link WiFi router which might be interfering with the TP-Link WiFi signal. If you are looking to buy a 4G LTE routers, please stop buying those locked routers from the networks and go with something that gives you flexibility and freedom to choose and switch providers as you wish.
TP-Link TL-MR6400 Specifications
Brand: TP-Link
Model number: TL-MR6400
3/4G Network type: 4G FDD-LTE Cat4 (800/900/1800/2100/2600MHz),
TDD-LTE (1900/2300/2500/2600MHz),
3G DC-HSPA+/HSPA+/HSPA/UMTS (900/2100MHz)
WiFi standard: 802.11 b/g/n
Frequency: 2.4Ghz
Wireless security: 64/128-bit WEP, WPA/WPA2, WPA-PSK/WPA2-PSK
Wireless functions: Enable/Disable Wireless Radio, Wireless Schedule, WMM,Wireless Statistics
Ports: Three 10/100Mbps LAN ports, one 10/100Mbps LAN/WAN Port, 1 Micro SIM Card Slot
Buttons: WPS/RESET Button, WiFi ON/OFF Button, POWER ON/OFF Button
Antennas: 2 × Advanced High Gain External Antennas
External Power Supply: 9V/0.85A
Dimensions (W x D x H): 7.95 × 6.42 × 1.32 in. (202 × 163 × 33.6mm)
Operation Modes: 3G/4G Router, Wireless Router
WAN Type: Dynamic IP/Static IP/PPPoE/PPTP(Dual Access)/L2TP(Dual Access)
Advertisement - Continue reading below