Mobile messaging service WhatsApp is rolling out push-to-talk voice messaging today for all of its apps on the iPhone, BlackBerry, Android OS, Windows Phone and Nokia, the company's co-founder and CEO Jan Koum told AllThingsD.
The update is expected to be available to all users within 24 hours.
Advertisement - Continue reading below
Who doesn't use WhatsApp?
The App is so cool that it just surpassed 300 million monthly active users — with 20 million active users each in Germany, Mexico, India and Spain. The service processes 31 billion messages per day, consisting of 11 billion sent messages from WhatsApp users and 20 billion messages received, up from the total of 27 billion messages it processed within a day in June. These staggering stats have already caused goosebumps for the Telecoms, some of which, like MTN Uganda(though not official), Airtel Nigeria (for just N100) are actually offering the service to entice their mobile subscribers to stick with their data networks.
But we've been having voice messaging, right?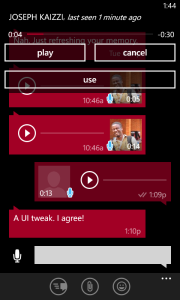 The feature has already appeared on my device and we've been playing around with it. However, to my surprise, the new push-to-talk voice messaging feature is no more than a visible Mic button besides the chat text box.
Previously you could still send a voice message my tapping "Audio" in the menu and record, accept or re-record and send. The voice recording is limited to 2 Minutes. With the new walkie-talkie-like feature, all you've to do is tap the mic icon, start talking and upon releasing, the audio is automatically sent saving you several steps as with the previous interface.
Also, with the "new" feature,  there  is no cap on the length of recording!
Advertisement - Continue reading below
As with real-time calls, the App still uses your carriers voice network(GSM) as opposed to the likes of Skype or Viber that use your data instead.