Be it on local or international platforms, at least 1 out of 10 Nigerians make purchases and payments on international platforms with their Naira debit or credit card at least once in a month. From paying bills and renewing subscriptions to purchasing food and groceries, hailing taxis and motorbikes, buying airtime, shopping and making all sorts of payment online, debit cards have become an integral part of the average Nigerian as it allows for easy and convenient payment.
When it comes to paying for stuff on international platforms, however, some do not accept payments from Nigerian cards. As a workaround, there are some platforms that allow you credit virtual cards in foreign currencies that you can use to pay for goods and services without restrictions.
Advertisement - Continue reading below
What are Virtual Cards?
Also known as "Disposable cards", virtual cards are randomly generated temporary cards that you can use just like your normal physical credit and debit cards. The only difference is that you cannot hold a virtual card physically, neither can you swipe it at point-of-sale (POS) terminals in a local store; it isn't handy.
Applications of Virtual cards
Asides from using virtual credit cards to effortlessly bypass certain geo-location restrictions;
You can create and own as many virtual cards as possible.
You can have a virtual card designated to individual bills or payments e.g a virtual card for Netflix subscription, a VC for web hosting, etc.
Virtual cards are secure; you can designate a fixed/maximum amount to a virtual card so you can be sure merchants won't overcharge you or deduct recurring charges.
Since virtual cards aren't connected to your bank account, it would be difficult and next to impossible for fraudsters to access your bank account in the case of a data breach on a merchants platform.
Enough about the useful applications of virtual cards, let's now talk about how the virtual card providers that are available and operational in Nigeria.
1. Barter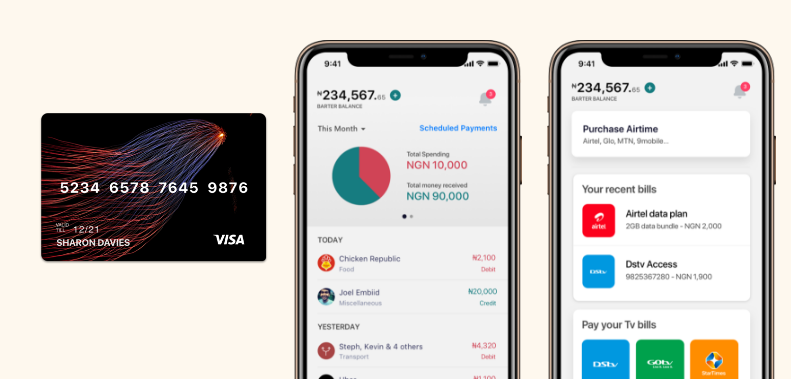 Barter (or GetBarter.co) is a product of Flutterwave, a payment processor startup helping Africans make and accept any payments anywhere around the world. Barter is a mobile money product that not only allows users easily make and receive payments in Africa but also supports the creation of virtual cards.
When you sign up on Barter, you can create a foreign virtual card which you can fund in Naira and the equivalent in USD ($) will be loaded on the virtual card. You can then proceed to use the card immediately. Creating multiple cards on Barter is supported but you will be charged a "token fee" after creating your first card.
You can learn more about Barter's virtual cards HERE.
Advertisement - Continue reading below
2. SpectroCard
SpectroCard is another platform that offers virtual card services. The platform issues ONLY virtual prepaid Mastercard that is accepted in more than 30 million places around the globe. With SpectroCard, you can create virtual cards in USD and EUR. However, as a new user, you have to fund your account with a minimum of 3 euros (EUR) or its equivalent in USD to in order to create a virtual card.
To create a virtual MasterCard on SpectroCard, simply create an account, verify your account via email, update your profile with your information, fund your account using your physical bank or ATM card and create your USD/EUR virtual card. That's all. You can then proceed to use your newly-created virtual SpectroCard on any platform that supports MasterCard.
With these platforms, you can now overcome the challenge of making payments on the platforms of international merchants in Nigeria and also secure your funds against potential credit fraudsters or hackers. Have you ever used any of these platforms to create virtual cards? How was your experience? Is there any other virtual card provider that can be used by Nigerians that you recommend?
Featured image: Entropay.com