This article was primarily inspired by a recent (June 20th) report by SensorTower that revealed that in the first quarter of this year, 2019, Apple's top App Store publishers earned 64% more than Google Play Store apps on the average. For context, out of the total $135 million combined average income generated by top 100 earning app publishers on both stores, iOS apps accounted for 62% ($84M) of the numbers while their Android counterparts earned only $51M (38%).
As it has always been, this report further buttresses the point that iOS apps make more money than Android apps in the Google Play Store. To put it another way: consumers who use Apple/iOS devices spend more on apps than their counterparts using Android phones.
Advertisement - Continue reading below
But why is this so? What does this tell you as an app developer? What insight can you draw from this information as a company that publishes app on either or both platforms? Find out below.
Why do iOS apps generate more revenue than Android apps?
Despite holding the greatest share in the global smartphone market and mobile OS ecosystem, publishers and developers with apps on the iOS platform are more likely to make more money than their Android counterparts. Here are some facts-backed explanations.
1. Purchase behaviour and Solvency
Android users tend to be less willing to buy apps than iOS users
It is reported that iOS users are 10-20% more likely to pay for apps than Android users. This is one of the reasons why there are more free apps on the Google Play Store than the iOS App Store. And this is understandable because generally, iOS users are more financially solvent and have more spending power than Android users.
It's basic science; Apple gadgets are "premium" devices and are costlier than Android devices. If you can afford an Apple-branded phone, you (most likely) are financially buoyant enough to spend between $0.99 to $5 (or higher) on apps. Android users, on the other hand, do not have as much budget. With the proliferation of "budget" Android-powered smartphones, particularly in developing regions, users are less likely to pay for apps on the Play Store than iOS users would on the App Store.
2. In-app Purchases
Most app on the Google Play Store on a free or freemium model. The free apps usually make money by displaying ads during usage but the freemium apps generally have in-app offerings that users can purchase as they use the app. Still, a 2017 report by AppsFlyer revealed that iOS users spend 2.5x more on in-app purchases than Android users.
Advertisement - Continue reading below
So… not only do Android users prefer not to purchase apps, they are also less likely to pay for in-app features and add-ons.
3. Development cost
As evidenced by this report from Infinium, Android app development is 30% more expensive than iOS development. According to the study, developing an app for Android will take 38% more lines of codes and 30% more hours of work than developing for iOS.
With this in mind, you'd make more money publishing apps on the iOS Store than you would on the Google Play Store. This is because development resources are higher and costlier, and looking at it more critically, you're building for consumers with low app-spend behaviour.
4. The China Influence
Although Android smartphones are more dominant in China (and the rest of Asia) than iOS devices, the Play Store isn't available in the Chinese market. A couple of years after the Chinese Government banned the Play Store in 2010, China quickly overtook the United States as the largest iOS app revenue market.
The Chinese people have the population, as well as the spending power to purchase apps. And since the Play Store isn't available in the region, it is only expected for iOS apps to generate more revenue than their iOS counterparts. Bringing back the SensorTower revenue report, you'd notice that it is clearly stated that "Google Play revenue does not include China."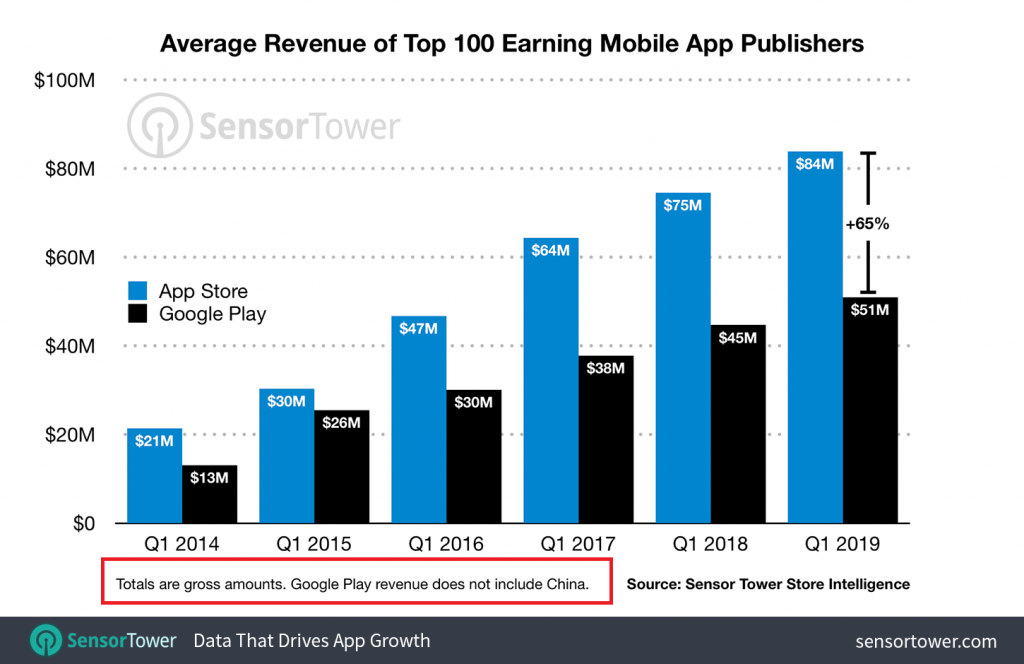 The Takeaways?
As a business, company, app developer or publisher, what do you make of the above data?
If your company's app development goal is revenue generation, you should create an iOS app first. If your budget allows, you can create both Android & iOS apps but should definitely promote the iOS app more.
Solely concerned about download growth/numbers? Particularly in emerging markets? Developing an Android app is best.
If you have the Chinese as your [major] target market/audience, you should focus more on your iOS app.
If, as a company or developer, you have limited budget but want to generate revenue as quickly as you can, gravitate your resources towards developing for iOS. You'd spend less money and time developing the app, plus you're more likely going to make money faster than developing for Android.
Advertisement - Continue reading below