For many of us, Grammarly has been our saving-grace for everything we write on our computers. Be it word document projects, blogging, Twitter posts, mail, you name it, Grammarly can help you with those embarrassing grammar errors and spelling mistakes.
But Google's Gmail also has a solution. Similar functionality was added to Google Docs earlier this year. When composing an email, what Google takes to be grammatical flubs — say, an incorrect verb tense or the wrong homophone — will be underlined in blue. You can then right-click those words to see suggestions on how to fix them.
Advertisement - Continue reading below
As you type your message, Gmail will use artificial intelligence to make smarter spell-check suggestions while also detecting potential grammar issues. For some common spelling mistakes, we've also added as-you-type autocorrection for improved accuracy. Read more here about how grammar suggestions work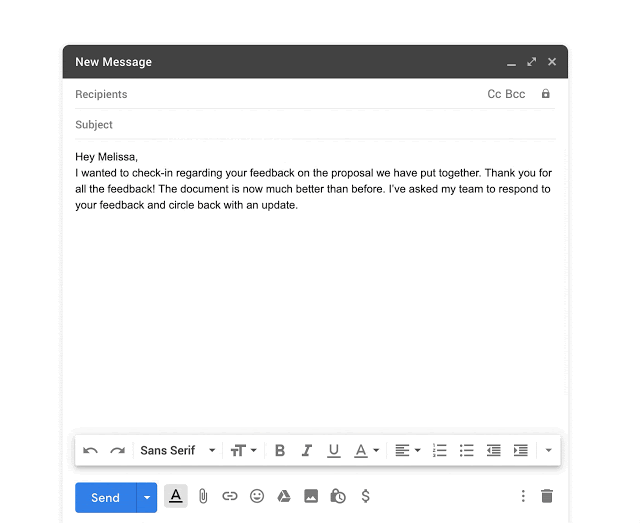 You'll now see inline spelling and contextual grammar suggestions in your draft emails as you type. If you've made a grammar mistake, a squiggly blue line will appear under the phrase as you write it. You can choose to accept the suggestion by clicking it.
When an auto-correction takes place, we'll temporarily underline the corrected change so you can easily identify and undo the correction if you'd like. For now, autocorrect is currently only available in English.
The new features are scheduled to be rolled out to all G Suite accounts by mid-September. Google hasn't announced availability for regular users yet, but stuff like this typically trickles down relatively quickly.
Update (August 23, 2019) – We've updated this article to clarify that the grammar suggestion feature is only available to G Suite users, not personal Gmail accounts. The as-you-type autocorrection feature is available to all users, including G Suite and personal Gmail accounts.
Source: GSuite Updates
Advertisement - Continue reading below