Nowadays, you will not need to go to a Stanbic Bank Branch to open a new account. This can now be done from anywhere you are and the only time you make a visit to the bank branch will be to receive your Visa Card. So how do you open a Stanbic bank account online? We discuss the steps in this article.
Visit the Stanbic Bank website and scroll down to the place that has 'Online Account Opening.'
Advertisement - Continue reading below

A new page will open with the details about the account you would like to open. These details include; what you will get with the account, how to get it, what it needs, and what it costs.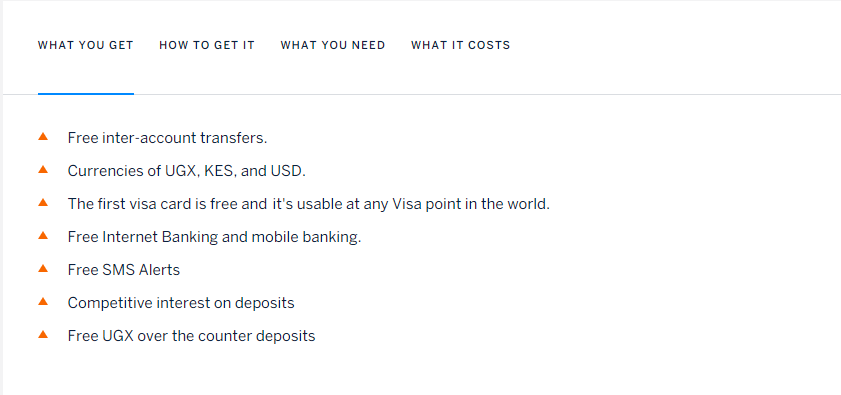 Requirements to Open An Account Online with Stanbic Bank
Passport Size photograph
Signature Image 
If Ugandan, a valid National ID (front & back) 
If Non-Ugandan, a Valid Passport & a Visa 
If Student, a Student Identification card
Photo Requirements
The photos must be taken in color.
They must be taken within the last 6 months to reflect your current appearance.
The photos must be taken in front of a plain white or off-white background.
Taken in full-face view directly facing the camera.
With a neutral facial expression and both eyes open.
Do not wear a hat or head covering that obscures the hair or hairline unless worn daily for a religious purpose. Your full face must be visible, and the head covering must not cast any shadows on your face.
Headphones, wireless hands-free devices, or similar items are not acceptable in your photo.
Eyeglasses should be taken off in photos except in rare circumstances when eyeglasses cannot be removed for medical reasons, e.g., the applicant has recently had ocular surgery and the eyeglasses are necessary to protect the applicant's eyes.
If the eyeglasses are accepted for medical reasons:
– The frames of the eyeglasses must not cover the eye(s).
– There must not be a glare on eyeglasses that obscures the eye(s).
– There must not be shadows or refraction from the eyeglasses that obscure the eye(s). 
If you normally wear a hearing device or similar articles, they may be worn in your photo.
---
Related Article: Stanbic Bank's Instant Money is a cheaper alternative to Mobile money transfers
---
Once you have all the requirements in place, scroll down and click on 'Open Account Here.'

Select whether you are making a 'New Application' or continuing a 'Previous Application.'

Fill in your personal details such as name, gender, age, address. Select the self-service channels you would like on your account such as mobile banking, Stanbic App, Visa card, among others.
Next, choose the type of account you would like to open, the daily transaction limit, and then agree to the terms and conditions.
Advertisement - Continue reading below
Select Next and add your attachments such as a photo of National ID, Signature, and passport photo. Proceed to confirmation where you will be given a reference number.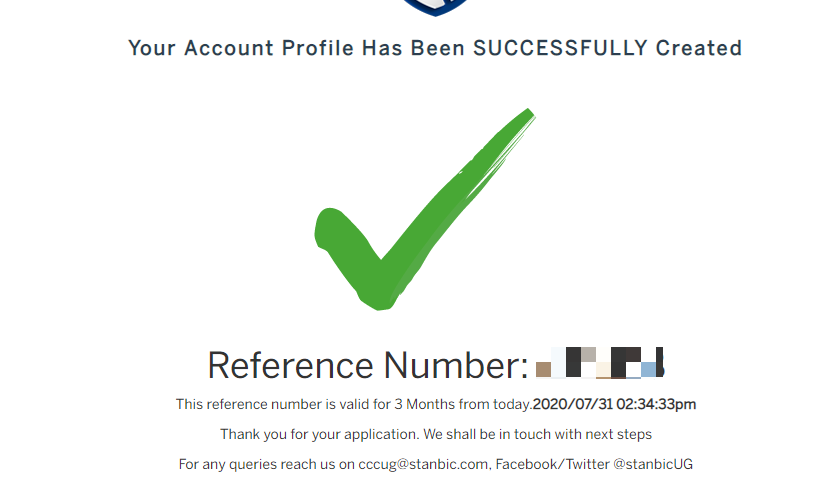 You will receive a text from Stanbic Bank with your one time pin for mobile banking and online banking. Dial *290# to enter the mobile banking platform and then use the one time pin and then set your mobile banking PIN and you will then be able to access your account information and details.
Once your mobile banking has been set-up, dial *290# select option 7 to get your user ID for internet banking then. Click the Login link, enter the user ID and one-time password for online banking. You will be asked to create a new password to get started. You will be able to receive your visa debit card anytime you visit any Stanbic Bank branch with your national ID and opening balance of UGX 20,000.
And just like that, you have a new account at Stanbic Bank. I opened the account over the weekend and by Monday, everything had been set-up. On weekdays, however, expect to have everything set up in approximately 48 hours to have your account.