So, just a few weeks back, iPhone announced its latest devices, and I'm sure a lot of you have plans to purchase one of these devices. Starting at ₦320,000, the iPhone 11 is the most affordable option compared to the iPhone 11 Pro and iPhone 11 Pro Max.
If you've already made the decision to go for the most expensive one (iPhone 11 Max), we encourage you to consider the iPhone 11 Pro as well. It possesses all the appropriate upgrades of the new devices at a reasonable price. Going for the Pro Max model might just be a waste of cash.
Advertisement - Continue reading below
It is not so expensive
Starting from ₦450,000, these devices is a lot cheaper than the Pro Max version (N504,000) . At that price, it comes with vital features which you'll find on the Pro Max version. Features like the Apple iOS 13 software, Super Retina OLED screen, 3 cameras with Night Mode, 4K video recording at 24, 30, and 60 frames-per-second, Water resistance of 4 meters for more than half an hour, and the Apple fresh A13 bionic chip.
The iPhone 11 Pro Is no so heavy
The Pro Max version is the heaviest device to be released by apple till date. Its weight is 7.97 ounces and that is almost 1 pound, while the iPhone 11 Pro is actually one-ounce lighter, it weighs just 6.63 ounces. Although the difference in weight between the two iPhone is not much, I think the iPhone 11 Pro will offer better comfort since it is slightly less heavy.
The iPhone 11 Pro Has A Decent Size
Now, except you're a fan of large devices, the iPhone Pro Max is just too large. At more than 6.2 inches tall and 3 inches wide, the iPhone 11 Pro Max is a device that is just super big. Although the iPhone 11 Pro is also big (5.67 inches by 2.8 inches), it is still a size that is preferable compared to the much larger iPhone Pro Max.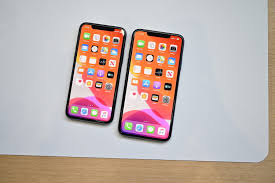 At the end of the day, the decision to purchase either version is yours. But I think since both iPhones (Pro and Pro Max) come with identical features, going for a half-pound iPhone at a ridiculous price is not worth it.