The Nigerian Telco space has been abuzz recently with a backlash from customers following the now postponed commencement of USSD charges on bank transactions by MTN. However, charges on USSD bank transactions have been happening with other telcos which might include Airtel as well.
Airtel is supposedly charging NGN5 for 20 seconds of bank USSD code usage which is more than what MTN wanted to charge for the same time period before the Nigerian Communication Commission (NCC)/ stepped in.
Advertisement - Continue reading below
According to Dailytrust, an Airtel customer care rep informed a customer who called about a deduction in airtime using Wema bank's *945# USSD code that the company charges NGN5 for 20 seconds as mentioned before.
On the brighter side, Airtel which has been expanding its 4G network is now offering more data for the same price. The telco company had been able to grow its data subscribers base according to reports from NCC following the rejuvenation of its 4G network. Building on that, Airtel is offering more data for some of its weekly, monthly and mega bundles.
Starting with its weekly bundles, you now have a NGN 1,500 binge plan that gives you 6GB and NGN 500 now gives you 1GB instead of 750MB. For monthly subscriptions, NGN 1,000 still gives you 1.5GB while the other plans have been buffed up for the same price. Here is what the new monthly data plans look like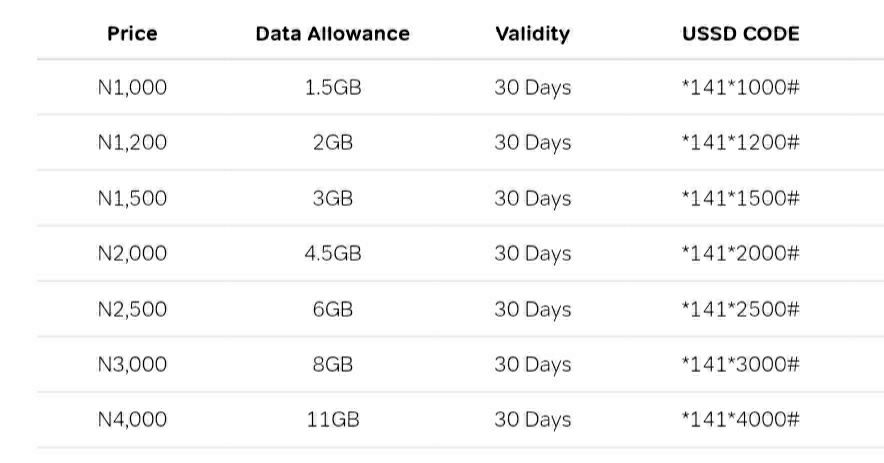 The Mega plans have also been infused with more value for your money. There are some big changes here like the 100GB plan that used to go for NGN 70,000 is replaced with NGN20, 000 for 110GB! See the full list below.

The new change is very much welcomed and it will go a long way to boost their data subscriber base. Like, who doesn't like more data? One the other hand, the USSD charges would be a mistake because apparently from the MTN saga, customers are not up for that at all.
Advertisement - Continue reading below