Summary:
ColorNote is a free, simple and easy to use note taking app that is light to install and works swiftly across all versions of Android whether you have a high end or entry level smartphone. It fits perfectly into your daily life helping you stay organised and productive with notes, task lists, a calendar, reminders and many useful features
The downside is that it's only available for Android and has no web version which makes it hard to access your notes without your phone.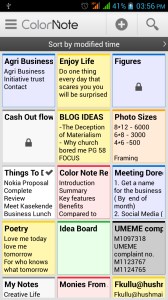 Advertisement - Continue reading below
As light as a feather:
ColorNote is a light and fully customizable easy to use note app that will work well on almost any Android phone and tablet whether it's an entry level or high end Droid. At only 839KB and 2.3MB when installed, the app packs a couple of great features that any smartphone user will need. The App for instance worked smoothly when we tested it on an low end droid like the Google Huawei Ideos and on a beastly phone like the Galaxy S2.
Take notes easily and quickly: With ColorNote, you can quickly start taking notes with only 3 strokes and organize your notes with its color coded feature. You can also create checklists for your shopping or travel, TO DO Lists for your tasks or errands. The app automatically suggests note titles which you can edit later and it also auto saves your notes every time you exit the editor so you don't have to panic that you didn't save a note.
Calendar Reminders & Diary: ColorNote also has a calendar and reminders to help you stay organised. You can add text or a checklist by date and set reminders to make sure you don't forget. You can make the reminder weekly monthly or yearly for repetitive tasks so you don't forget your wife's birthday or your wedding anniversary again. The ability to make notes in the calendar lets you create a diary or Journal like feature which I found to be really cool
Sharing: ColorNote also makes sharing notes very easy. You can share via SMS, Email or various Social Media channels your smartphone can permit.
Online and Offline Backup: ColorNote supports online and offline backup. You can backup all your notes to the SD card or online keeping all your notes safe even when you lose your device, you don't lose your notes. This requires you to sign up either via Email, Google or Facebook. ColorNote claims that the online sync feature  protects your data using AES encryption as used in banks to protect customer data.
You can further password lock notes with important information so that only you can access them. ColorNote also supports auto links for phone numbers and websites enabling you to click on a link from within a note or call a phone number directly from the app.
Advertisement - Continue reading below
With ColorNote, you can also archive notes and whatever you delete goes directly to the trash can where you can retrieve it should you need it back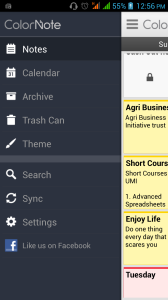 UI & Menu: With a functional user interface, you can swipe to the right to access the calendar and to the left to access your notes or tap the left hand corner to reveal a side menu. You can also easily search for notes by tapping the quick access search icon. With two themes, ColorNote can be customized to a dark or a light theme with a list or grid view for your notes. It also supports sticky note widgets on your home screens for easy access.
Compared to Other Apps:
Compared to other Note apps like Evernote, Google Keep, FlickNote, and InkPad notes, ColorNote stands out by staying light with an easy and simplistic design and premium features at no cost not to mention that it's ad free. A worthy competitor would be Evernote. However, Evernote is better suited for business and enterprise users. Hence, it would be an overkill of lay users who may be overloaded with a tone of features they don't really need.
The Down Side:
Unlike its counterparts like Evernote, ColorNote isn't accessible on Web or Desktop meaning that if you don't have your Android phone or tablet with you, you will not access your notes. A friend actually lost his Android and wasn't able to access his notes at all till he replaces his Android Phone.
There is also no ColorNote for iOS or Windows phone so if you are any other Platform other than Android, you will not be able to enjoy ColorNote services.
The app doesn't allow insertion of pictures into notes which would also be a fun feature to have
Conclusion:
Having premium features for free without Ads makes Color Note a must have app on all smartphones. It makes taking notes and organising them so simple. Indeed ColorNote simplifies your Life