To access certain Google services (Drive, Gmail, Google Maps, YouTube, Google Ads, etc), a Google Account is required for authentication and authorization purposes.
When you create a Gmail account for the first time, the Gmail address that you create automatically becomes the sign-in details for other Google services. So, a Gmail account is technically a Google account until you sign up for other Google services with different details.
Advertisement - Continue reading below
When your Google account is disabled, other Google services might be restricted as well.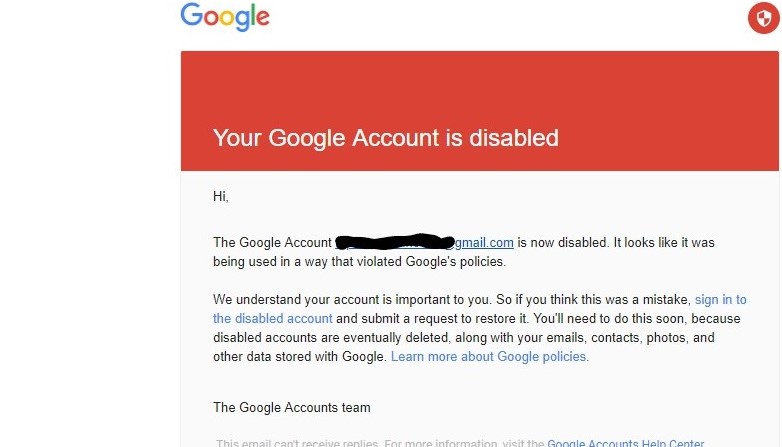 Why Google Disabled Your Account
There are many reasons why Google might block your account. It could be because you haven't followed Google's policies; its terms of product and service.
Other reasons include;
Malware, phishing & other harmful activities: sending unwanted codes or software to other accounts, with the intent to harm.
Account hacking or hijacking
Spamming: When you spread spam or unauthorized emails to the recipient without their consent, you violate Google's policy and your account could be disabled.
Child exploitation: When you use any of Google's services in a way that exploits or abuses children. Google frowns at content (image, video, cartoon) that presents children in a sexual way when it is created, shared, sent, or uploaded on any of Google's services.
What Happens When Your Account is Disabled?
When your Google account is disabled, access to Google services; emails, Contacts, Photos, and other Data (Google docs, Drive) are restricted.
You will need to begin the account recovery process immediately you notice your account has been disabled because all disabled accounts are eventually deleted. Your account could be lost permanently if you do not act fast.
How to Recover A Disabled Account
Once your Google account has been disabled, you will receive an email with the subject "Your Google account is disabled". You will also be provided with a link to submit a request to restore it if you think the restriction was a mistake.
Advertisement - Continue reading below
If you receive such an email, or you're having difficulty signing in to your Google account, follow the link provided in the email or you can follow these steps to recover your account.
Visit the Google Account recovery page on your browser.
Next, enter your email address, and provide answers to the questions that follow.
Try not to skip any question – answer all questions. Also, if you can, try to use the same computer, phone, browser you usually sign in with. It might take a few days before you get a reply to your recovery request. Response (it could stretch into weeks sometimes.
Have you ever had your Google account disabled? Tell us about your experience and perhaps, how you recovered the account in the comments section below.